The Independent's journalism is supported by our readers. When you purchase through links on our site, we may earn commission.
The Fire Next Time: A beacon in dark times 50 years on
More than half a century later, James Baldwin's book on race relations in the Sixties still carries relevance in today's society. Now, his work is being republished alongside images captured by renowned civil rights-era photographer Steve Schapiro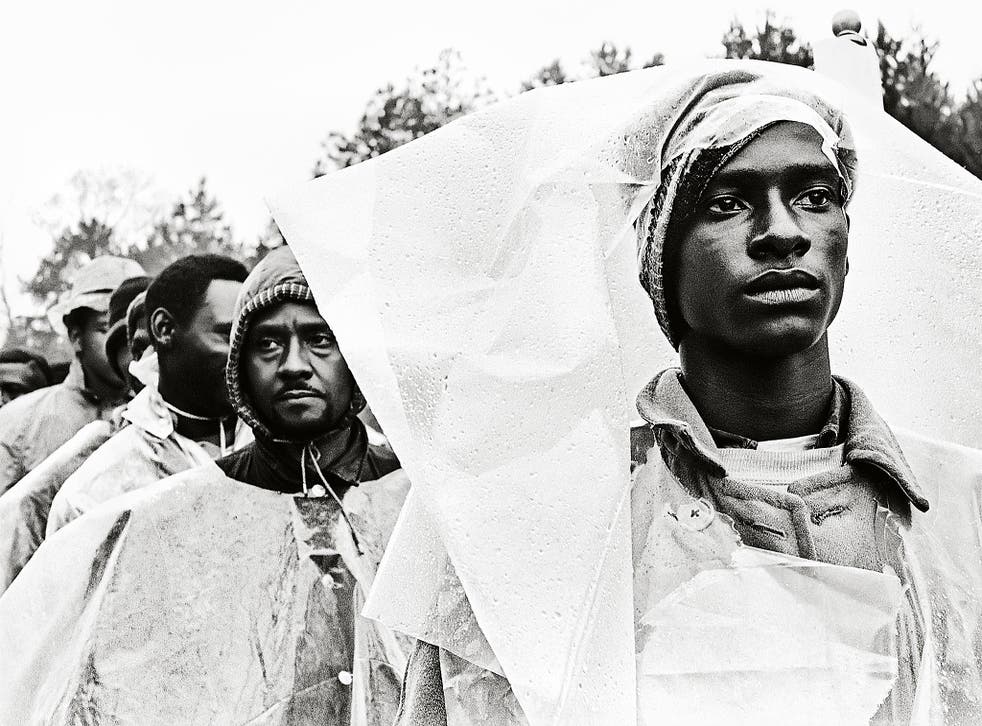 When James Baldwin's The Fire Next Time was first published in 1963, it sent ripples throughout America as one of the most passionate and raw explorations of race relations of its time.
Now, more than 50 years later, Baldwin's book carries fresh relevance, as the United States and much of the Western world continues to struggle with the issue of racial inequality.
Perhaps that's why publisher Taschen has decided to reprint Baldwin's book, with a new edition that will feature stunning images of moments in history captured by civil rights-era photographer Steve Schapiro.
Baldwin and Schapiro travelled the American South together for Life magazine in the Sixties – an experience that thrust Schapiro into the centre of the human rights movement and inspired him to dedicate much of his career to activism.
Schapiro, whose work has graced the covers of Vanity Fair, Time, Life and People magazine, documented landmark events from the March on Washington in August 1963, to the Selma to Montgomery marches two years later.
Now, 100 of the photographer's images will be featured alongside Baldwin's prose.
The revival of a book still widely regarded as one of the most influential texts about race relations during the Civil Rights era comes at a time when, according to Gallup, Americans' concerns over race relations in the US are at an all-time high.
Following the election of Donald Trump and the rise of the far-right movement, a March 2017 Gallup survey showed that as many as 42 per cent of Americans say they "worry a great deal" about race relations in the US, compared with 17 per cent in 2014.
A new documentary by Haitian director Raoul Peck titled I Am Not Your Negro also brings Baldwin's work back into focus, exploring the author's unfinished project – a book profiling the lives and murders of Malcolm X, Martin Luther King Jr and Medgar Evers – as well as his relationship with the Civil Rights movement.
The Fire Next Time consists of two essays, which both examine racism faced by black people in America in the 1960s. The first, "My Dungeon Shook – Letter to My Nephew on the One Hundredth Anniversary of Emancipation", is a letter to the writer's 14-year-old nephew, describing the role that race plays in America's history.
The second essay, "Down at the Cross – Letters from a Region of My Mind", tackles the relationship between race and religions, with a focus on Baldwin's own experience with the Christian church.
The new edition, which is limited to only 1,963 copies, will also include Schapiro's own stories from the field, with a new introduction by civil rights leader and US Congressman John Lewis.
The Fire Next Time is published by Taschen and can be purchased online
Register for free to continue reading
Registration is a free and easy way to support our truly independent journalism
By registering, you will also enjoy limited access to Premium articles, exclusive newsletters, commenting, and virtual events with our leading journalists
Already have an account? sign in
Register for free to continue reading
Registration is a free and easy way to support our truly independent journalism
By registering, you will also enjoy limited access to Premium articles, exclusive newsletters, commenting, and virtual events with our leading journalists
Already have an account? sign in
Join our new commenting forum
Join thought-provoking conversations, follow other Independent readers and see their replies