World Polio Day: Unicef delivers the vaccine worldwide
Unicef is at the forefront of efforts to end polio and manage the global supply and distribution of the polio vaccine
Liam James
Monday 29 October 2018 11:47 Comments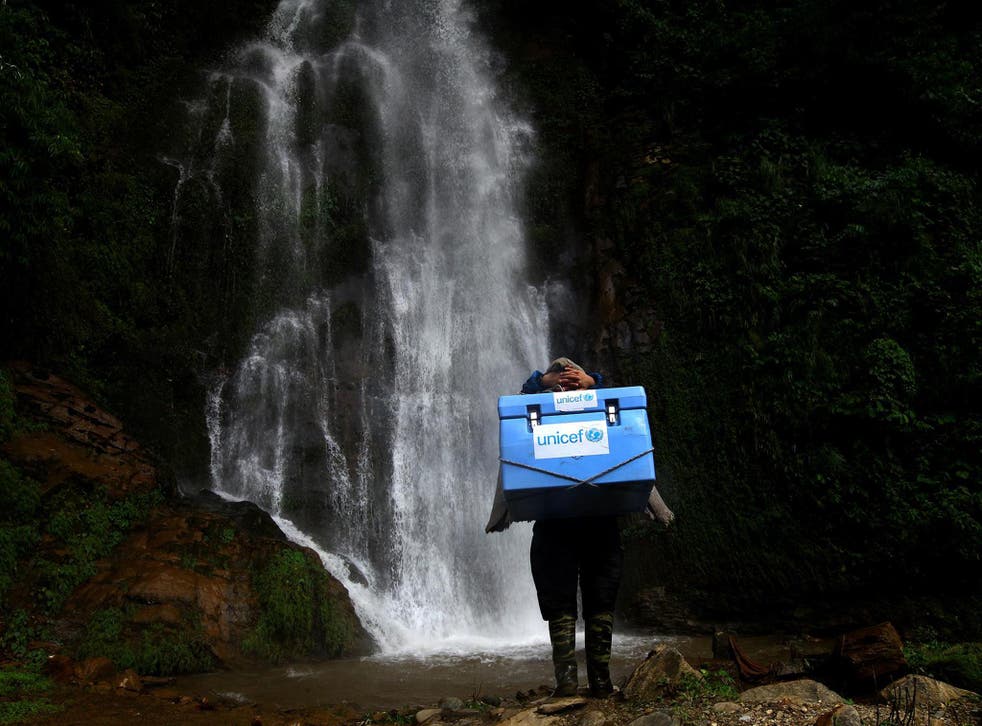 In the last 30 years, the polio virus has been attacked by governments, NGOs, the private sector and individuals alike with great progress being made towards a polio-free future. Since 1988, cases of wild polio (those which are contracted from nature) have been reduced by over 99 per cent with 22 cases, confined to Afghanistan and Pakistan, recorded in 2017.
However, transmission has continued into 2018 (there have been 18 cases of wild polio so far), and there are many challenges facing those who seek to eradicate the virus.
Outbreaks of vaccine-derived poliovirus are persistent, and many who contract the virus are in remote locations, making immunisation and treatment difficult.
Despite such adversity, the concerted efforts of parents who demand the vaccine, donors who commit the necessary funds, couriers and health workers who deliver and administer the treatment and many other organisations have allowed for people in even the most difficult to reach areas to receive polio vaccines and other critical health services.
World Polio Day: vaccinating the remote

Show all 15
Planning is ongoing to ensure that – following eradication – the infrastructure and knowledge will go on to support broader health systems and that a polio-free world can be maintained.
Unicef has been a spearheading partner of the Global Polio Eradication Initiative, alongside the World Health Organisation (WHO), Rotary International, the US Centres for Disease Control and Prevention (CDC) and the Bill & Melinda Gates Foundation, since 1988. Anna Kettley, director of programmes for Unicef UK says that "as long as polio exists anywhere, it is a threat to children everywhere. Continued innovation and program improvements to reach children everywhere and detect and stop outbreaks, along with increased political and financial commitment, are necessary to stop polio for good."
Its frontline health workers lead and implement the Communication for Development (C4D) strategy to vaccinate children in the most poorly provided for and remote locations on the planet.
Unicef and easyJet are now in the sixth year of their "Change for Good" partnership to support the polio eradication programme. More than £10m has been raised with over 25 million children vaccinated against polio around the world.
Register for free to continue reading
Registration is a free and easy way to support our truly independent journalism
By registering, you will also enjoy limited access to Premium articles, exclusive newsletters, commenting, and virtual events with our leading journalists
Already have an account? sign in
Join our new commenting forum
Join thought-provoking conversations, follow other Independent readers and see their replies