How photographers captured the year's most compelling moments, from Syria to the US-Mexico border
Showcasing some of the standout images of the year along with blow-by-blow accounts of how they came to pass from the men and women behind the camera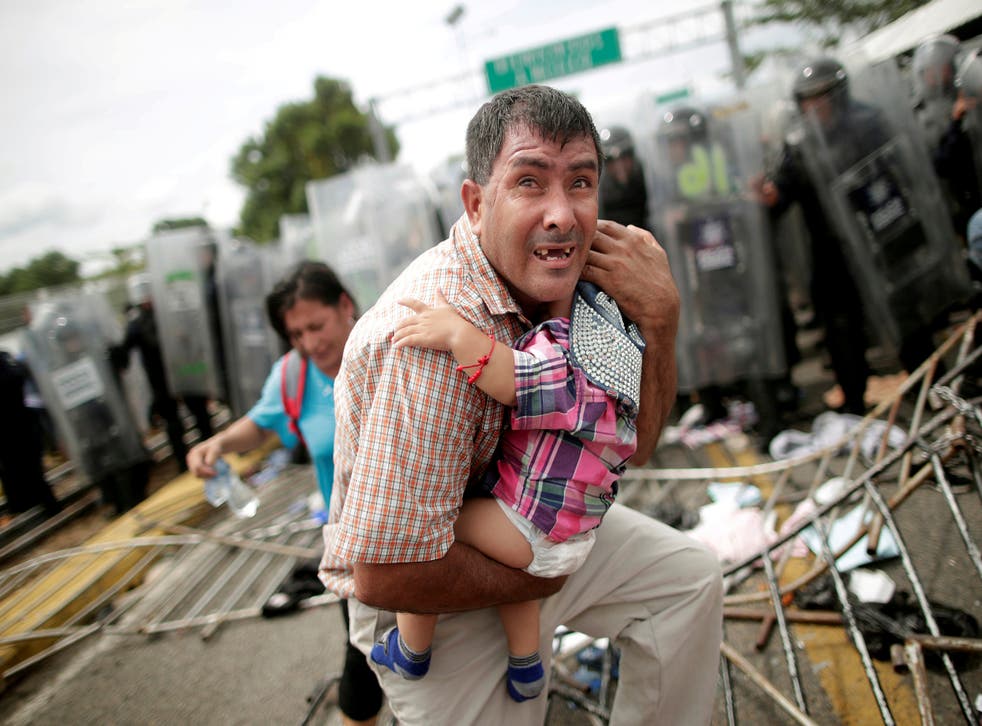 These photographers captured the human drama in the most compelling stories of 2018, including desperate Honduran migrants confronted by Mexican riot police, wounded protesters at the Gaza border, Syria war victims rescued from rubble, and pile-on victory celebrations at the World Cup in Russia.
This feature showcases some of the standout Reuters images of the year along with blow-by-blow descriptions of how they came to pass from the men and women behind the camera.
Ueslei Marcelino, who captured photographs of the migrant caravan en route to the US, says: "The migrants had already broken through the first police barricade on the Guatemalan side of the bridge. After a while, they moved towards the second barricade on the Mexican side. The push by the migrants to enter Mexico had eased and suddenly women and children formed a line and started to walk towards the police.
"There was a bit of pushing and shoving, and then things started to get increasingly chaotic. It was a march that turned into a protest and ended up in confusion. Of course it affected me. I'm also a father of a nine-year-old girl. It was impossible not to think about being that father caught up in that panicked situation. After taking the photo, I took others of families coming out of the restrictive cordon created by police. The confusion was brought under control after gas was used to disperse them, and the migrants were pushed back to the Guatemalan side."
Bassam Khabieh, who photographed the war in Syria, says: "I was going to take dailylife photos in eastern Ghouta, which was besieged by Syrian government forces at the time, when a warplane dropped what looked like a large bomb that descended by parachute. I heard a massive explosion and headed for the targeted area.
"When I arrived I saw enormous destruction and heard voices calling for help. Abu Abdullah was buried to his waist in rubble. I was struck by how calm he appeared as the White Helmet rescue workers tried to dig him out.
"Although he knew he had lost his son and was wounded himself, he did not scream. He even tried to help his rescuers. I heard him saying, 'We belong to God and to God we return', something people say when they believe they're going to die.
"One of the big concerns when covering the aftermath of an attack was the risk that the warplanes would hit the same place once the first responders arrived. I heard the sound of a warplane overhead while covering this attack, and I was worried it might strike. The area was crowded with rescue workers, medics and journalists, and I did my best to find a place to take photos without causing an obstruction."
Mike Blake managed to photograph the migrant camp on the border with Mexico and the US where children were being separated from their parents by American authorities. He says: "It was a lot of teamwork that made this picture happen, from finding the location to hunting down an aircraft for aerials while I flew into Texas on a commercial flight.
"The Trump administration's new policy of separating migrant children from their parents at the border had begun, but no one really understood until these images were transmitted out to the world the scale and reality of what was going on.
"After factoring in flight time to the camp, I asked the pilot to wait on the ground for an hour, thinking there was more likely to be movement around dinner time, the light being better then as well.
"This image was shot with a 600mm lens from 1,000ft out the window of a small plane as we circled near the little town of Tornillo, Texas, on the US-Mexican border. The flight was hot and bumpy and the turbulence made it extremely difficult to even frame the image in the viewfinder.
"Reuters was the first to show such aerial images of the camp and, in the next morning when both the New York Times and Washington Post fronted their print editions with what I had photographed, President Trump signed an order ending the separation policy."
A picture and its story – 2018

Show all 21
Juan Medina, who followed migrants being rescued in the Mediterranean, says: "As our rescue boat sighted the wreck of a raft, we saw a woman making an effort to wave, so we knew at least there was life there. It soon became clear she was the only survivor.
"Face down amid a bunch of loose planks and deflated rubber lay the corpse of a woman in a striped T-shirt and trousers. She had been dead for some time. And there was a four-year-old boy who the boat's doctors said had died just hours before.
"The survivor was brought aboard in a state of deep shock and treated by doctors. She gave only her first name, Josepha, and said she was from Cameroon.
"She told doctors she had spent the previous night clinging to the wreckage, singing hymns and praying for deliverance. She would not tell us anything else about herself or the other passengers on the raft, nor did she say how it got wrecked.
"The crew lifted the two dead bodies onto the deck, covered them and put them on ice. There was general sadness and the feeling of powerlessness, but also joy at having found Josepha alive. Had we arrived a few hours later, she could have been dead.
"We've done two rescues during my 29 days on the flagship rescue boat of the Spanish charity Proactiva Open Arms. The retired tugboat, built in 1973, patrolled the Mediterranean off Libya's coast to rescue migrants trying to cross to Europe."
Andrew Kelly: "I travelled to Denmark in May to cover a new, controversial law that banned the wearing of face veils in public. As I followed a large demonstration in Copenhagen protesting against the ban, I came across a scene that was emblematic of the polarising issue.
"I noticed a female police officer talking to some women in niqabs, the veil worn by some Muslim women.
"I wasn't sure whether the police officer was going to fine them, but I quickly realised she was being very friendly. She spoke with one of the veiled women, Ayah, who was visibly emotional. The officer reassured her, and the two women hugged as Ayah wept.
"The photo was widely picked up and sparked a heated debate on the ban. People were divided: many praised the officer, while others called for her suspension.
"It also created huge interest in Ayah. She gave interviews and was able to explain how the ban affected her life.
"It's just absurd. I can't do the things I love to do any more," Ayah said. "I'm just going to be a prisoner in my home."
But sudden notoriety also brought a lot of negative attention, and Ayah has since retreated to a life away from the spotlight.
Go Nakamura: "I never fathomed capturing this image. Earlier in the day, I had been covering a very uneventful white supremacy rally in Newnan, Georgia, run by a neo-Nazi group called National Socialist Movement, the same group involved in the Charlottesville rally in 2017.
"A couple of colleagues told me that the group might hold some sort of secret ritual outside of town afterwards. Together, we approached the head of the movement who granted us permission to document the ritual.
"After waiting for several hours, we reached the backyard of a bar in the middle of nowhere where we saw a big wooden swastika and cross set up on the ground.
"Then, a group of some 15 neo-Nazis lit up their torches as they encircled the swastika and performed a Nazi salute.
"It was surreal. Adrenalin was rushing through my body, but I remained focused on capturing what was unfolding in front of my eyes.
"The ritual reached its climax when the group lined up in front of the burning swastika and began chanting and performing a final salute.
"We left immediately after it ended. As we drove away, I set about unravelling the tangle of emotions I experienced that day that led to this photo."
Ibraheem Abu Mustafa: "That day I was standing with a group of photographers east of Khan Younis ready to cover another day of what Gazans call the 'March of Return'.
"I saw a group of protesters advancing towards the fence. Israeli soldiers and vehicles were stationed a short distance behind it. Demonstrators began hurling stones at the soldiers, and one soldier got off a jeep and began firing teargas bombs at the protesters.
"Usually protesters would begin fleeing because those canisters can be dangerous and hit people in the head. I was surprised to see a man with gas coming out of his face.
"I was the first to notice it, and at the beginning I thought he might have put it inside his mouth kind of for fun, or out of defiance. Then I realised the gas bomb had penetrated his face and lodged inside it.
"Everything was happening in seconds. I began taking images of him as he ran, as he fell to the ground and as medics rushed to help him. The gas stopped, but blood covered his face and clothes.
"They laid him on a stretcher and carried him away and I continued taking pictures of other protesters and other injured people. I felt sorry for him because he was in a critical condition, and because I was the first to have seen him and I couldn't do anything to help him.
"It was shocking and horrifying for me, but I felt I had a responsibility to cover the event while keeping myself together. Especially during such a surprising incident."
Anton Vaganov: "It was a truly international summer in St Petersburg – the city was buzzing and thousands of football fans were milling around Nevsky Prospect singing and celebrating.
"I had been covering the fans in the city and was always looking for new ways to document the World Cup tournament.
"On the eve of the quarterfinal between Russia and Croatia, I was asked me to look for artists watching the match in the theatre. Ballet is closely identified with St Petersburg, so it makes a great combination.
"The theatre was located just next to the fan zone and the queue was huge – people were even jumping into the river to try and get into the fan zone to watch the match. Inside the theatre the performers were also fans and everyone was watching the match during their breaks.
"The performers were changing their outfits when they returned to their dressing rooms and so I got images of performers in dressing gowns reacting outside the dressing rooms.
"This wasn't really what I was looking for, however, so I started waiting by the TVs located closer to the stage, hoping a ballerina would pause to take a look at them as they walked past.
"Soon, one ballerina did just that. The corridor was narrow so I had to use a wide-angle lens, and while I was lucky enough to catch the moment, the photo was very wide and I did not like it very much.
"I filed the picture to my editor anyway and after the match was over I checked which of my images had been published. My editor had made a tight crop on the image and transformed it into this excellent picture.
"Photographers might work alone in the field, but we have a great team of colleagues who help make a great image possible."
Shannon Stapleton: "The day started out in a scrum of 50 photographers penned in a police barricade outside the federal courthouse in Manhattan, waiting for adult film star Stormy Daniels.
"This kind of assignment is hectic and intensely competitive. While you do have an approximate arrival time, you rarely know when the subject will show up or if they will be where you are set up.
"After some time, I decided to follow a video crew who seemed to be more in the know about Daniels' movements. Before we knew it, a big black sports utility car pulled over and Daniels emerged from it.
"It was total chaos as everyone scrambled to get a picture of her. I ran to a window and tried to place myself by the metal detector that anyone entering the courthouse has to go through.
"I pinned my camera upon the glass, hoping Daniels would pass by me. She was wearing pastel pink and I knew that if I kept the focus on her, I would be able to get a clean shot.
"As Daniels made her way through the metal detector, I noticed she had to take off her high-heel shoes and sit down to put them back on. I knew in that moment that was the money shot: Daniels with her leg held up as she put her heels back on."
Rebecca Cook: "Larry Nassar sat at a table next to his attorney as 48 young women addressed the court, one by one, with painful stories of sexual abuse by the former Michigan State University sports doctor.
"I was in the courtroom, sitting near the jurors" box, to cover the three day event. On the second day, it was the turn of two sisters to testify about what Nassar had done to them.
"As Lauren and Madison Margraves spoke, I focused on the suffering etched on the family's faces.
"Their father's face became increasingly distressed as his daughters spoke. When the testimony ended, he was granted permission to speak by the judge. "Your honour, can you grant me five minutes in a locked room with this demon?" Randall Margraves asked.
Support free-thinking journalism and attend Independent events
"The judge obviously had to deny that request, and I felt tension soaring in the courtroom filled with the pain of friends and families of Nassar's victims.
"Suddenly, the Margraves sisters' father lunged across the courtroom at Nassar. With no time to think, I snapped photos as he reached the table where Nassar was seated, clad in an orange jumpsuit.
"In the photo, police officers leap to grab Margraves and tackle him to the floor. Nassar remained still as his attorney moved to shield him."
Alkis Konstantinidis: "I was in the port city of Patras covering the efforts of migrants to smuggle themselves onto ferries bound for Italy.
"It's a dangerous passage but became more appealing after the closure of the overland route to northern Europe through the Balkans. It was during the final hours of my two access in the port when an officer with the coast guard's special forces squad kneeled beside a truck lined up for embarkation control and pointed his torch towards the undercarriage.
"Suddenly, he yelled, 'Get down! Get down from there!' at two eyes peering back at him. A young man crawled out, checking his surroundings.
"He looked lost, and I shot some frames as he emerged between the wheels. He got up in silence and was quickly detained and handcuffed.
"He was part of a group of a few hundred young, mostly Afghan or Pakistani migrants who had been squatting in abandoned factories opposite the port.
"Every day, they ran across the busy street into the fence, looking for trucks in which to stow away.
"Most were discovered by police dogs and X-ray machines and held overnight before being released. Nearly all would try their luck again and again."
Reuters
Join our new commenting forum
Join thought-provoking conversations, follow other Independent readers and see their replies