Ryan Seacrest accused of sexual harassment by former personal stylist
American Idol host denies Suzie Hardy's allegations that he made aggressive and unsolicited advances towards her
Maya Oppenheim
Tuesday 27 February 2018 13:36 Comments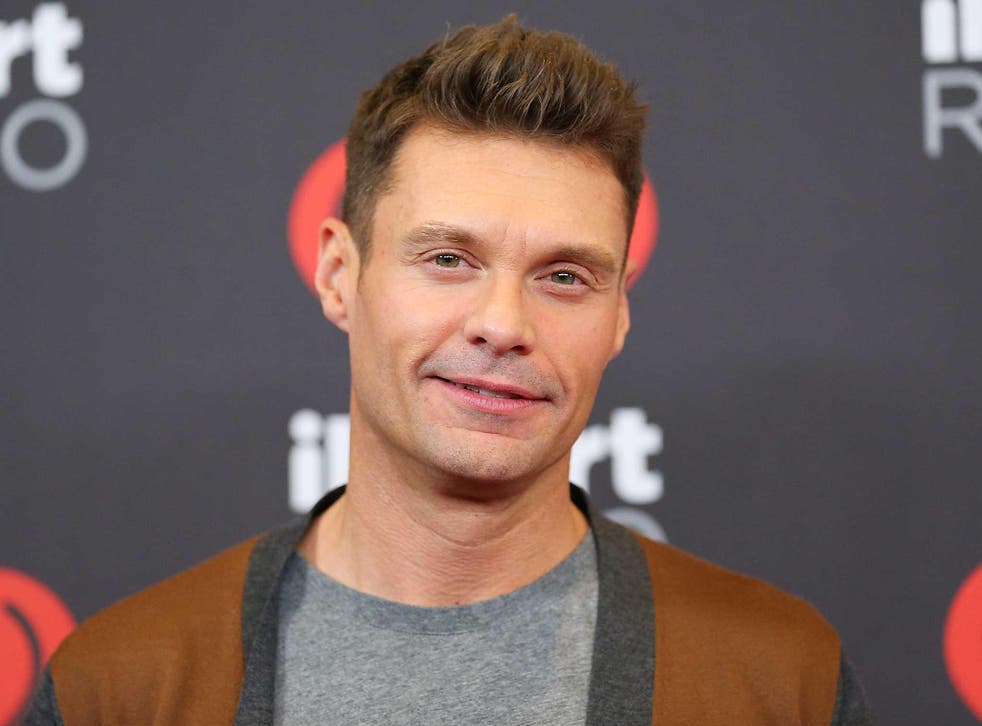 TV host Ryan Seacrest has denied accusations from his former personal stylist that he sexually harassed her for six years.
Suzie Hardy alleged that the American Idol presenter made aggressive and unsolicited advances towards when she worked for him at entertainment network, E! News.
She told Variety magazine that he would slap her, hug her while just wearing underwear and repeatedly cup her crotch with his hand.
"I didn't know how to deal with it. I really didn't," she said. "I was battling finally being in a decent financial position to breathe and be a mum, that I didn't have to be freaking out all the time, and then dealing with this infantile celebrity person who was testing me on every level and manipulating me and knew that I was in a vulnerable position."
It is the first time she has been publicly identified and details of her claim were disclosed.
Seacrest, who is also a producer of reality TV show Keeping Up with the Kardashians, made the woman's allegations public last November after Ms Hardy's lawyer got in touch with him.
He strenuously denied them, calling them "reckless" in a statement.
"Recently, someone that worked as a wardrobe stylist for me nearly a decade ago at E! News, came forward with a complaint suggesting I behaved inappropriately towards her," it read. "If I made her feel anything but respected, I am truly sorry. I dispute these reckless allegations and I plan to cooperate with any corporate inquiries that may result."
E! carried out an internal inquiry into Ms Hardy's accusations, but in January it said that it had discovered insufficient evidence to back up her claims.
Ms Hardy, whose employment with the network ended in 2013, said she thought the investigation was incomplete and one-sided.
But in a statement earlier this week, E! insisted its investigation by an external lawyer was "extremely comprehensive and thorough" and that "any claims that question the legitimacy of this investigation are completely baseless".
27 films to look out for in the first half of 2018

Show all 27
Seacrest's lawyer Andrew Baum said the decision by Variety to publish Ms Hardy's story was upsetting.
He said the magazine was "told that the accuser threatened to make those false claims against him unless he paid her $15 million. At that time, the claimant threatened to issue a demonstrably false press statement unless she was paid. Instead, my client proactively and publicly denied the claims and agreed to fully cooperate with E!'s investigation about the matter."
Writing in a guest column for The Hollywood Reporter earlier this month, Seacrest said: "To have my workplace conduct questioned was gut-wrenching. I've always aimed to treat all of my colleagues with honesty, respect, kindness and compassion.
"Yet, I knew, regardless of the confidence I had that there was no merit to the allegations, my name would likely soon appear on the lists of those suspected of despicable words and deeds. The pressures of our overflowing newsfeeds would insist on it. I absolutely want to be part of the change, the progress, that is coming. I did not want to be a postscript of evidence of its cause."
Additional reporting from agencies
Register for free to continue reading
Registration is a free and easy way to support our truly independent journalism
By registering, you will also enjoy limited access to Premium articles, exclusive newsletters, commenting, and virtual events with our leading journalists
Already have an account? sign in
Join our new commenting forum
Join thought-provoking conversations, follow other Independent readers and see their replies