Salt Bride: Black dress submerged in Dead Sea by artist undergoes dramatic transformation
Israeli artist Sigalit Landau's work has gone viral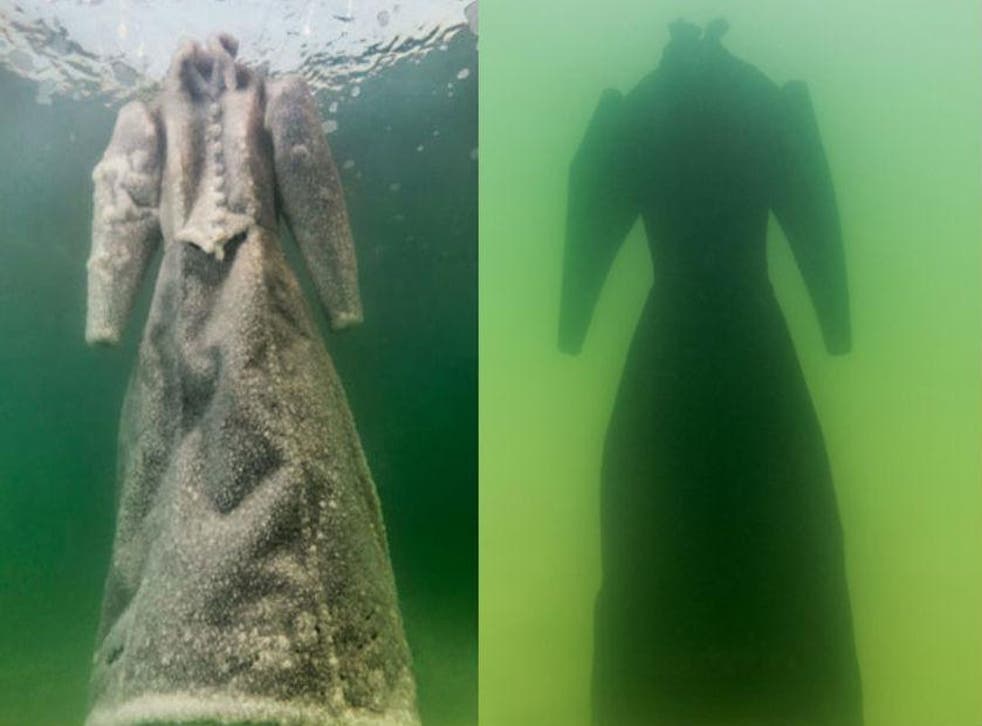 A hasidic wedding dress submerged in the Dead Sea underwent a dramatic transformation has become an internet sensation.
Israeli artist Sigalit Landau put a black dress from the early 1900s into the Dead Sea for two months in 2014, and the underwater changes that occurred as salt crystals coated the fabric were captured by photographer Yotam From.
The garment turned white from the salt, looking almost like a bridal dress.
The Dead Sea is almost 10 times as salty as the ocean, while it also has the lowest elevation on Earth, about 1,407 feet below the sea level.
Large scale prints showing the changes were exhibited at London's Marlborough Contemporary gallery until 3 September.
The dress, known as the "Salt Bride", has become a trend on social media.
The dress is a replica of a costume worn by a character called Leah in the Yiddish play The Dybbuk, which tells the story of a young bride whose soul is possessed by an evil spirit. The spirit is exorcised and Leah is set free.
"In Landau's Salt Bride series, Leah's black garb is transformed underwater as salt crystals gradually adhere to the fabric," the Marlborough Contemporary, gallery said.
"Over time, the sea's alchemy transforms the plain garment from a symbol associated with death and madness into the wedding dress it was always intended to be."
Ms Landau said in the statement that she was still learning about the "magic" of the Dead Sea, which is like a different planet.
"It looks like snow, like sugar, like death's embrace; solid tears, like a white surrender to fire and water combined," she said.
Ms Landau has worked with salt crystallisation before, including artist's shoes and a violin in the Dead Sea.
Register for free to continue reading
Registration is a free and easy way to support our truly independent journalism
By registering, you will also enjoy limited access to Premium articles, exclusive newsletters, commenting, and virtual events with our leading journalists
Already have an account? sign in
Register for free to continue reading
Registration is a free and easy way to support our truly independent journalism
By registering, you will also enjoy limited access to Premium articles, exclusive newsletters, commenting, and virtual events with our leading journalists
Already have an account? sign in
Join our new commenting forum
Join thought-provoking conversations, follow other Independent readers and see their replies