The Independent's journalism is supported by our readers. When you purchase through links on our site, we may earn commission.
Who are the Silence Breakers? A guide to Time's Person of the Year 2017 and why they were chosen
This year, editors at Time magazine found there was no single person who sparked cultural change that defined 2017: it was hundreds who dared to speak up and spark a movement that has shaped this year, and the years to come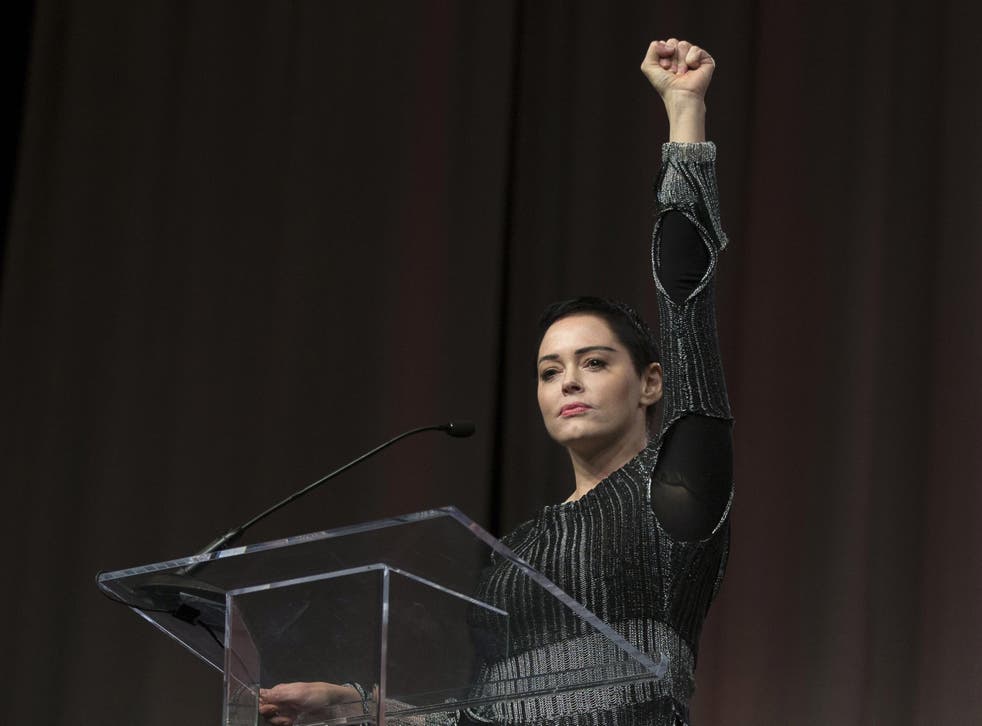 Over the course of six weeks Time magazine interviewed dozens of people from different industries who had come forward to share their experience of sexual harassment at work.
Some are famous actors, pop stars, news anchors. Others are housekeepers, cooks, cleaners. Time's Person of the Year feature points out that, despite their differences, it was the shared experience which brought them together: often their stories were "eerily similar". The victims would describe the incident, but also how they had suffered – mentally and physically – for years after the unwanted advances were made.
Nearly all of the people interviewed by the magazine expressed fear of what would happen to them, their families or to their jobs, if they spoke out.
Time's person of the year revealed to be 'The Silence Breakers'
Here are just a few of the actors, singers, housekeepers, maids and news anchors named as "The Silence Breakers" in Time's Person of the Year 2017.
Rose McGowan – actress
In October 2017, McGowan spoke out publicly and alleged that producer Harvey Weinstein had raped her (Weinstein denies all allegations of non-consensual sex). Since she came forward, McGowan has used her platform to share stories by other women, and call out other men accused of sexual harassment and assault.
"Emboldened by Judd, Rose McGowan and a host of other prominent accusers, women everywhere have begun to speak out about the inappropriate, abusive and in some cases illegal behaviour they've faced.
"When multiple harassment claims bring down a charmer like former Today show host Matt Lauer, women who thought they had no recourse see a new, wide-open door. When a movie star says #MeToo, it becomes easier to believe the cook who's been quietly enduring for years." - Time
Megyn Kelly – news anchor
Kelly, the former NBC anchor, revealed in October that she had complained to Fox News executives about Bill O'Reilly's treatment of women. She was a high-profile target of then-presidential candidate Donald Trump during his campaign; the subject of several misogynist remarks and personal attacks.
That he could speak about a woman in that way – or the way he did on the now-infamous Access Hollywood tape – and still be elected President of the United States, was part of what sparked a global Women's March the day after his inauguration.
"I have real doubts about whether we'd be going through this if Hillary Clinton had won, because I think that President Trump's election in many ways was a setback for women," Kelly told Time. She noted that not all the women at the march would have supported Clinton, "but the overall message to use was that we don't really matter".
Terry Crews – actor
After the New York Times published a story about decades of alleged sexual harassment and inappropriate behaviour by Harvey Weinstein, actor and former American footballer Terry Crews came forward to detail his own experience in Hollywood.
Crews, who currently stars in Brooklyn Nine-Nine, alleged that he was groped by a "high-level Hollywood executive" during an event he attended with his wife in 2016. He said he wanted to talk about it to "deter predators" and to show how he realised why, after the incident, he understood why women did not feel safe to speak up when they experience harassment.
Taylor Swift – pop star
Swift said she was made to feel bad about the consequences faced by her harasser after she made the accusation that he groped her at a meet and greet. He sued her for millions in damages after he lost his job. She countersued for a symbolic $1 (75p) then testified about the incident this year in August.
Speaking to Time, Swift said her moment on the stand fuelled her indignation. "I figured that if he would be brazen enough to assault me under these risky circumstances – imagine what he might do to a vulnerable, young artist if given the chance."
Juana Melara – housekeeper
Juana Melara, likely one of the lesser-known names in the feature, said she and her fellow housekeepers did not complain about hotel guests who exposed themselves or masturbated in front of them for fear of losing their jobs. And even while guests would eventually leave the hotel they worked in, colleagues were harder to escape.
Ashley Judd – actress
The Harvey Weinstein allegations have changed Hollywood forever, with multiple women having the strength to come forward against their abusers.
None of that would have happened without Ashley Judd, the first person to be named on-the-record with allegations against the Hollywood mogul (allegations Weinstein has denied). Judd first met Weinstein in 1997, just before her acting career took off. Her recent work includes The Divergent series and Twin Peaks: The Return.
Harvey Weinstein: his accusers

Show all 42
Blaise Godbe Lipman – actor
An actor best known for appearing in the American version of The Office, Lipman accused his former agent Tyler Grasham of giving him alcohol and sexually assaulting him in 2007. Following the accusations, Stranger Things actor Finn Wolfhard left the agency and Grasham was eventually placed on leave.
Alyssa Milano – actress
Having had a long and successful career in Hollywood, Alyssa Milano – inspired by activist Tarana Burke – asked her Twitter followers to share their experiences. "If you've been sexually harassed or assaulted write 'me too' as a reply to this tweet," she wrote on the social media service.
As a result, the hastag #MeToo began trending online, with over 30,000 people using the phrase in one night. Milano was in tears following the response.
Selma Blair – actress
Another high-profile Hollywood mogul to have been accused by multiple women is James Toback. Amongst his accusers is Selma Blair, the actress best known for roles in Hellboy, Legally Blonde, and Cruel Intentions.
She claims Toback masturbated against her leg after she declined his proposition. Following the meeting, Blair heard a report that Toback was spreading rumours about her, telling Time: "I genuinely thought for almost 20 years, 'he's going to kill me'." Toback has denied the allegations.
Plaza Hotel Plaintiffs – hotel staff
Six women working at New York City's regal Plaza Hotel have banded together to file a sexual harassment suit against the hotel. One women, who cannot afford to leave the job, told Time: "It's a dream to be an employee there. And then you find out what it really is, and it's a nightmare." The hotel owners say they are taking remedial action against unwanted harassment.
Wendy Walsh
Psychologist Wendy Walsh is a former guest on Fox News who became one of the first women to share her story about disgraced anchor Bill O'Reilly who was fired back in April.
Initially reluctant to share her name ("I was afraid for my kids, I was afraid of the retaliation," she told Time), Walsh "felt it was [her] duty as a mother of daughters, as an act of love for women everywhere and the women who are silenced," to spearhead what is considered to be the beginning of the movement which has seen the reckoning of numerous entertainment figures.
Tarana Burke – activist
Tarana Burke is the social activist who coined the #MeToo hashtag, a decade-old phrase representing solidarity between survivors of harassment and assault that swept the globe after being brought to the attention of actor Alyssa Milano.
After just one tweet, the hashtag was used more than 30,000 times over a single night. To this very day, it's been used by millions and counting.
Lindsey Reynolds – social media manager
Lindsey Reynolds is one of the women who highlighted sexual harassment at the restaurant group run by celebrity chef and US television personality John Besh.
She said that "vulgar and offensive comments, aggressive unwelcomed touching and sexual advances were condoned and sometimes even encouraged by managers and supervisors."
Besh later resigned and the Besh Group stated it will implement new policies "to create a culture of respect". Reynolds inspired 25 additional women to come forward with their own stories of harassment.
Adama Iwu - lobbyist
Adama Iwu, a corporate lobbyist in Sacramento, organised an open letter which saw 147 women nobly expose harassment in California government despite being met with opposition along the way.
She was inspired to rally the women after an experience in which she was groped in front of several colleagues, who failed to step in to stop the assault.
Register for free to continue reading
Registration is a free and easy way to support our truly independent journalism
By registering, you will also enjoy limited access to Premium articles, exclusive newsletters, commenting, and virtual events with our leading journalists
Already have an account? sign in
Register for free to continue reading
Registration is a free and easy way to support our truly independent journalism
By registering, you will also enjoy limited access to Premium articles, exclusive newsletters, commenting, and virtual events with our leading journalists
Already have an account? sign in
Join our new commenting forum
Join thought-provoking conversations, follow other Independent readers and see their replies