T2: Trainspotting review: A wildly invigorating and enjoyable film true to the spirit of the original
There are many layers of irony in this stunning screenplay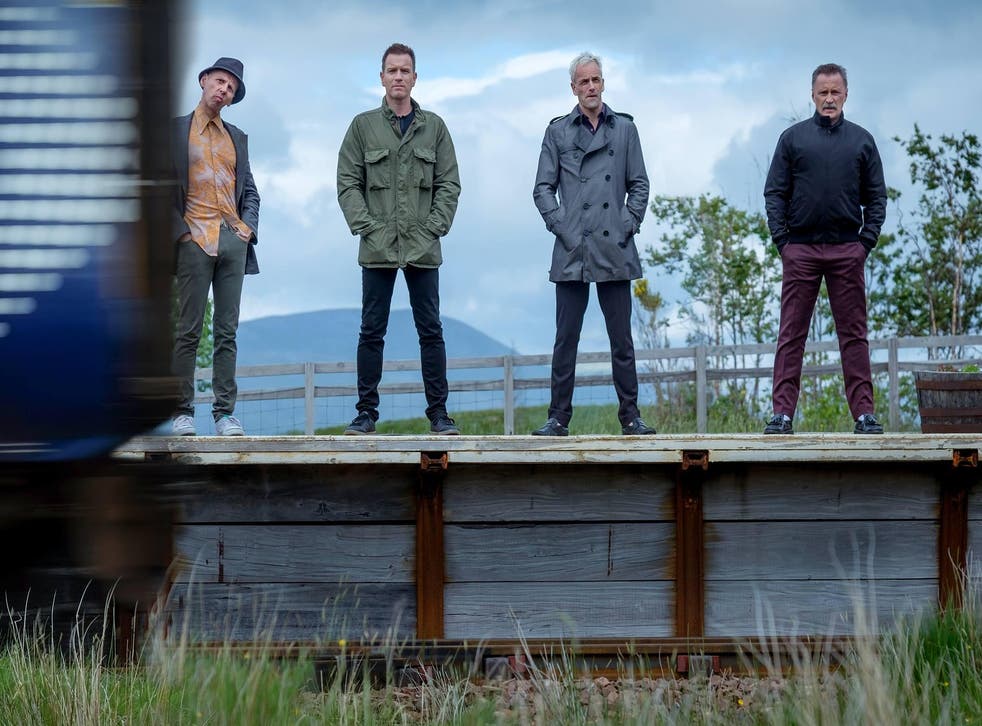 Danny Boyle has described Trainspotting as "Scotland's Star Wars". That is heaping pressure on himself when it comes to directing the sequel. If the new film had stalled in the station, the sense of anti-climax would have been huge. What's so impressive about T2 is how skilfully it manages to stay true to the spirit of the original while acknowledging just how much has changed in the intervening years.
Boyle's achievement is to have made a wildly invigorating and enjoyable film about subject matter which is often so dark.
If it was shite being Scottish in 1996, it doesn't seem to have gotten any better two decades on. Renton, Begbie, Sick Boy (or Simon as he is called now) and Spud are all now middle-aged, which makes it even worse.
There are many layers of irony in John Hodge's screenplay. This is an exercise in nostalgia but the past that it conjures up is very bleak. It's a story about male bonding and friendship in which the main characters betray each other as a matter of routine. The setting range from derelict, graffiti-strewn high rises to Edinburgh at its most picture postcard perfect – cinematographer Anthony Dod Mantle throws in one glorious shot of Renton and Spud at the top of Arthur's Seat looking down on the city below them.
As the 18 certificate attests, the film is just as scabrously violent and outrageous in its humour as its predecessor. Begbie (Robert Caryle with a now silver moustache but as psychopathic as ever) has been languishing in prison for two decades, plotting his revenge against Renton (McGregor), who ran off with the money in the first film. Simon (Lee Miller) is a blackmailer and would-be pimp. Spud (Bremner) is a suicidal heroin addict, separated from his wife. The four musketeers they aren't. When Renton comes back to Edinburgh from Amsterdam where he has been hiding out, it's inevitable that chaos and bloodshed will follow as history repeats itself.
Sometimes, the gags here are a little obvious and sitcom-like. There are early scenes involving Renton on a running machine, Begbie getting in his first head butt and Spud having fantasies about being a Raging Bull-like boxer that feel a little forced. The film is full of self-conscious references to its predecessor. The main female character, the beautiful young Bulgarian Veronika (Anjela Nedyalkova), is close to the stock type of the "tart with a heart".
Thankfully, Boyle directs with huge energy and inventiveness, using music every bit as effectively as in the first film to drive on the action. As in the first film, he gives the story an epic scale, often filming the characters in full frame and avoiding the claustrophobic feeling of so much of British social realist drama.
There are some inspired comic set-pieces along the way, notably one in which Renton and Sick Boy improvise a sectarian chant to placate Catholic hating unionists they're trying to rob. Trainspotting creator Irvine Welsh has an effective and creepy cameo as a gangster.
The actors, meanwhile, are all at the top of their game. McGregor has that wildness and grinning delinquency that made him so memorable in the first film. He gets to deliver a "choose life" soliloquy which is even darker and more despairing than the one from 20 years ago. (Now, the references include zero hour contracts, Facebook, Twitter, reality TV and revenge porn.) Jonny Lee Miller's Simon is charismatic and cretinous by turns. Carlyle manages to make us feel sympathy for Begbie in spite of his monstrous behaviour. As Spud, Bremner plays part of the holy innocent – the only one of the four who isn't venal and self-serving - in appealing comic fashion.
Alongside the high jinks and visual flourishes, the film has some very poignant and introspective moments in which the characters confront the mess they've made of their lives. There is one telling scene in which Veronika looks on perplexed as Renton and Sick Boy go through their male bonding rituals, putting on their old football kits and desperately trying to bring back the past.
It will be intriguing to see how T2 registers with a younger audience who don't know the original film and aren't aware of all the cultural references thrown into the mix here. Older viewers, though, are likely to be delighted with a sequel which matches its predecessor both in its zest and in its emotional kick.
Join our new commenting forum
Join thought-provoking conversations, follow other Independent readers and see their replies