Tehran is a half-pipe: On board with Mathias Zwick
The French photographer discusses his documentation of a lesser-known side to Iranian culture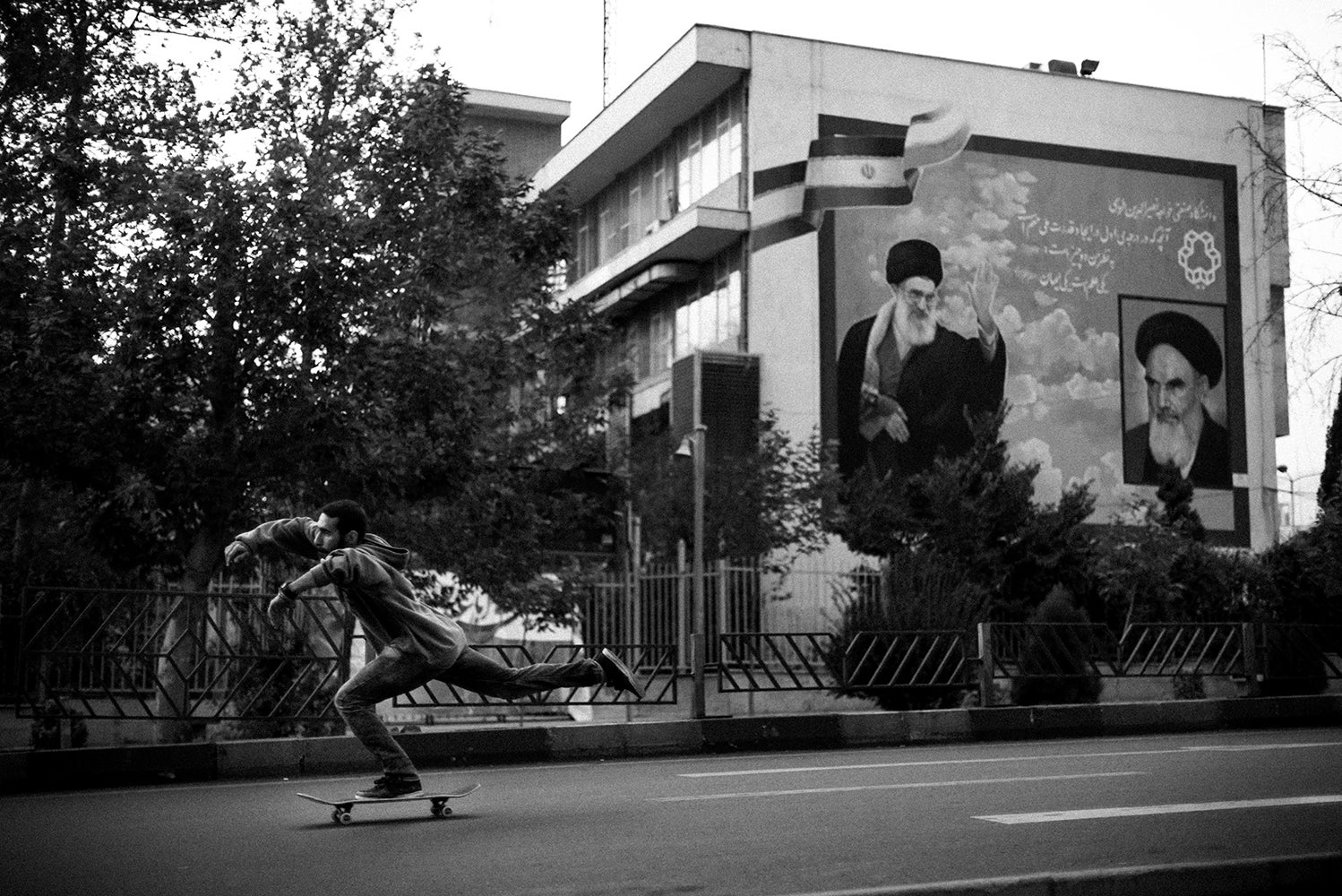 Teams of teenagers skateboard down a road, crouching and jumping, weaving between cars. They wear typical skater clothes with American branding, they use Go-pro cameras; but look again and see the arabic writing and ornate Persian architecture. This is Iran - one of the most conservative countries in the world - but not without its suprises.
A skateboarder himself for 15 years, French photographer Matthias Zwick stumbled across the thriving Iranian skate community when he was researching online.
"Two years ago I started wondering if skateboarding was really everywhere," says Zwick, 26. "I like to observe contradictions living side by side."
"The American roots of skateboarding made me think of another country, a US historical enemy, not very well known and often feared: Iran."
Realising that a happy skateboarding community has been emerging in Tehran over the past ten years, Zwick decided to meet these young skateboarders and skateboard with them.
"I wanted to get to know them, photograph them in their lifetime adventures and show another side of Iran, the side of a youth open to the world away from the religious and conservative image that Iran embodies in our western countries."
Mathias Zwick: Skateboarders of Iran
Show all 11
Before leaving France, the Parisian photographer made contact with the owner of TSIXTY, Iran's very first skate shop. A central pillar in the Iranian skateboarding scene, Alireza Ansari knows almost every skateboarder in the country, says Zwick.
"Thanks to him I managed to integrate the young skateboarders' community of the Islamic Republic and travel across the country with them."
There are thought to be around 2,000 skaters in the country - the majority of whom are students between the ages of 15 and 25.
But the hobby is expensive, given the difficulties associated with importing American products to the conservative state. Unlike Paris or California, where skate parks and boarding is a rite of passage for money-poor and time-rich teenagers, skateboarding is not accessible to all.
"The Iranian people suffer from the negative image of the country on the international scene," says Zwick. "I have met young people displaying undeniable signs of generosity and hospitality. To live as they want to, they have learned to deal with many prohibitions they encounter in their daily lives."
Perhaps most surprising is the number of young women seen participating in the hobby. Although skateboarding is still a marginal practice, Zwick says he witnessed more girls on a skateboard during his month-long trip to Iran, than during his 15 years of skateboarding in France.
"It is one of the few mixed-gender sports of the Islamic Republic," says Zwick. "As soon as I knew that girls were skateboarding in a city, I asked my traveling companions to let them know that we were coming so they could join us. Most of them started after watching boys skateboard in the street or after stumbling upon skateboard videos on the internet."
"I love photography because of the diversity it offers. The photo is an incredible way to meet people and learn in many different areas."
"Photography is extremely rewarding. It offers endless possibilities. I intend to continue to explore."
Mathias Zwick - www.mathiaszwick.com
Instagram - @MathiasZwick
Join our commenting forum
Join thought-provoking conversations, follow other Independent readers and see their replies