The enduring power of M R James
One writer's ghostly offerings have become as inextricably linked with Christmas as turkey and stuffing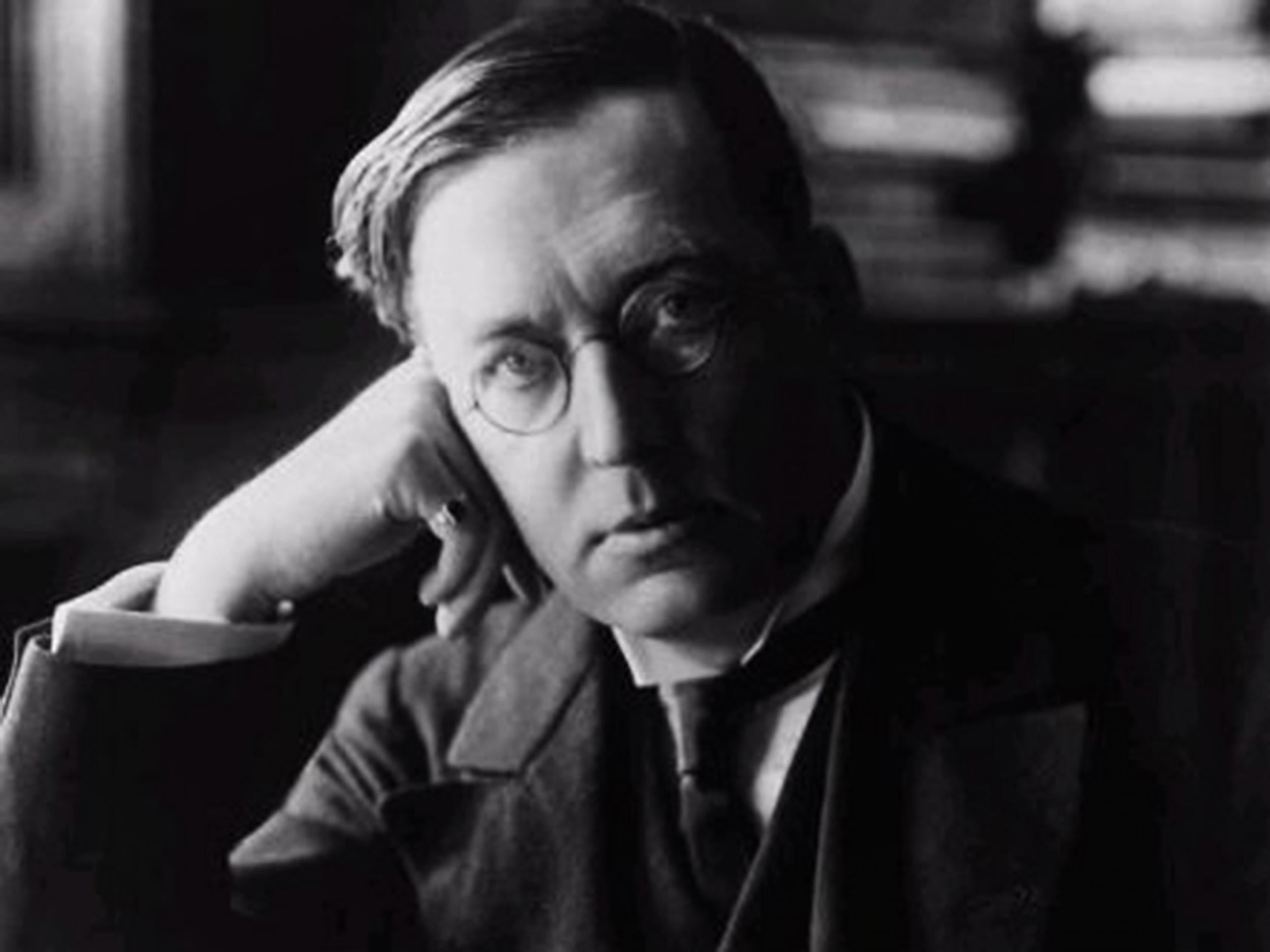 We all love a good ghost story at this time of year. This is due, no doubt, to one Mr Charles Dickens and his enduring morality tale, A Christmas Carol – its three spirits (four, if you count dead-as-a-doornail Marley) and their redemptive effect on miserly old Scrooge.
But there's another author inextricably linked with the festive period – Montague Rhodes James, born in 1862 and in his grave these long 80 years. Which is perhaps somewhat curious, as James's ghostly confections are generally not very Christmassy at all.
MR James, to give him his publication byline, was a respected medieval scholar as don and provost of King's College, Cambridge.
It was there that James, the son of an East Anglian clergyman, first began to write his ghost stories, and how he became entwined with Christmas like a creeper of ivy curling around a sprig of holly. He read his ghost stories aloud, gathering fellow academics, students and colleagues around him in the study of the Provost's Lodge on a Christmas Eve, the fire roaring and the windows fast against the flurries of snow… and whatever else lurked out in the darkness.
His first collection was published in 1904, the rather fustily titled Ghost Stories of an Antiquary nevertheless setting out James's stall. Combining his interest in ancient history with things beyond our ken, his stories were often of presences and evils from times long gone, returning to harry and terrify those who strayed too far from the path of contemporary Edwardian existence.
Indeed, the type of classic ghost story he penned has become dubbed Jamesian, and has fostered many successors, imitators and homagers. What makes the perfect James story? Location is all… whether it's a lonely spit of land on the English coast or some country village untroubled by modernity, or perhaps a venerable town or village in France or Scandinavia, usually built around a foreboding abbey or ruin.
Then there's the protagonist, who is usually an academic very much of the MR James mould, a man whose interests lie in the far past rather than the hurly-burly of the present, someone who can take long holidays to explore forgotten corners just off the main highways of life.
And there will be a book, or a painting, or a trinket, something around which cluster, invisible, the spirits of the dead or demons from the pit; or whose removal or misuse will attract those of a numinous bent like moths to a suddenly struck flame.
It's easy to imagine James leaning back in his leather chair and relating one of his tales to his brandy-swilling peers by dim candlelight, perhaps Canon Alberic's Scrap-Book, in which a Cambridge man ill-advisedly disturbs the titular tome in a church not very far from Toulouse; or possibly The Mezzotint, in which said engraving of a manor house shows a sinister shape which seems to get closer with each inspection; or maybe Number 13, which tells of the Golden Lion hotel in Jutland where the superstitiously numbered room is one day there, and not the next… and holds a rather horrific tenant.
However, it wasn't until three decades after his death that James's link with Christmas was forged in steel, thanks to the BBC adapting several of his stories. The first was Oh Whistle and I'll Come to You, My Lad, which made it to TV in 1968 (minus the "My Lad" bit of the title) starring Michael Hordern as the introverted academic who, wouldn't you know it, blows a whistle he finds while touring the bleak, remote outposts of the East Anglian cost and brings upon himself the attentions of a very creepy presence.
The success of the Jonathan Miller-directed adaptation prompted the BBC to commission more James films, which they did under the banner of "A Ghost Story for Christmas". Between 1971 and 1975 the annual James adaptation was a Christmas standard, with the full complement being The Stalls of Barchester, A Warning to the Curious, Lost Hearts, The Treasure of Abbot Thomas and The Ash-Tree.
The BBC adaptations were many people's first introduction to James, if not at their original broadcasts then through their subsequent irregular repeats.
Reece Shearsmith, of the dark BBC2 comedy series League of Gentlemen and Inside No 9 – which which has a creepy Christmas special on BBC2 tonight at 10pm – recalls that his first introduction to James was reading the story Casting the Runes when he was very young, having seen the 1957 film adaptation, Night of the Demon. "But I suppose it was the Lawrence Gordon Clarke adaptations for Christmas that really made me take notice," he says. "They were the Christmas treat. The films were perfect renderings of the creeping dread of the MR James stories. No mean feat to make those stories work in a drama.
"A lot of the ghosts in his stories are very nebulous and oblique, more a feeling than a reality. The BBC films are genuinely haunting… some are terrifying."
Inside No 9, and Shearsmith's other work, hasn't been directly influenced by James – although an episode called "The Harrowing" certainly has a bit of a Jamesian flavour. He says, though, that "there is a lesson to be learned from the tone he manages to set."
"Normality and the 'usual' becoming less and less comforting. That unease is a delicate but potent ingredient when telling a story of the macabre."
Culture news in pictures
Show all 33
But just what is it about James's stories that have survived for so long and makes them still revered today? "I think there's a cosiness about them – at least in the beginnings, before things turn dreadful – that feeds into a familiarity that is very comforting, much like Christmas. All the doomed scholars and professors in James have very ordered lives, and are going about their business, or indeed pursuit of their hobbies, when things turn spooky. And yes indeed – Dickens, I think, has everything to do with this link.
"I think it's the dark nights. Christmastime, with its twinkling lights and roaring fires lends itself to the thrill of a ghost story. We gather together as families and as we settle in for nights of reminiscing – it isn't long before someone will bring up a creepy story, or remind everyone about the time Auntie Irene saw a ghost on the village green."
Sarah J Naughton agrees. "Christmas is the perfect time for ghost stories," she says. "I got hooked on them as a child, probably with A Christmas Carol. Home at Christmas is the best place for ghost stories, because it's a cosy environment, with the lights and the fire and it feels a safe and homely place to read ghost stories."
Naughton's disturbing psychological novel Tattletale is published by Orion imprint Trapeze next August, and will be followed at Christmas by a story she's written which is her own homage to James. "There's something about the way he describes physical movement that's somehow really scary," she says. "It can be sinister… like the way Bob crouches by the bed in Twin Peaks. A ghost story isn't like a horror story because there's always an aspect of redemption. The characters tend to emerge wiser and better people, so the stories end up being hopeful and uplifting – just what you need in the darkest coldest part of the year with only more cold and dark to look forward to."
Shearsmith's League of Gentlemen collaborator, Mark Gatiss, directed a new adaptation of a James story, The Tractate Middoth, for the BBC in 2013, and this year James also made the leap to graphic form with the first comic book adaptation of his work, at the hands of wife-and-husband team Leah Moore (daughter of god-like comic genius Alan) and John Reppion.
Reppion recalls his first encounter with James in one of the old 1970s horror story anthologies, probably published by Pan. "It didn't have a massive effect on me," he says. "I think that was because it was in and among stories from more modern writers. But it was when I later read a James collection I realized his stories are best taken a few at a time, because you get into that tone and voice."
Now a confirmed fan, Reppion, along with Moore, brought out their first collection of comic adaptations of four James stories in October, with the next volume to follow in October 2017. He says: "Some people might think James's stories are a bit waffle, a bit talky, given the time they were written. But there's not much fat on them at all, and although he was a medievalist many of the stories are told in a very contemporary way for the time."
What story would he recommend for anyone yet to discover James? "A Warning to the Curious," says Reppion, in which an antiquarian holidaying in Suffolk digs up an ancient crown that has a supernatural guardian.
Shearsmith would suggest either Lost Hearts – in which a young orphaned boy makes a horrifying discovery when sent to live with his much older cousin at a remote country house; or Oh Whistle and I'll Come to You, My Lad. "Both are horrible in the way they build the horror, with terrifying endings," he says.
Whichever you choose, pull tight the curtains, stoke the fire and light the candles. And that noise outside? Just the howling of the wind, an unfastened gate banging on the post, a dog snuffling by the back door. Probably.
Join our commenting forum
Join thought-provoking conversations, follow other Independent readers and see their replies