a profoundly affectionate, passionate devotion to someone (-noun), Jerwood Theatre Upstairs, London: review: Talking love and silence
Debbie tucker green's latest is a beautifully dark and recognisable love story
Joe Vesey-Byrne
Tuesday 07 March 2017 17:06 Comments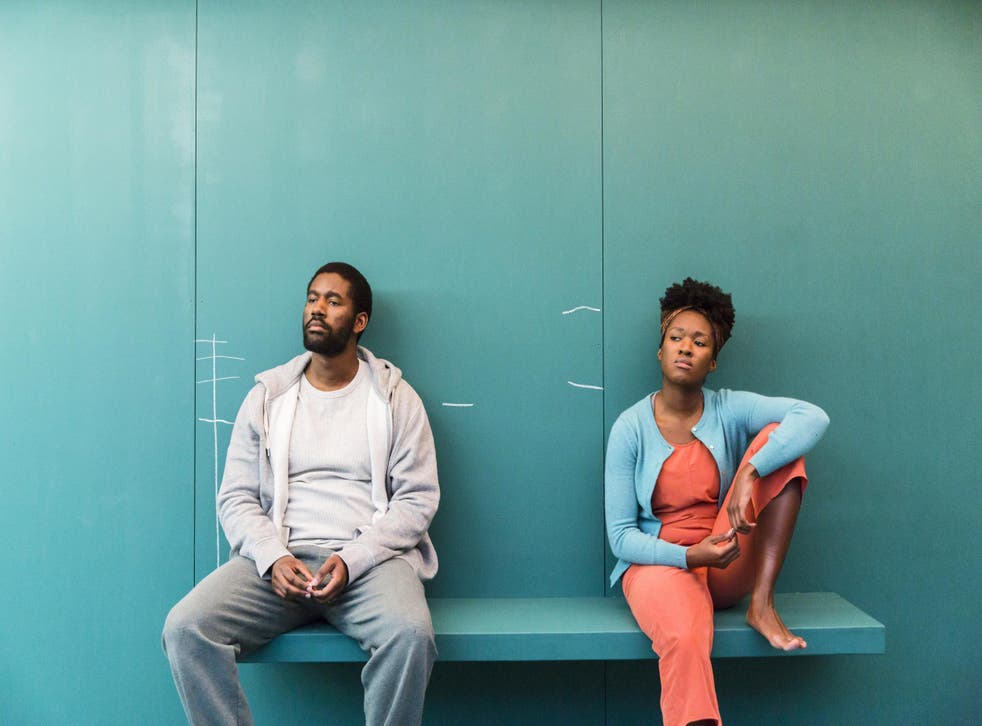 ​Rhythmic yet naturalistic dialogue presents an intelligent yet accessible story of how love breaks down, in debbie tucker green's entertaining return to the Royal Court. The writer and director debbie tucker green (whose own name and play titles are rebelliously lower case) has created an insightful observation of how we dissect our relationships, how we talk about talking, and what 'silence' means between lovers.
Typical of her writing style, tucker green uses a small cast and a tight running time, both well suited to the confined space of the Jerwood Theatre Upstairs.
Insults, teasing, and emotional ripostes are volleyed over the heads of the crowd, making the audience's swivel stool seats necessary to stop you from cricking your neck at the pace of it all.
The first half of the 80 minute drama and the solid core of the play is a couple, 'A' and 'B'. They begin as mob pleasing debaters, a Benedict and Beatrice for modern love, and sex is an ever present part of the discussion.
As the scenes progress, laughter turns to an uncomfortable sense of eavesdropping as their conversations become steadily more intimate. Tucker green's talent is that they remain relatable. The strength of this is tested in the moment A utters a shocking and unforgivable thought.
The cast are incredibly convincing. Gershwyn Eustache Jnr, experienced with tucker green's material previously in the 2014 adaptation of Second Coming, and Lashana Lynch as B and A, are the heart of the play and both give astonishingly exposed performances.
Meera Syal in part two exposes a rueful character's inner vulnerability beautifully, and keeps the scene from feeling humdrum after the high drama of A and B's story.
In the play script, tucker green makes a point of assigning each character 'active silences'. For a play so much about love, the word itself appears infrequently. The absence of 'love' is how it makes its presence known.
Tucker green's play is intelligent without resorting to pompous dialogue or histrionic characters, and the evening feels like a privileged peep inside the lives of three recognisable love stories.
Register for free to continue reading
Registration is a free and easy way to support our truly independent journalism
By registering, you will also enjoy limited access to Premium articles, exclusive newsletters, commenting, and virtual events with our leading journalists
Already have an account? sign in
Join our new commenting forum
Join thought-provoking conversations, follow other Independent readers and see their replies