Dublin Old School, National Theatre, London, Review: Emmet Kirwan and Ian Lloyd Anderson play off each other with a brilliant rhythmic rapport
Emmet Kirwn's two-hander, starring himself as Jason, a wannabe DJ and Ian Lloyd Anderson, as his long-lost drug addict brother, is highly charged theatre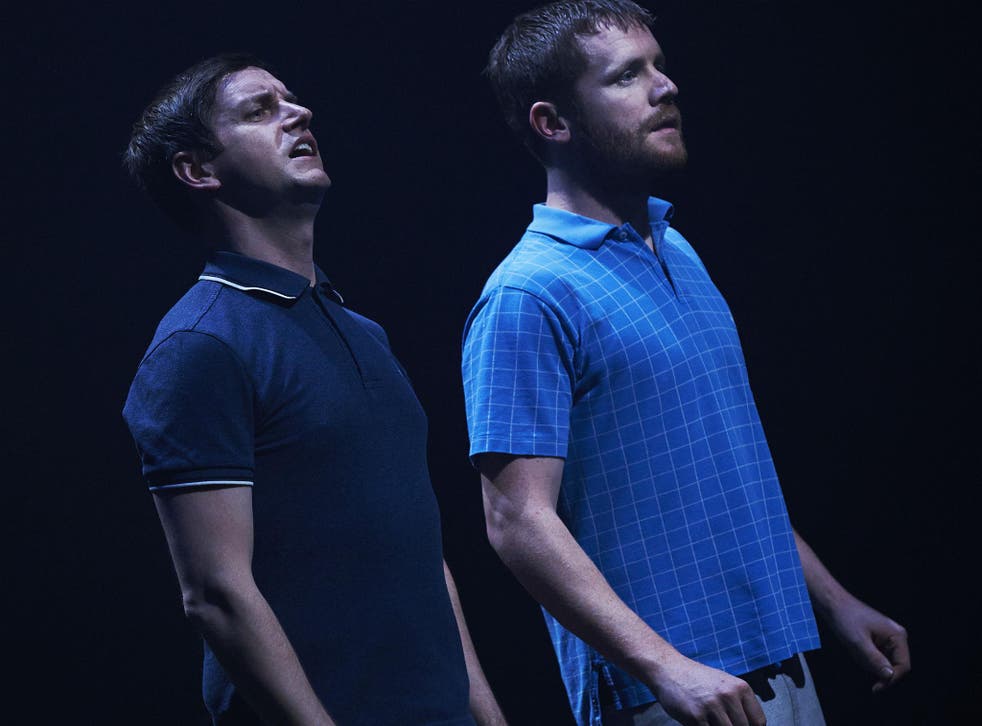 It's as a great onrush of sometimes laugh-out-loud verbal virtuosity that Emmet Kirwan's very talented two-hander bowls you over. On a stage empty but for a couple of microphones, Kirwan and Ian Lloyd Anderson play off each other with a brilliant rhythmic rapport and a keen instinct for when to vary the pace and the dynamics as the material shifts around a variety of modes. There's the swagger and linguistic self-intoxication of rap and a kind of vernacular concrete poetry that you can almost see materialising in mid-air as it is uttered. There are passages that reminded me a bit of Martin Amis in their openness to the low farce of bodily life and in their aplomb at comic exaggeration – "It's a napalm explosion in the south-east Asian jungle that is my nose hair" reports our hero after he's snorted up a wrap of ketamine. And there are quieter, fully dramatised scenes that have a huge emotional charge and prove that Kirwan's power as a theatre-maker does not depend on constant verbal pyrotechnics.
The author portrays Jason, a Dubliner in his late 20s, whose fruitless ambition is to do the warm-up set for one of the visiting star DJs at a rave. We follow him over a drug-fuelled weekend in the capital's scuzzy club scene as he gives his mind a chemical kicking and stumbles through a series of misadventures that include a police bust, a humiliating run-in with his ex-girlfriend and tasting the penalties of being a mere gopher for a celebrity DJ who puts a hole in the landlady's wall: "Ten minutes later I'm standing in the street with a six-foot speaker, shepherding the expelled exodus of revellers to the promised land of the Bernard Shaw like some sort of techno Moses".
Jason can be so droll and perceptive about his unenviable lot but his ability to see it at a distance doesn't mean that he's not firmly stuck in it. He keeps spotting (or so he believes) his doppelganger. And there are crucial chance encounters (are these in his mind too?) with Daniel, his university-educated older brother who is now a homeless heroin addict (beautifully played by Anderson --- who also creates a cascade of cameo characters). The siblings haven't seen or spoken to one another in three years. These excellent scenes establish that Jason, who says he plans to come off recreational drugs in three years, is in denial about how much he has in common with Daniel. But to put it that way would misrepresent the tone of the episodes that are funny, awkward and heart-wrenching as the painful twist of intimacy and hurt, love and resentment in their relationship now is exposed. During the police bust, Jason had to dump his wallet and he's farcically reduced to begging money from his homeless brother who only has a sock full of change.
The odyssey over very precise locations in Dublin; the mock-heroic pitch ("Epic. In small ways.") and the purposefully limited time-span naturally – and outrageously – put one in mind of Ulysses. The lost weekend trope is reminiscent pf fellow Irish dramatists, Conor McPherson and Marcus O'Rowe. I think that all threee of those authors (Joyce had the gifts to be a killer rapper, if not quite the temperament) would get a kick out Dublin Old School which is Kirwin's first play. Philip McMahon's compelling 70 minute production has appeared in Dublin and in Edinburgh; all honour to the National Theatre to give it this prominent platform in London.
Register for free to continue reading
Registration is a free and easy way to support our truly independent journalism
By registering, you will also enjoy limited access to Premium articles, exclusive newsletters, commenting, and virtual events with our leading journalists
Already have an account? sign in
Register for free to continue reading
Registration is a free and easy way to support our truly independent journalism
By registering, you will also enjoy limited access to Premium articles, exclusive newsletters, commenting, and virtual events with our leading journalists
Already have an account? sign in
Join our new commenting forum
Join thought-provoking conversations, follow other Independent readers and see their replies