Edinburgh Fringe 2018: 'Dressed' creators explain why making a show about being stripped at gunpoint was liberating
'Making my entire wardrobe helped me reconnect with my body. It gave me the time and space I needed to heal,' says Lydia Higginson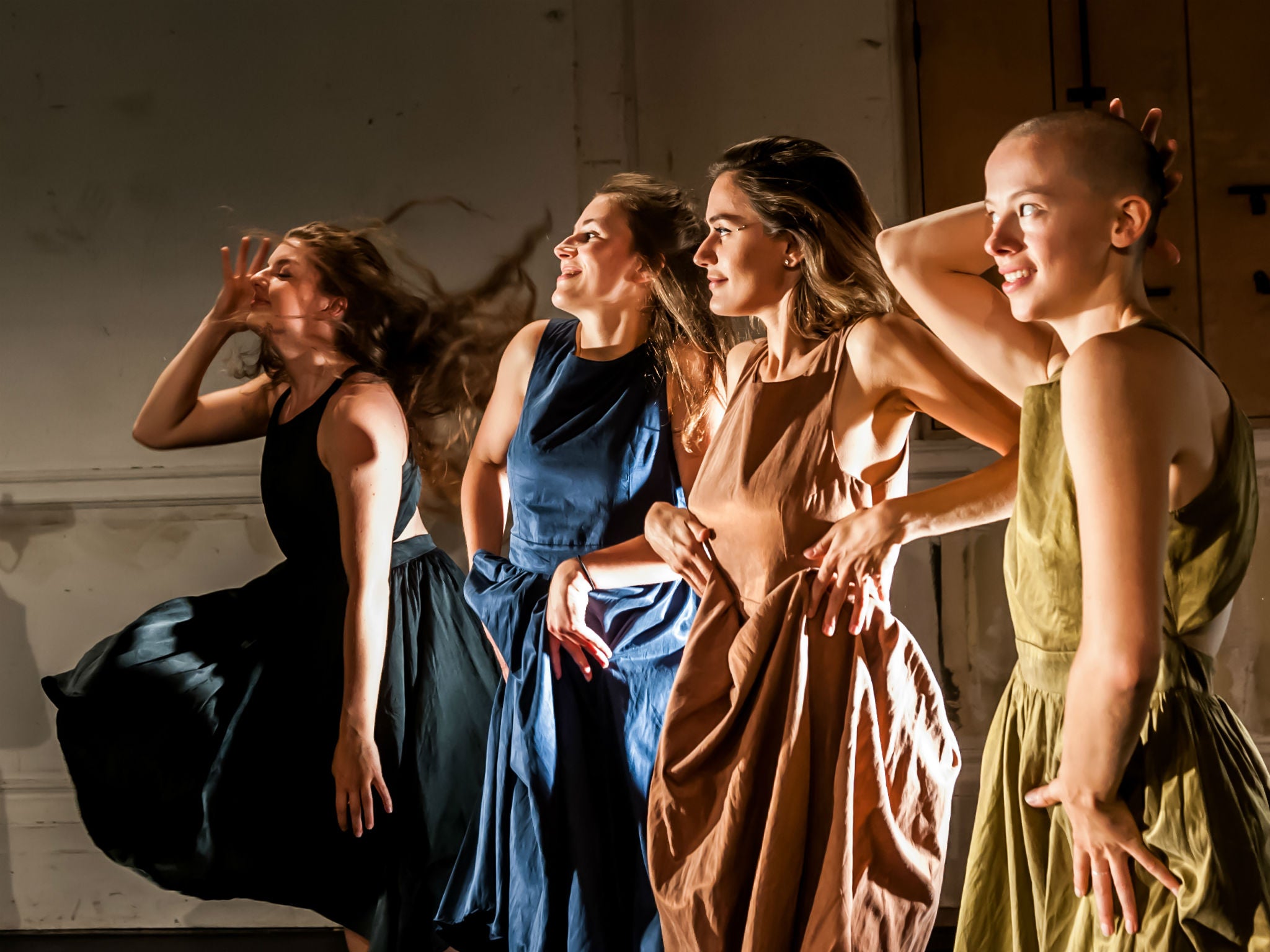 In the first week of rehearsal for my new show Dressed, I brought along four costumes which I had been hiding under my bed for five years. I had made them a few months after being stripped and sexually assaulted at gunpoint.
The four costumes represent the four women I had become in order to overcome what had happened. One was a showgirl, one was a warrior, one was a joker and one was a dark woman.
Last year, I had asked Josie, one of my best friends since school, if we could make a show together. She is a theatre maker and I'm a costume maker.
We knew what we wanted the show to be about and we knew we needed help. So, we asked our friend Imogen Mahdavi, who is a singer, to come and write the music and our friend Olivia Norris, who is a dancer, to come and choreograph the movement.
I asked my friends to join me, and we put the four costumes on. They each began to develop their own version of the archetypes the costumes represented.
Watching my friends embody what I'd been trying to express for so long, through their characters and through their art forms, has liberated me. Mixing different forms of performance has allowed us to express my story in an entirely new way.
When text can't conjure up the feeling, we sing. When words can't describe the feeling, we move. We play ourselves. When that's too much, we put on costumes.
I've always been fascinated with the power of clothes to define us, liberate us, hide us and embellish us.
In our production, the showgirl costume represents the pressure women feel to be perfect, beautiful and pure. The joker costume represents the need we have to find humour in overcoming trauma and explores where the line can be drawn with dark comedy. The warrior costume represents our need to fight and the rally cry of the #MeToo movement. The dark woman does not have a voice, but there is still a power in her silence.
The theatrical show, which I started two and half years ago, was more of a personal project. I decided I wanted to make my entire wardrobe from scratch.
So, when I woke up on 1 January 2016, I started sewing.
I began with a turquoise blue bra and pants. That year I went on to spend over 1,000 hours sewing. I made over 70 garments including jeans, coats, dresses, jackets, dungarees, jumpsuits, leggings, jumpers, swimwear, shirts and skirts. I wrote a blog about how it felt. By the end of the year it felt incredible to be able to give away all the clothes I had ever bought from shops. I now only wear clothes I have made.
Making my entire wardrobe helped me reconnect with my body. It gave me the time and space I needed to heal. Wearing clothes that I have made is the most honest way I have of being in the world.
Despite this, I knew I still had a few skeletons in the closet or, in my case, costumes under the bed which I hadn't dealt with.
We now use these in the show to explore female performance – when costume and character are useful, and when they are not. Six years after the assault I felt ready to express the complicated journey I went on in trying to overcome it: the darkness of living with post-traumatic stress disorder (PTSD), anxiety and depression.
A theatre show felt right because I knew I would have complete control. As a company we have agreed that the show will be ever evolving. The journey won't get stuck in time. We can be reactive to the wider movements and conversations happening regarding rape and sexual assault.
The women who have made Dressed with me have been my friends since I was 10. They've been on this journey with me. I couldn't have made this show with anyone else. And taking on group ownership of this has been the ultimate act of friendship.
I didn't want to talk about being stripped anymore – I wanted to talk about getting dressed. I wanted to express how the women around me had protected me and given me everything I needed to feel safe again. I want the show to be hopeful.
Dressed is at the Edinburgh Festival Fringe from 2-13 and 15-26 August, tickets.edfringe.com/whats-on/dressed
Join our commenting forum
Join thought-provoking conversations, follow other Independent readers and see their replies