Edinburgh Fringe review: Travesty, Assembly George Square, Edinburgh - A millennial, anti-gender take on the boy-meets-girl trope
Stand-up Liam Williams's sharply comic debut play forces you to notice how coded and gendered both language and gesture can be
Holly Williams
Monday 08 August 2016 18:08 Comments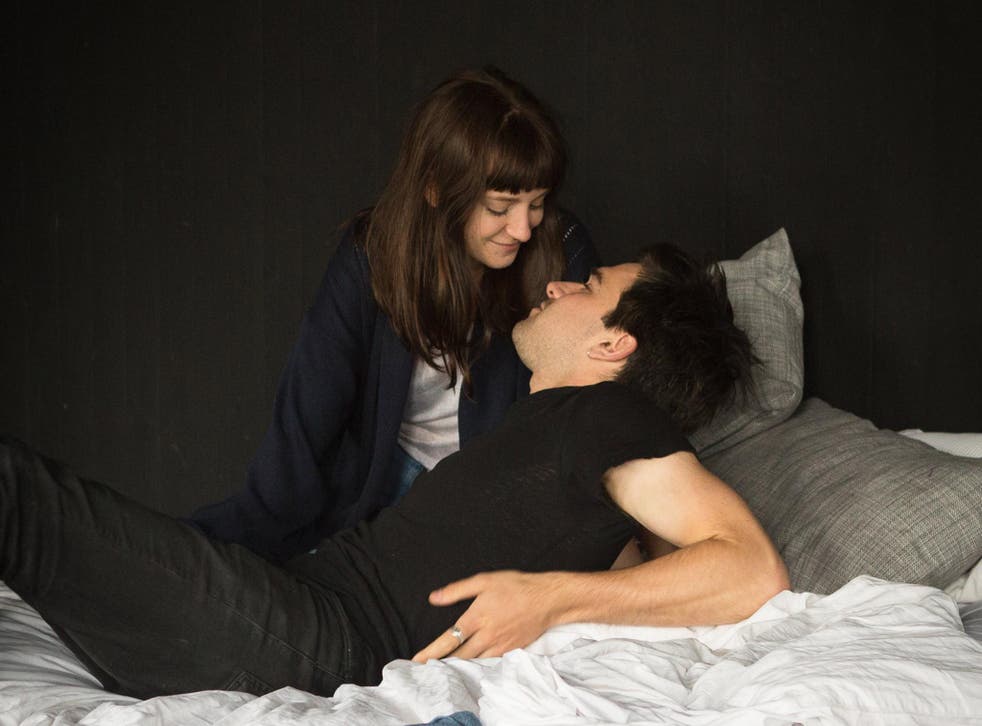 Boy meets girl; audience meets couple, at four points in their relationship: from the elated but uncertain early stages to "I love you", from first cracks to deep rifts. All the action takes place on and around a double bed, both a charged and mundane setting (albeit one that causes sightline issues). Travesty is a millennial take on a familiar arc, the standard A-B love story: Anna and Ben, she is a 25-year-old PR, he is a 29-year-old English teacher. Except that in stand-up Liam Williams's sharply comic debut play, Anna is played by a man, Pierro Niel-Mee, and Ben is played by a woman, Lydia Larsen.
Cute, huh? Well, yes: early scenes especially get a frisson from highlighting gender norms by making them physically unfamiliar – it's the male actor who coyly covers her nipples, who wants to wear her boyfriend's jumper; while it's the female actress who relishes not taking a shower. You notice how coded and gendered both language and gesture can be: the strangely possessive slap that Larsen gives to Niel-Mee's bum; the coy, cooing way Neil-Mee strokes Larsen's face. Coming out of a man's mouth, we notice how Anna's language is all wheedles, suggestion, half-hidden neediness, while Ben seems so much more matter-of-fact.
Is all this simply reinforcing gender stereotypes though? Would Williams get away with writing these "typical" characters if they were played by the "correct" gender, or is it a cheap gimmick to make the clichéd seem clever? He pulls it off – but only because his writing is so good.
God, you believe in Anna and Ben. Your heart beats with them, cringes with, breaks with them. Telling details weave into a completely convincing tapestry – from the "our-thing" indicators of love (a lemon tart) to the tiniest verbal slips that only a partner would notice ("why do you always call her 'my friend' Gillian?").
Travesty is also very funny, with Larsen and Niel-Mee both hitting the comedy beats, while still sounding totally natural. And even when they do exhibit tired gender clichés – the woman a nag, the guy drunk and jealous – these feel newly truthful.
The casting highlights predictable behaviours, but judging by the laughs of recognition that ripple near constantly round the room, Williams is really just reminding us of the basis of the clichés. That said, I can't help feeling he's rather more generous to his passionate, principled male protagonist… It's easy to focus after the fact on the gender swap - but, while watching, you stop even noticing. Because watching this painfully convincing couple unravel is an emotionally wringing experience.
Williams achieves in an hour what a sit-com takes seasons to do. My heart was a bit broken for them by the end.
Travesty likely will not speak to everyone so strongly – as a stand-up, Williams was lauded as a chronicler of millennial angst, a voice of a generation, and the tag won't slip with this show. Its particulars are very much those of the metropolitan, over-educated, hip young people; the thwarted career ambitions, the carefully observed minutiae of class difference, the just-so cultural signifiers of taste, the vexed confusion of when is the right time to stop partying and grow up, and whether you want to be the sort of couple who brunch… Such maladies will either chime exactly or seem like navel-gazing indulgences.
But the overarching questions – how much of love is compromise? Should you keep searching or settle down? – will surely resonate with anyone who's ever tried to make a relationship work.
Register for free to continue reading
Registration is a free and easy way to support our truly independent journalism
By registering, you will also enjoy limited access to Premium articles, exclusive newsletters, commenting, and virtual events with our leading journalists
Already have an account? sign in
Join our new commenting forum
Join thought-provoking conversations, follow other Independent readers and see their replies