The Independent's journalism is supported by our readers. When you purchase through links on our site, we may earn commission.
'A Girl is a Half-Formed Thing' review: A ghostly and beautiful play comes to New York
The play, based on the award-winning novel, is in New York for its US premiere after a run in Dublin and Edinburgh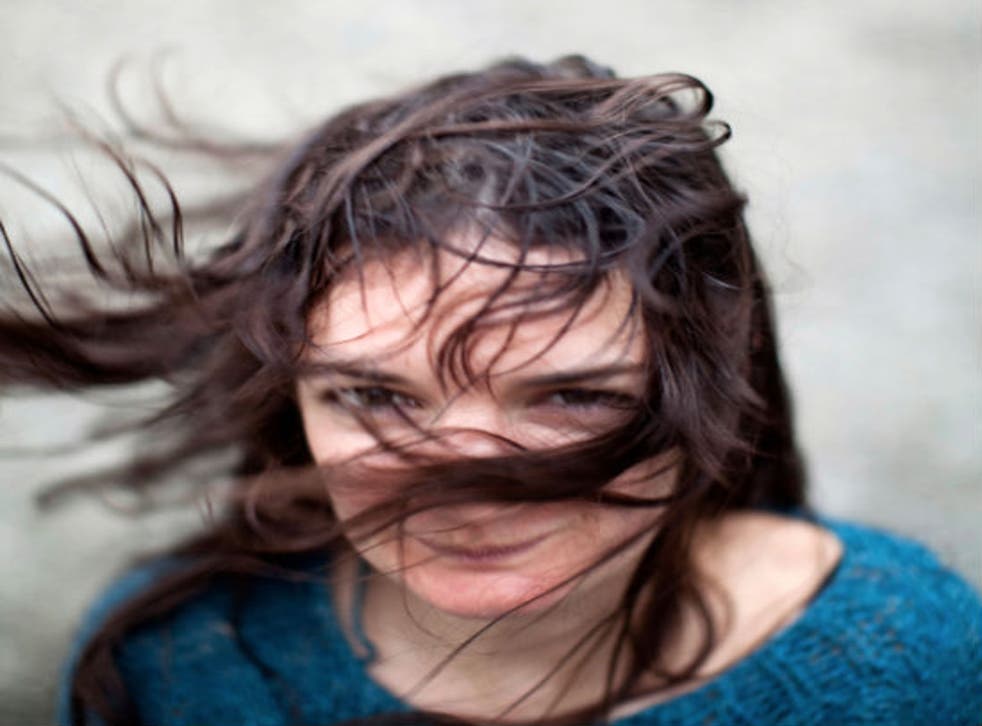 Fans of Irish writer Eimear McBride may well wonder how her award-winning debut novel, "A Girl Is A Half Formed Thing", could be adapted for the stage.
The book is written in what Ms McBride describes as a "pre-stream of consciousness"; short sentences, poetic language, and a hint of ambiguity.
"It's about trying to write the physical experience of life, to put the gut reaction into life," explained the author in a cafe near the Manhattan-based Baryshnikov Arts Center, where the play is currently making its US premiere.
Ms McBride sold the play rights to Annie Ryan under strict terms - not a word has been changed, only cut down to size.
The whole storyline is therefore condensed into 85 minutes. The Girl is repeatedly abused by her uncle, her grandfather dies, her brother dies of cancer, her mother turns ever more nasty, and she ends up taking her life by drowning in a lake.
As New York Times reviewer Ben Brantley said, "My advice is to go with the flow — or rather the fierce current — of Ms Duffin's performance. You'll get your bearings sooner than you think."
Actress Aoife Duffin, who emerges onto the stage in the half-dark wearing pajamas, is outstanding.
Her creepy smile of the Girl's uncle is haunting; the weary, religious mother makes you want to tear your hair out with frustration; and her Girl as the feisty yet traumatised rape survivor is harrowing.
One would hope that Ms Duffin has a way to disconnect in her time off as her performance is so raw and intense.
Although Ms McBride admitted she was sceptical about the play at first, she said she was reassured when she heard Ms Duffin read out the script.
"I could tell she really understood the language," she said.
Ms McBride has seen the play "many times" - it originated in the Corn Exchange in Dublin before taking on a six-week run in Edinburgh - and said it was like watching the "highlights" of the novel, and "the nuance is gone".
"I miss the rest," she said. "But that isn't a criticism of the play. They [Annie and Aoife] have done a very good job."
The plot - in the book and the play - may come as a surprise to viewers, just as it did to Ms McBride when she wrote the book.
"I didn't want to write about child abuse," Ms McBride, referring to the uncle. "So I wrote: 'He didn't get me after all', and I closed my computer and went away and had dinner. But the next day I sat down and typed: 'Oh, but he did.' I just knew that was what was going to happen next."
The theme of sex and power is an important one throughout the book.
"The point is she's always making decisions," said Ms McBride. "I didn't want her to be the victim. Even when terrible things are happening, [she made choices]."
"At university she comes very close to being free of that trap of sexual abuse. But the illness of her brother draws her back. That's the tragedy of the book. She never manages to escape," she said.
Asked about how the theme of sex, power and control reflects on women generally, Ms McBride said: "I don't think they [women] realise how much power they have. If women realised that the world would be a different place."
In what way?
"I'm nearly 40 and if I look back at myself I wish – well, I wish I had started by telling more people to f*** off – and that I had understood the power I had. But it's not something women are reared into thinking. [If they had,] they would have more control over their lives and the choices they make."
Ms McBride mentioned a court case in the 1990s, where a girl was forced to go to court to get an abortion in England as it was outlawed in Ireland.
"That was a huge moment for me and to learn how hard it is to be a woman - that other people have rights over your own body."
In the book and play, Girl's mother has been abandoned with two children and she clings onto religion. She favours the son, she thinks the Girl is a "madam", swanning home from university. She tells Girl she wished it was her who was lying in the coffin instead of her son.
"I think she [the mother] doesn't know how to control her daughter," she said. "It also comes down to the relationship Irish women have with their daughters and their sons. Women are treated to be hardy while the men are seen as emotionally weak."
After years of temp jobs in London, Ms McBride wrote the book in six months when she was 27 but it took 10 years to get it published.
She spent the interim years writing her second book, "The Lesser Bohemians" – out 1 September in the UK – about a love story between a drama student and an actor in London in the 1990s.
Does she feel pressure after the enormous success of her first novel?
"I do feel pressure," she said. "But I remembered that I'm not writing it to get a good review. A good review is very nice, it's what all writers long for, but I'm writing it for it to be read in 30 years, in 100 years' time."
"A Girl Is A Half Formed Thing" is showing at the Baryshnikov Arts Center in Manhattan until 30 April
Register for free to continue reading
Registration is a free and easy way to support our truly independent journalism
By registering, you will also enjoy limited access to Premium articles, exclusive newsletters, commenting, and virtual events with our leading journalists
Already have an account? sign in
Register for free to continue reading
Registration is a free and easy way to support our truly independent journalism
By registering, you will also enjoy limited access to Premium articles, exclusive newsletters, commenting, and virtual events with our leading journalists
Already have an account? sign in
Join our new commenting forum
Join thought-provoking conversations, follow other Independent readers and see their replies