A new plan for theatre: show the real face of the country on the stage
Director Sam Neophytou aims to bring multicultural Britain to the West End with his latest play
Christina Patterson
Tuesday 26 June 2012 11:09 Comments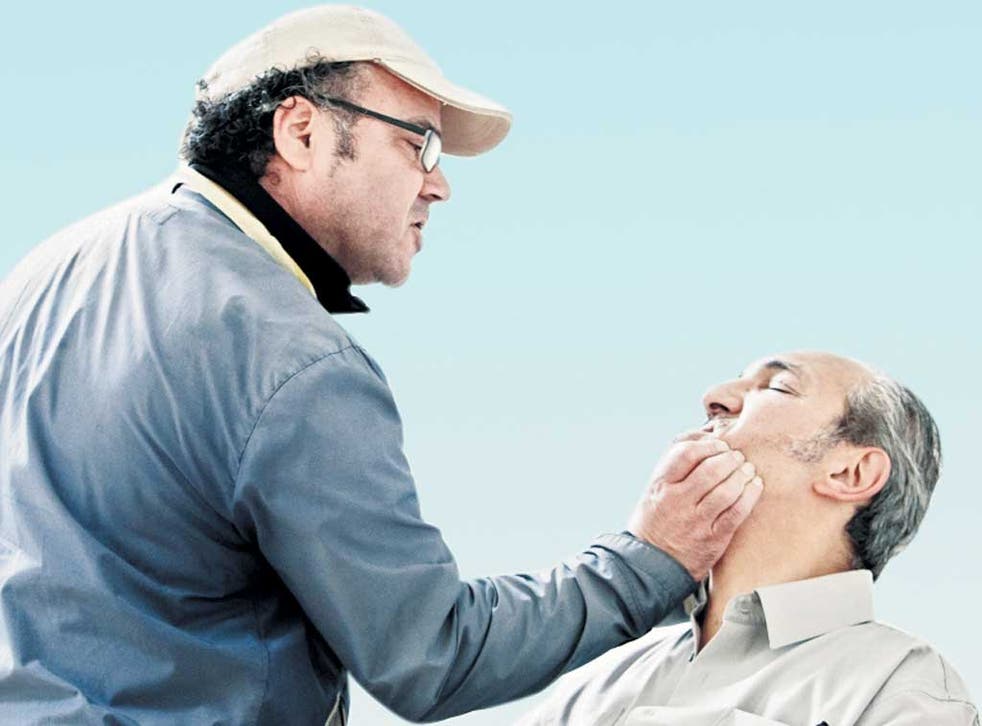 It isn't all that often that you hear a character in a West End play singing the praises of McDonald's. In Chicken, you do: one of the main characters eats burgers, and fries, and nuggets, and shakes, pretty much all day long. "We may," he says, "be all fucked up", but "at least you can count on Macky D's".
What he doesn't eat is the chicken. The chicken in the title, and also on the stage, in Inner City Productions' new staging of Mike Batistick's powerful play, is still in one piece. It's big. It's strong. It's ready for battle. It's ready, in fact, for the fight of its life, and the fight of its new owners' lives, too. The chicken that's sitting in a box in the middle of the stage, in the middle of the living room of a cramped Bronx apartment; the chicken that's being psyched, drugged and groomed for an illegal cockfight, is the nearest most of the characters get to hope.
"This," says Sam Neophytou, the co-founder of the London company and director of the play, "is a really hard piece. Every character you would look at and think they are devils." And he's right — at first, you would. There's Wendell, who seems to be trying to eat himself to death. There's his wife, Lina, who's pregnant and won't stop smoking. There's Floyd, his unemployed best friend who's kipping on their couch, and Rosalind, Floyd's whiney ex wife. They seem, when you first see them (or, in my case, read them in the script) about as dysfunctional as a cast of characters can get. But as the play progresses, and the tensions and betrayals begin to emerge, something changes. What you start to feel, as you watch them in what seems to be a fight for survival, is not just a kind of sympathy, but affection.
Off Broadway, where the play ran in a production starring The Sopranos'actor Michael Imperioli, the play won accolades. The New Yorker praised its "gritty, street-smart humour". The New York Times said that the story was "as moving as the jump over the class divide" was "rare". Neophytou decided to put it on because he's a big fan of its author Mike Batistick's work. He put on his play Bodega Lung Fat, about an obese unemployed electrician, a Latino drug dealer and a Hasidic Jew, at the Hackney Empire two years ago, and decided to put Chicken on after seeing it in New York. "I think it's the most relevant piece of work since all this stuff happened with the economy," he tells me in the mews house in Highgate where the cast were rehearsing. "It is about the underclass who live cheek by jowl with the rich."
It's also part of a wider mission. He started Inner City Productions with the writer and actor George Georgiou four years ago with the aim to "reflect creative outsiders from all walks of life" and "break cultural moulds". If this sounds like the kind of thing lots of arts companies say they want to do, these guys really mean it. They met when Georgiou was cast in Bubbles, a one-hour TV pilot Neophytou was making in 2008. Both sons of Greek Cypriots turned working-class Londoners, they hit it off. They both wanted, they discovered, to do work that showed London as a "multicultural city" and to combat the "established racism" in the media. They also wanted to put on work that wasn't just about the middle classes. "The working class in this country," says Neophytou, "seems to have become a minority. When you're an outsider, you do come from a different point of view."
"My parents had a deli," says Georgiou. "When I finished drama school 10 years ago, I found that literally people would only cast me on what they could see. It was a real shock. I was getting kebab shop owners and terrorists and rapists. I think that's why a lot of actors who aren't English go to America." Writing, he thought, might be a way of cutting through the prejudices of the arts establishment, but he soon found out he was wrong. "I was working on a play at the National Theatre," he says, "and it got to the point where the literary manager said, 'You're a very talented writer, and I like your play, but I can tell you we can't put it on at the National'." When he asked why, he was told "not enough Greek Cypriots go to the theatre".
What that had to do with anything wasn't clear, but such comments aren't, unfortunately, rare. Even in a city where ethnic minorities make up 42 per cent of the population, there often seems to be a feeling that work featuring any of them will only be of interest to people with exactly the same cultural background. No wonder the two men wanted to do work with, and about, some of the people you don't often see on a London stage. And no wonder that work has had a profound effect on some of the people they've worked with. "You get an 18-year-old black kid who comes in to do a workshop," says Neophytou, and you say 'I'm giving you the main part', and suddenly that child is enfranchised. Suddenly they feel important because their story's important, and that's what I feel it's all about."
And how are they going to get their audience? The play has nearly a four-week run, which is quite a lot of tickets to sell. Neophytou smiles. "Lisa," he says. He means Lisa Maxwell, star of Loose Women and The Bill. She's playing Lina, and Craig Kelly, formerly of Coronation Street, is playing Wendall. "We don't want to start preaching to a bunch of white middle-class intellectuals who come to the theatre," says Neophytou. "I want the Loose Women crowd. I want the Woman's Own lot, and the OK lot. I want all those people."
I hope he gets them. But I think "middle-class intellectuals" may well have a pretty good time, too.
'Chicken' opens tonight at the Trafalgar Studios, London (trafalgar-studios.official-theatre.co.uk)
Register for free to continue reading
Registration is a free and easy way to support our truly independent journalism
By registering, you will also enjoy limited access to Premium articles, exclusive newsletters, commenting, and virtual events with our leading journalists
Already have an account? sign in
Join our new commenting forum
Join thought-provoking conversations, follow other Independent readers and see their replies