Andrew Scott on Hamlet, Sherlock and making Shakespeare fresh for younger audiences
Best known for playing Moriarty in BBC's 'Sherlock', the actor reprises the role of Hamlet in the West End transfer of Robert Icke's production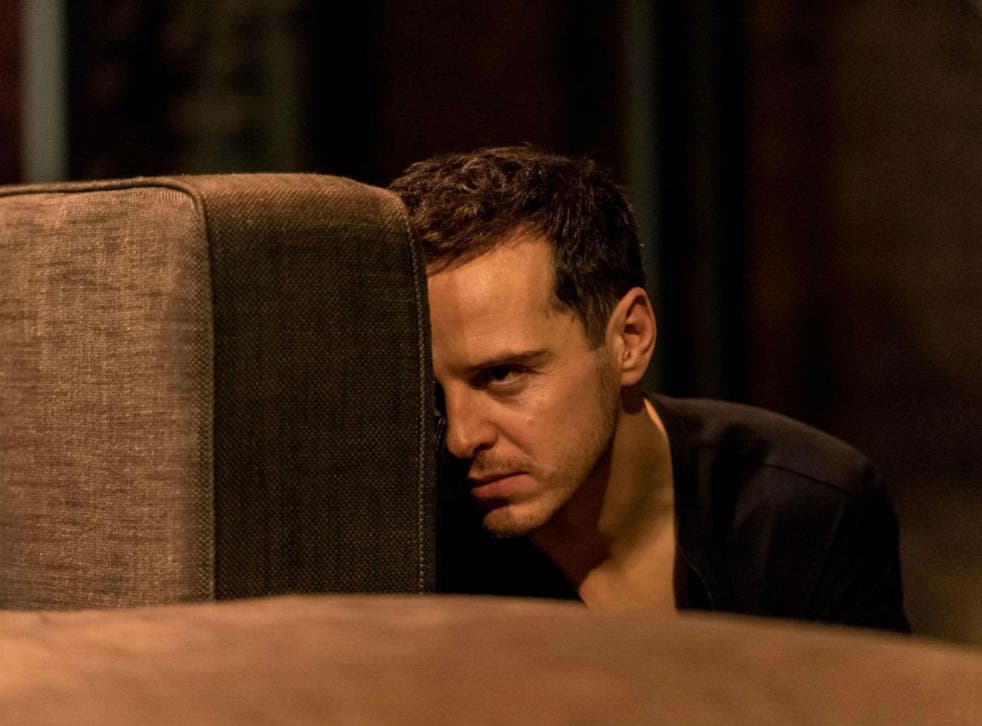 Andrew Scott will not leave you standing at a party without a drink.
I'm introduced to the Sherlock star at a film festival party in Poland, and after some pleasantries he insists on fetching everyone a drink from the bar. There are no airs and graces.
He's the main guest at the Krakow Off Camera Film Festival yet he is the one hosting. It seems that you can take the boy out of Dublin…
On the strength of his appearance playing Moriaty in Sherlock there are crowds of mostly young autograph hunters wherever he ventures. Scott always stops to chat and sign whatever is put in front on him. He's courteous, gregarious and charming.
So by the time we sit down for an interview, I'm already endeared by the 40-year-old with a boyish innocence.
The upcoming West End transfer of Robert Icke's modern-dress version of Hamlet sees Scott reprise the role he played earlier this year at the Almeida Theatre, to critical acclaim.
Because of the Sherlock connections, there was always going to be comparison between Scott and the last big name actor to take on the role in a massive London production: Benedict Cumberbatch.
That's even before we get into the list of heavyweights who have essayed the prince of Denmark in the West End.
The weight of history can be a terrific burden and he admits: "I felt it at the beginning."
The fear came from self-doubt. "My fear playing Hamlet was, am I in possession of the attributes to do Shakespeare? I'd never done a Shakespeare on stage before and is there a thing that I'm not in possession of?"
The reassurance came from Hamlet's director Icke, one of the leading lights in British theatre today.
"He said you have to deliver your own Hamlet. He was absolutely insistent on it."
Anyone looking at Scott's track record in theatre would have had no doubt about his ability to work Shakespeare. Hitherto he's excelled several times at the Royal Court: in Birdland, Cock and the award-winning A Girl in a Car with a Man.
He has appeared on stage in New York in Sam Mendes' production of The Vertical Box. He has serious stage chops.
Somewhat less glamorous was his last outing on the London stage in Richard Greenberg's The Dazzle. The site-specific London staging was performed at the disused building that used to house Foyle's bookstore on Tottenham Court Road. He says of the experience: "Oh Jesus, it was infested with mice in that building."
The choices Scott makes are part of a constant effort to challenge himself: "I wouldn't say I'm a fearless actor, but I would say my aim is to be fearless," he posits.
"I want to keep learning, I think the danger in having some degree of success or plaudits is that it can make you think, 'now I know, now I've got it'. I love the idea of still being able to make foolish mistakes."
Both Icke and Scott agreed that they wanted to make a Hamlet for younger audiences, for people that hadn't seen the production before. In rehearsals the cast had a "famous play buzzer": they would make a buzzing sound whenever they felt that they were just regurgitating old tropes, rather than adding a new dimension.
"We had to go, what are the three worst, most boring parts in this play? And then let's make them the three most exciting parts," he says.
"People sometimes go to see Shakespeare and think it's okay if they don't understand it all. Actually, I'm not saying that they should understand every single word, but there is a way of making everything accessible, the flavour of it, whether it's the ferocity or the tenderness."
The actor says one of the conditions of the transfer was making hundreds of cheap tickets available daily for the under-30s. He wants to keep theatre, and his work accessible. "I hate that theatre becomes more rarefied, like opera, where people can't afford to go. I don't want that to happen."
Born in Dublin, Scott's father worked at an employment agency and his mum was an art teacher. From a young age, his passion was acting. He attended drama school on Saturdays and by the age of 17 had landed his first starring role in a film.
He brings a lot of himself to the parts he plays, but doesn't believe that he becomes a character. "It's like who would I be if I was a teacher, a prince of Denmark, a psychopath, or a bin-man in Georgia. What do I bring to that, rather than creating a separate identity."
The bin-man in Georgia is a reference to Steel Country, his first American independent film, which he's just completed filming. "I'm so excited, the part is great." Also coming up is The Delinquent Season, an Irish relationship drama alongside Cillian Murphy and Eva Birthistle.
Perhaps one of these movies will provide that one role to push him into the limelight, in the same way that Sherlock has. So far on the silver screen he's been a supporting rather than leading man. The openly gay actor won a Supporting Actor BIFA for his turn in Pride, about a group of LGBT activists who raised money for families affected by the British Miner's strike.
He played Father Seamus in Ken Loach's Jimmy Hall and played C in Spectre. He has come to Krakow with the recently released Handsome Devil, in which he plays a teacher who becomes a mentor to students struggling with sexual identity and growing pains.
Although being in Krakow brings to mind another of his recent films, Denial, a dramatisation of the libel case between historian Deborah Lipstadt (played by Rachel Weisz) and Holocaust-denier David Irving, in which he plays the solicitor who represents Lipstadt.
I ask if part of the reason for visiting the Polish city is to visit Auschwitz after making that film. "It's true that I wanted to come here and visit Auschwitz, that's definitely one of the reasons," he says. He was due to go the day after we met.
But the other reason he offers says a lot about his down-to-earth personality: "Smaller film festivals are much more fun. You actually realise what the point of a festival is. You get inspired. Bigger festivals are drowned in money sometimes: the commercial imperatives. Awards season starts and it becomes competitive."
When Scott made a surprise return to Sherlock at the end of Season 4, there was anticipation of more to come. But more Sherlock episodes are definitely not on the immediate horizon. For now, he's looking forward more towards stepping up his film career.
But first, it's Hamlet.
'Hamlet' opens at the Harold Pinter Theatre on 15 June
Register for free to continue reading
Registration is a free and easy way to support our truly independent journalism
By registering, you will also enjoy limited access to Premium articles, exclusive newsletters, commenting, and virtual events with our leading journalists
Already have an account? sign in
Register for free to continue reading
Registration is a free and easy way to support our truly independent journalism
By registering, you will also enjoy limited access to Premium articles, exclusive newsletters, commenting, and virtual events with our leading journalists
Already have an account? sign in
Join our new commenting forum
Join thought-provoking conversations, follow other Independent readers and see their replies