Cameron Mackintosh: 'Cuts needn't be bad for creativity'
As 'Les Miserables' celebrates its 25th anniversary, its producer Cameron Mackintosh talks to Arifa Akbar about frugality and the future of British theatre
Monday 20 September 2010 00:00 BST
Comments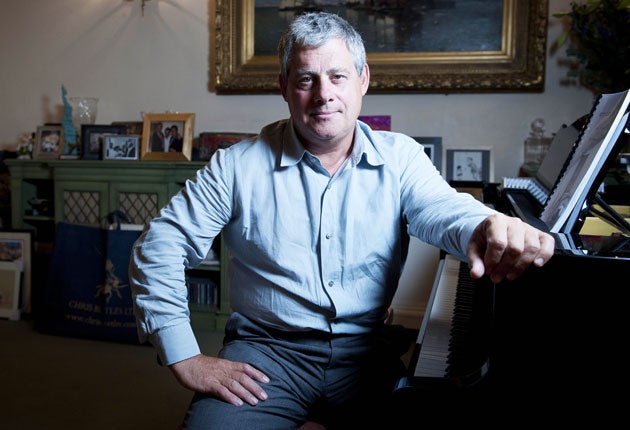 When the curtain rose in October 1985 on the first few previews of the lumbering four hours-plus Les Miserables, the public's lukewarm reception did not augur greatness for the musical, or even hold out much hope of breaking even for its producer, Cameron Mackintosh.
The critics were underwhelmed; the audience was slow to arrive at the Barbican Theatre's box-office and Mackintosh's best hope was that the adaptation of Victor Hugo's 19th-century novel might complete a two-year run before biting the dust.
Twenty-five years on, Les Miserables is one of the biggest successes in theatrical history and he can afford to chuckle over his original miscalculation.
Mackintosh, 63, concedes that even after his 40-year-tenure as Britain's foremost musical theatre producer, he's no good at predicting commercial success or failure. "I never know what is going to have that 'X' factor and what isn't. I didn't think Les Miserables would be as big or as successful as Evita. It took three years for us to know that we had a phenomenon."
The statistics behind the phenomenon are staggering: in 2006 Les Mis became the world's longest-running musical, surpassing Cats. It has been seen by 60 million people worldwide in 42 countries and in 21 languages. Its 25th anniversary next month will be marked by three productions in London: the original version at the Queen's Theatre, the re-imagined anniversary show at the Barbican, and a celebratory concert at The O2 starring Matt Lucas and Nick Jonas. A film of Les Mis is currently in production with Working Title and Universal.
The new, slimmed-down Les Mis caused public ructions between Mackintosh and Trevor Nunn, his old-friend and collaborator who directed the RSC's production at the Barbican in 1985, who said he felt "betrayed" by Mackintosh's decision to deviate from the spirit of his version by enlisting Laurence Conner and James Powell to direct the revised show.
Mackintosh is unrepentant: "I was absolutely amazed [by Nunn's comments]. I told him myself what I was doing two years ago. We have been doing Les Mis for 25 years and I can't do the same show for all that time. It's exhausting and it's something that does not intrigue me theatrically. So we threw everything out and started from scratch.
"In the last 20 years, I've done two versions of My Fair Lady [including the multi Olivier award-winning one starring Martine McCutcheon]. I have done new versions of Oliver! I have done completely new versions of Miss Saigon. With Les Mis, I wanted to have another go and start from scratch."
At 63, Mackintosh appears to bubble over with the same edge-of-the-seat enthusiasm that was sparked at the age of eight, when he was taken to a performance of Salad Days. By his late teens, he was working as a stagehand at the Theatre Royal in Drury Lane.
He began producing his own small-scale tours, then bigger shows, and by the 1990s, he was described by The New York Times as "the most successful, influential and powerful theatrical producer in the world".
His reputation grew from his collaborations with Andrew Lloyd Webber which started in 1981 with Cats, then regarded as an unlikely subject for a musical, followed by the immense success of The Phantom of the Opera.
His shows are famed for being some of the most visually spectacular and lavish but he has always had an impulse towards "frugality", he reveals. "I know I'm in the exceptional position of having money but I didn't have it for many decades. I'm always trying to get shows put on for 25 per cent less production costs.
"I used to have to beg and borrow £25 to hire some French windows. I started producing in 1967 and I was in debt until 1981. Having a think about whether you can afford 'this' or 'that' is a good discipline to have, to maximise what you can achieve to the highest standard."
The new version of Les Mis was shaved down to just over £2.5m, a snip when compared with the usual £5m to £6m cost for a large scale musical.
Meanwhile, the original budget for his latest musical in the making, Betty Blue Eyes, based on the 1984 film A Private Function, written by Alan Bennett and starring Michael Palin and Maggie Smith, came to over £3.5m. "We went into production for £1m less than that at £2.5m," he says, with a flash of pride.
While he is an ardent fan of subsidised theatre, he thinks any funding cuts in the Spending Review in October might, paradoxically, lead to improvements. "The commercial and subsidised theatre are intrinsically linked. I wouldn't have had the career I have had without the opportunities I had through the subsidised sector. However, I do think, in any walk of life, subsidy for the sake of subsidy is not always healthy. "Sometimes, thinking on your feet can be the most creative. Constrained circumstances can bring the best out of you. Some of the most successful shows come out of shoestring invention."
There are, he adds, substantial savings yet to be made in bureaucracy within the arts sector. "The amount of waste on bureaucracy in the arts is vast. In subsidised theatres, it's always been hard for companies to find talented administrative managers. [The money] should get out of the hands of the quangos and into the hands of responsible artists. Redistribution is essential. We don't need the bureaucracy of various arts boards. We're in a small industry. There must be a more straightforward way of running things. I'm running a worldwide enterprise with 45 people working for me, including the accountant."
His criticisms extend to what he sees as the failings of the last Labour government and he now regrets his reportedly hefty donation to the party in the 1990s. "Labour really fucked it up. They were profligate at a time when we were doing well. That's why we have the problems we have now. They didn't save any money for a rainy day. It couldn't have been worse these last 12 years. Over the next generation, the one thing we will all have to face is the common sense approach of 'Can we afford it?' "
Mackintosh insists that he never looks for the next project. Musicals come to him, just as Les Mis did out of the blue, and now Betty Blue Eyes, brought to him by two Hollywood directors. He gives an unconvincing impression of a man taking his foot off the gas. He says his interest in theatre is not as intense as it was, and his London presence – in o leafy, exquisitely decorated offices on 1 Portland Place, in central London – is only part time. The rest is spent in his second-home in Somerset with his partner, Australian-born theatre photographer Michael Le Poer Trench, and their two dogs, although it is beginning to feel more like his first home.
"I don't watch as much (theatre) now. I will see the odd play or film but I would much rather take the dogs for a walk. I just love being in the country. From the age of 18 until 40, I couldn't bear to be anywhere else than London. When I come up to London, it's fun but when I go to Somerset, I feel like I'm going home."
Yet one senses in Mackintosh an unwavering, vigilant eye on everything that comes in and out of Theatreland, in spite of his equivocal words – in the same breath, he talks excitedly about his hope to put on the Royal Court's latest production at one of his seven West End theatres, as he did with the theatre's Enron last year).
What draws him to musical theatre is not an unquenchable ambition: "I love what I do," he says "and I'm lucky to have had more success than I could have dreamed about, to have made more money than I could have imagined."
The 25th Anniversary production of 'Les Miserables' is at the Barbican until 2 October www.barbican.org.uk
Join our commenting forum
Join thought-provoking conversations, follow other Independent readers and see their replies