Charlotte Hope interview: 'I don't feel like it was a lucky break, I got 'Game of Thrones' because I was good at acting'
The actress who played Ramsay Bolton's love interest Myranda in Game of Thrones is now starring alongside Ed Harris in Sam Shephard's Buried Child in the West End  
Kaleem Aftab
Monday 28 November 2016 19:28 Comments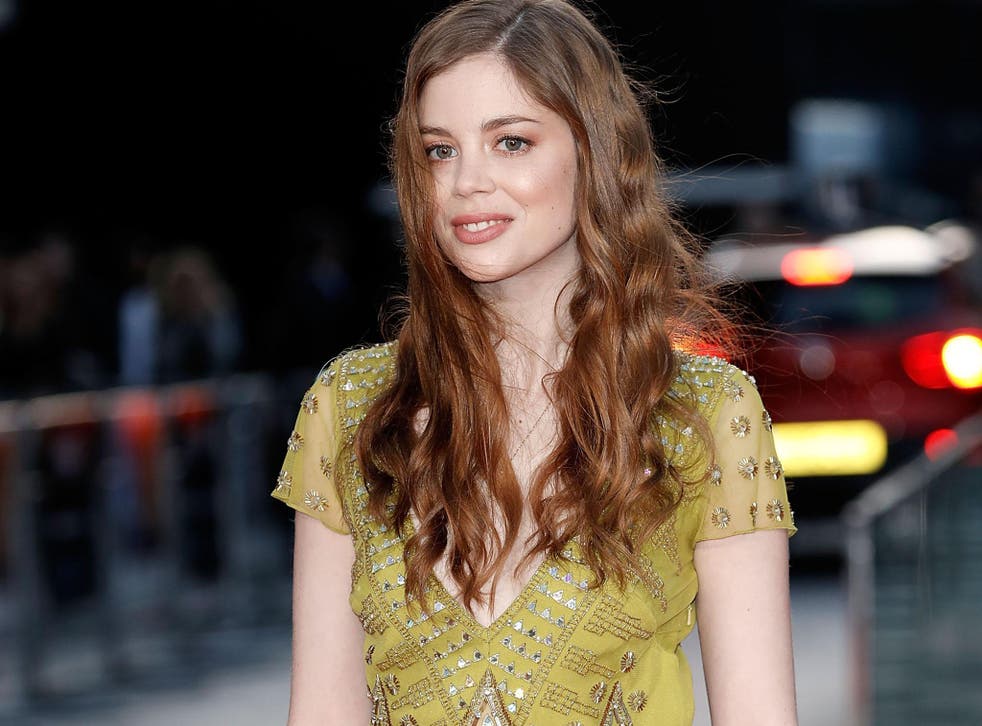 "It was Game of Thrones that changed everything," says Charlotte Hope. The 26-year-old actress is having a bit of a moment. She's starring opposite Ed Harris on the West End stage in a revival of Sam Shephard's Buried Child and is also appearing briefly in both A United Kingdom and Allied at the multiplexes. Her time spent crying and eating cake after failed auditions for three years seems a distant memory.
The bubbly actress makes for a great coffee companion. She has opinions on everything – especially when it comes to food. Where you can find amazing cake, why caramelised carrots are the best, and how her sweet tooth means that when she cooks duck ragu it tastes like tiramisu, according to her screenwriter boyfriend Conrad. The two staples in her life are mayonnaise and icing sugar. She hobnobs with Ella Mills (aka Deliciously Ella), and says that during her on-set encounter with Brad Pitt they discussed sushi.
But while much of the small talk is occupied with food, the Oxford graduate is also happy to go more high-brow when necessary, sharing opinions on the nature of politicians (Trump is on the receiving end of much of her ire), sexism in the film industry (it's hard finding roles that aren't the crying victim) and why Swedish people seem to have life right. Although sometimes a clarifying, "do you really mean that?" is met with a shrug and a "not exactly."
It's in these moments she will then add: "That's the problem I have, I don't have a filter. It's something that I'm working on." Actually she has the habit of all the best dinner guests, in putting her stake in the ground and making general and firm points that kick off great discussion. Except that is, when she is in awe of someone.
Take her Buried Child co-star Harris, for instance. They share the same agent, but she is trying to have an air of detachment when she's around him. She hasn't spoken to him about any of his performances, because she doesn't want to seem like a fan-girl. "I'm trying to be cool as I want him to be my friend," chimes Hope. "I'm also intimidated by how cool and brilliant he is. In my life, I'm not very cool."
The actress is unnecessarily modest. In an attempt not to be boastful, she'll call herself "dumb" until you point out she read French and Spanish at Oxford, and even when she talks about tennis she laments her own poor hand-eye coordination. It's a ruse that simply doesn't work because, as well as being ingratiating, her conversation is witty and erudite.
I wonder if she's talked to Harris about her turn in Game of Thrones. "He'd be like, he's never seen it, that's what he'll say." I protest that it's hard to believe, given how the show is such a cultural phenomenon, to which she retorts, "He's a cultural phenomenon. He's been nominated for four Oscars. I think The Truman Show is bigger than Game of Thrones." When I disagree, she adds: "Westworld is trying to be the new Game of Thrones."
When pressed, she is too wily to clarify whether the "trying" means she doesn't think it's as good.
Sam Shephard's Buried Child is set in 1970s rural America, a time of recession and political unrest. Harris plays Dodge, who we first discover sitting alone on a ragged couch lamenting the breakdown of his family unit and the economic failure of his farm. Hope plays Shelly, the girlfriend of Dodge's grandson, who arrives at the start of act two and is the outsider looking in, the moral conscious shining a torch on the malaise in Dodge's family.
At first Hope admits it was tough acting against someone she idolised so much: "I felt slightly captivated in what he was doing. His performance was so good." You wouldn't know it, watching the play, as she morphed into the perfect yin to his yang.
The funny thing, given her chosen profession, is that she was not allowed to watch television as a child. Her dad is a barrister who used to be a jockey and she says, rather cryptically, that before becoming a housewife her mum "worked in some kind of PR. We used to have a lot of CDs of the Red Hot Chili Peppers, I think she did that." The first film she saw at a friend's sleepover was Titanic and her infatuation with the beautiful Leonardo DiCaprio began.
Hope always knew she wanted to be an actor. And once she started watching films she couldn't stop. She spent time in Paris training at the Ecole Jacques Lecoq theatre school and would wile away her spare time in the cinema. She says that "French actors are so much better and cinema is better over there." She feels this is particularly so in the treatment of actresses, where the parts are more varied than the girlfriend role. It was particularly hard on Hope at the start of her career: "I look 13, so was always being asked to play the crying girl."
So then came Game of Thrones. She had long discussions about whether she should take on the role of Ramsay Bolton's love interest Myranda with her agent. "At the time I was up for another series, which I thought was going to be my big break, but I didn't get that. My agent said to me that there was an opportunity to do Thrones, but it was one scene with a lot of nudity, and I loved the show."
She wowed the producers and they wrote her character into the next season. It's when talking about getting this break that she finally veers away from false modesty. "I don't feel like it was a lucky break, I got it because I was good at acting." And she was persistent. She wouldn't accept the knocks and would get just enough roles to keep her in the game. For three years after university she supplemented her income by working as a waitress and in bars.
Her perseverance has paid off. Now she is no longer looking up at her fellow co-stars. She has just finished filming The Three Christs of Ypsilanti alongside Richard Gere and Peter Dinklage, who she never crossed paths with on Game of Thrones. Gere plays a psychiatrist treating three women who believe they are the reincarnation of Christ, and Hope plays his assistant. "It was the first job where I was on the same level. It was crazy that I was a complete unknown getting to act alongside all these great actors. Before that I'd done a lot of small parts with amazing actors which in itself was really useful."
On A United Kingdom, she would go to set on her days off so she could watch David Oyelowo perform: "I've never seen a moment where he is not truthful." Felicity Jones is another actor she's in awe of. Hope made appearances in two of her films, The Theory of Everything and The Invisible Woman. But with the way the pendulum is swinging, it won't be long before young actors are talking about watching Hope for inspiration.
Buried Child plays at Trafalgar Studios until 18 February
Register for free to continue reading
Registration is a free and easy way to support our truly independent journalism
By registering, you will also enjoy limited access to Premium articles, exclusive newsletters, commenting, and virtual events with our leading journalists
Already have an account? sign in
Join our new commenting forum
Join thought-provoking conversations, follow other Independent readers and see their replies