Dame Monica Mason: 'The life of a dancer is incredibly tough. Sometimes we have to question what we ask of them'
Dame Monica Mason started as a dancer with the Royal Ballet in 1968, and rose to lead the company. As she steps out of the spotlight, she talks to Nick Clark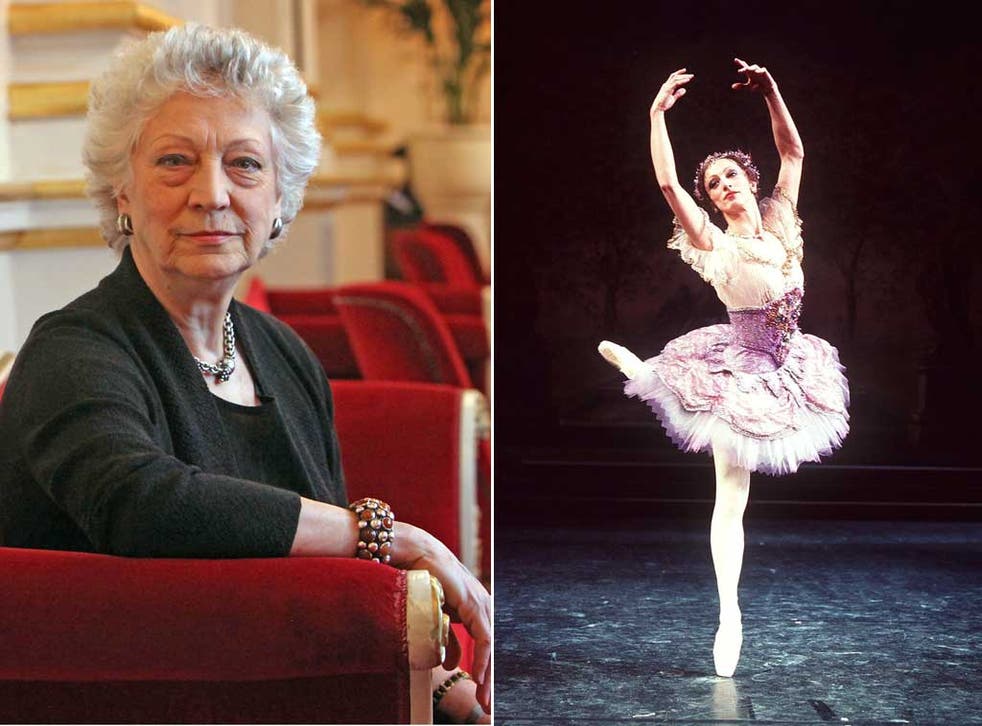 More than half a century ago, when Dame Monica Mason started dancing at the Royal Ballet, she had no idea that some of her colleagues suffered from eating disorders. She would see her fellow dancers drinking black coffee, smoking cigarettes and eating nothing but the occasional lettuce leaf but never quite made the connection. Today, as the company's vastly respected artistic director, it's the kind of topic she has to be thoroughly aware of. "Eating disorders weren't talked about," she says. "Today, the issue is much more in the open. But that doesn't make it less complicated."
Many things have changed during Dame Monica's long association with the Royal Ballet. But now that long association is coming to an end. At the age of 70, after 10 years at the helm and 54 years involvement in the company, she's stepping down. "I'm 70 years old," she says. "I can't go on pretending I'm not."
It's the end of an extraordinary career. But even as her work nears its conclusion, the breadth of her portfolio remains striking. We meet at a conference on health and nutrition on dance organised by industry lobbyists Dance UK, where Dame Monica is contributing to a discussion on the problems that eating disorders pose for dancers. "We know the issue exists and it has existed for years; it is incredibly complex. When you have someone who's really struggling you have to catch it as early as possible," she explains, before adding: "It's a very scary problem and can make you feel very unqualified."
The Royal Ballet has a system of controls in place to try and catch eating disorders early. There is also a resident psychologist to help dancers on the issues as well as to deal with injuries and lack of confidence and stage fright. "You are surrounded by mirrors so it is inevitable," she says. "You ask anybody to climb into a catsuit and look at yourself face on in the mirror, man or woman. This is not just a female issue."
If anyone is qualified to describe the rigours of a dancer's life, it's Monica Mason. She has been devoted to the art form from the age of four, when she started dancing in her native South Africa. "I was a very energetic child and my mother looked for outlets for that energy. I was a fidget," she says.
The family moved to London after the death of her father and she was accepted to the Royal Ballet School at the second attempt. A year later, at the age of 16, she joined the company. "I was a baby really, but it was the most unbelievable opportunity."
Her big break came at the age of 20, when famed choreographer Kenneth MacMillan picked her as the lead for his new version of Stravinsky's The Rite of Spring. Seven years later she made it to principal dancer, the elite of the ballet company.
Among her influences at the company were Margot Fonteyn, "a great role model", Robert Helpmann, "a wonderful actor and dancer", and the choreographers Frederick Ashton and MacMillan, as well as Bronislava Nijinska, who choreographed at Russia's legendary Diaghilev Ballet. She picked out dancing with Rudolf Nureyev as a highlight. "Rudolf was an amazing person to have encountered and had the chance to work with."
These days, her job has its more mundane aspects. But Dame Monica's preoccupation with health in the profession is not new. She pioneered awareness around healthcare and physiotherapy at the Royal Ballet after she saw the mental toll as well as the physical effect of a serious injury on dancers.
At some stage most dancers suffer an injury. "You know you will need an extra effort," she says. "Other people have taken your place, you have to re-establish yourself and find that confidence. That's not easy."
Longer lay-offs can be more damaging. Dame Monica broke her foot as a principal dancer, an injury that kept her off the stage for nine months, and had her fearing she may have to quit dancing altogether. There was no full-time physiotherapy department or psychologist at the time. "I sat at home and became a slug, but I struggled back. I got myself back." She started her own programme of exercises and became fascinated by the process. Soon she was teaching injury training to other dancers, and carried it on for 25 years.
The need for permanent support became apparent. "We asked the question: if a football team has a resident physiotherapist why can't we have someone who is here five days a week?" But the first physio didn't arrive until the 1970s.
Now there are three and the dancers say the company is revered for its healthcare facilities. "There has been an amazing journey over my 50 years because in the beginning there was really nothing," Dame Monica says. Thiago Soares, a principal dancer at the Royal Ballet, says: "We are lucky here with the structure the Royal Ballet has in place for injuries."
The life of a dancer is "incredibly tough," Dame Monica says. "I don't think it gets much tougher. I think every now and again people should question how tough a dancer's life should be; how realistic what we expect is. We often compare dancers with elite athletes. But they have to peak how many times a year? We're asking principal dancers to deliver at their peak every time and that might be three times that week."
She stopped on pointe in the 1980s after she could no longer do Swan Lake, but carried on with character roles into the 1990s. When deciding to hang up her pumps, "I felt terror. You have a sense that you can't perform to the top levels and have to face the truth."
She remained at the organisation thanks to a job from Macmillan, who brought her on as assistant. "He threw me in the deep end, and I nearly drowned," she says. Dame Monica once again had the task of working her way up at the Royal Ballet.
In 2002, following a period of turbulence at the organisation, she took over as artistic director on a temporary basis from Ross Stretton.
"There was a recognition that something had gone wrong, and it clearly needed to get back on its feet. We got to the bottom of what went wrong, but it is never spoken of," she says.
She quickly landed the job full time. Dame Monica was seen as a safe pair of hands for the Royal Ballet – a "keeper of the flame" – and she quickly stabilised the company. She has been hugely praised for her time in charge for keeping with tradition, but taking risks such as bringing in choreographer Wayne McGregor.
That sense of tradition, perhaps burnished by the length of her own association, stretches back far further. Dame Monica can trace a historical thread that pre-dates the creation of the Royal Ballet in 1931 to the legendary Russian company of the Ballets Russes directed by Sergei Diaghilev, which was created in 1909.
She says: "I feel a hundred-year connection. The Diaghilev dancers who worked with us included Lydia Sokolova. I feel a thread going back to 1912."
So how does she feel now that thread is about to be broken, when she hands over the reigns as director in July? "Time has to move on," she says. "Just as you understand as a dancer that eventually you have to relinquish roles so someone younger gets a chance, after my 10 wonderful years as director, it's now someone else's turn."
In response to criticism that the Royal Ballet should do more to foster British talent – only three of the 18 principal dancers are from the UK – Dame Monica argues that the company should always look for talent over nationality.
"Rare talent is just that... rare," she says. International stars include Cuban dancer and guest artist Carlos Acosta, Australia's Stephen McRae and Marianela Nunez from Argentina.
She says the Royal Ballet was "looking for the best and has the world to choose from; you're not looking for an English football team. This is Arsenal." The analogy is apt, as it comes after a car advert last month, where four Arsenal players attempted to go toe-to-toe with ballet dancers.
She says: "Dance in this country is very strong. I love that streetdance and hip hop and all different ways of dancing has entered our vocabulary. Our audiences here at the opera house are good. It is healthy in this country but it is dependent on the creative forces. It can't be a museum. We have an amazing treasure chest, but you have to be making new work with younger people."
She will be replaced by Kevin O'Hare, another retired dancer, who makes the step up from his role as the Royal Ballet's administrative director. Mr Soares says: "She devoted her life to the trade. I really admire her. Nothing took her focus from her work; it's rare to see someone that devoted."
Dame Monica will not sever ties entirely, however. "I'd love to still contribute to the profession in some way," she says, and she has been invited back for four productions next season. She'll also work for the benevolent fund, and she intends to look at ways to improve teaching. "I want to remain connected to the theatre. I love Kew Gardens but I can't go seven days a week."
As she prepares to hand over control, an exhibition celebrating her career is on display in the Royal Opera House building. Cristina Franchi, exhibitions director at the Royal Opera House, calls her career "extraordinary". "She did everything," she says." As for Dame Monica, if her departure is tinged with sadness, there's something to be said for the chance it's given her to take stock of a remarkable life in dance. "It's wonderful to be alive to see it," she says. "Most of the time this happens when people are gone."
A life in brief
Born 6 September 1941, Johannesburg, South Africa.
Education Moved to Britain at the age of 14 to join the Royal Ballet. At 16, she became its youngest member.
Career In 1968, she became a princpal dancer at the Royal Ballet, and worked closely with the choreographer Sir Kenneth MacMillan, who created the roles of Lescaut's mistress in Manon, and Summer in The Four Seasons for her. A host of other leading roles followed. She was appointed OBE in 2002, and became Dame Commander of the OBE six years later.
Current job Director of The Royal Ballet.
Register for free to continue reading
Registration is a free and easy way to support our truly independent journalism
By registering, you will also enjoy limited access to Premium articles, exclusive newsletters, commenting, and virtual events with our leading journalists
Already have an account? sign in
Register for free to continue reading
Registration is a free and easy way to support our truly independent journalism
By registering, you will also enjoy limited access to Premium articles, exclusive newsletters, commenting, and virtual events with our leading journalists
Already have an account? sign in
Join our new commenting forum
Join thought-provoking conversations, follow other Independent readers and see their replies