David Hare's 'The Absence of War': Labour of love gets the vote
The play about Labour's 1992 election campaign is receiving a timely revival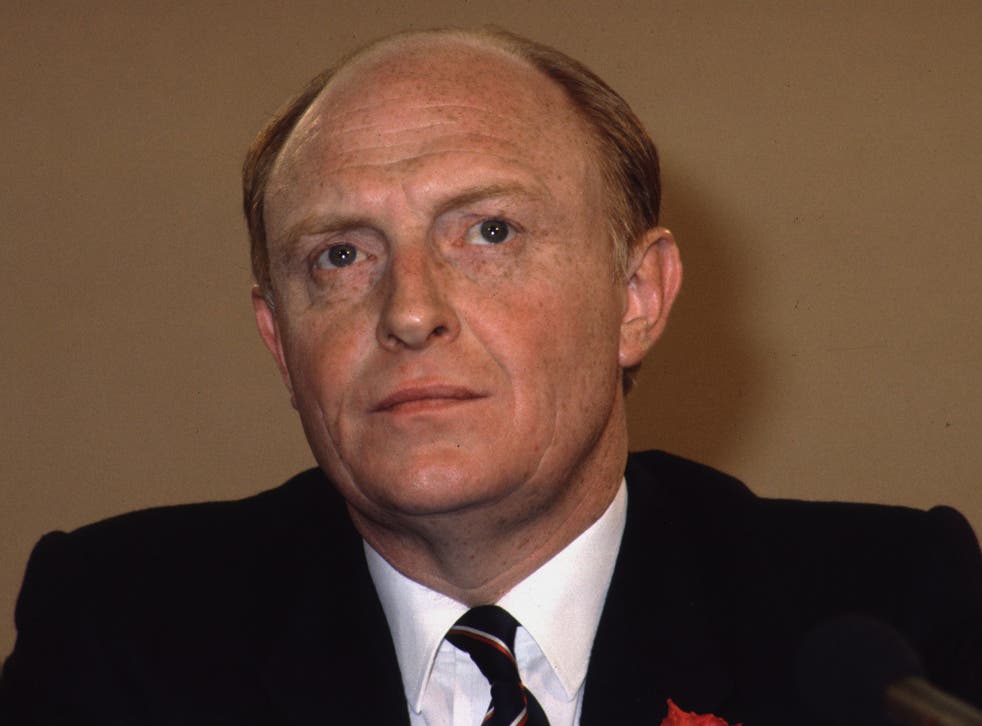 On 14 April 2010, three weeks before the general election, David Hare was on stage for a Platform talk at the Lyttelton Theatre and spoke of a frustrating failure. His play The Absence of War, premiered in the Olivier in 1993, had fictionalised Labour's doomed 1992 election campaign, which ended with John Major still in No 10, and was followed by Neil Kinnock's resignation as party leader, and, under John Smith and Tony Blair, the birth of New Labour. Hare told his Platform audience that he had been unable to convince any producing theatre to revive The Absence of War for the 2010 poll: "It is about the roots of New Labour and, now that we assume New Labour is coming to an end in three weeks' time, it would be fantastic to show that play."
In 2015, with Labour again intent on ousting a Tory Prime Minister, Hare's wish has belatedly come true: The Absence of War opens at the Crucible, Sheffield, on Friday, and will then tour, finishing in Bath two days after the election.
This co-production between Headlong, Sheffield Theatres and the Rose, Kingston, is directed by Headlong's artistic director, Jeremy Herrin, who says that when he told Hare he wanted to mount this pre-election tour, the dramatist was "overjoyed". Herrin did not see The Absence of War when it concluded Hare's state-of-the-nation trilogy, after Racing Demon (Cottesloe, 1990) and Murmuring Judges (Olivier, 1991) had explored, respectively, the Anglican Church and the criminal justice system – all three staged by then NT Director Richard Eyre.
Theatre highlights of 2015

Show all 7
Hare and Eyre were both friends with Kinnock, who had enjoyed Racing Demon and Murmuring Judges, and knew that both dramas had emerged from Hare's interviews with clergy, solicitors, barristers, police and prison officers. So, when the playwright sought privileged access to Labour's 1992 campaign, Kinnock said yes, on the understanding, as Hare put it, "[that] I wasn't literally going to put people on the stage."
Hare attended Labour rallies and press conferences, and private meetings involving Kinnock and, among others, Roy Hattersley (Shadow Home Secretary), Gerald Kaufman (Shadow Foreign Secretary), and strategists Philip Gould and Patricia Hewitt. Hattersley said Labour stood on the brink of an historic victory, but the Tories returned to power, albeit with a substantially reduced majority.
In The Absence of War, Hare presents Labour leader George Jones, who, although a bachelor from London, rather than a married Welshman, resembles Kinnock in age (early fifties), socialist values and garrulous wit; both men adore theatre. Jones and his team – including Shadow Chancellor, Deputy Leader, chief-of-staff and an advertising executive, Lindsay Fontaine, hired to re-brand the party – face a snap election called by Tory PM Charles Kendrick.
Just as Kinnock's closest advisers pressured him to forgo what author and former Labour press officer Francis Beckett has called "the simple, direct, passionate language that won hearts", apparently fearful that he might "bungle if let out without a leash", so Jones' advisers believe they can eliminate electoral risk by ensuring that "George… learns his lines and he sticks to them". Their promising campaign falters after a TV interviewer ambushes Jones with leaked information about his party's manifesto. The Tories go on to win.
With John Thaw as Jones, The Absence of War was set to open in October 1993, but that September its rehearsals were overshadowed by publicity surrounding Hare's research notebooks, which he distilled into Asking Around: Background to the David Hare Trilogy. An Evening Standard story headlined "Lefties v Luvvies" noted that Hare's access to Labour meetings had "seemed like a wonderful collaboration of art and politics. But now it has all gone sour". Gould and Hewitt refused "to sign clearance papers allowing their discussions" to appear in Asking Around, enabling the Daily Mail to run with "Kinnock aides accuse author of betrayal".
Reviewing a preview performance, Hattersley claimed the play depicted "the Kinnock of the gossip columns, not the Kinnock of real life". In a review for The Independent, Kaufman described certain scenes as "so accurate as to be positively gruesome"; Fontaine (played by Clare Higgins) was "strongly reminiscent" of Hewitt.
Eyre thought drama critics' generally "mealy-mouthed" response to Hare's writing in the play was "a classic journalistic confusion between documentary and art, between simile and metaphor", but Hare later admitted: "There could be no worse way of convincing people something is not documentary than to simultaneously publish a documentary book."
Kinnock found the play successful theatrically, but painful to watch: "It shows me as an arsehole." As Jones, Herrin has cast a Yorkshireman, Reece Dinsdale, who will play the Labour leader as Sheffield born and bred, to create further distance from Thaw's south Londoner. "We're opening in Sheffield," explains Herrin, "which is as good a place as any for Jones to come from: the nature of socialist politics is built into a city like Sheffield."
'The Absence of War', Crucible, Sheffield (0114 249 5999) Friday to 21 February; then tours to Norwich, Watford, Bristol, Cheltenham, Liverpool, Glasgow, Oxford, Kingston, Cambridge and Bath (headlong.co.uk)
Register for free to continue reading
Registration is a free and easy way to support our truly independent journalism
By registering, you will also enjoy limited access to Premium articles, exclusive newsletters, commenting, and virtual events with our leading journalists
Already have an account? sign in
Register for free to continue reading
Registration is a free and easy way to support our truly independent journalism
By registering, you will also enjoy limited access to Premium articles, exclusive newsletters, commenting, and virtual events with our leading journalists
Already have an account? sign in
Join our new commenting forum
Join thought-provoking conversations, follow other Independent readers and see their replies