Disco Pigs, Young Vic, London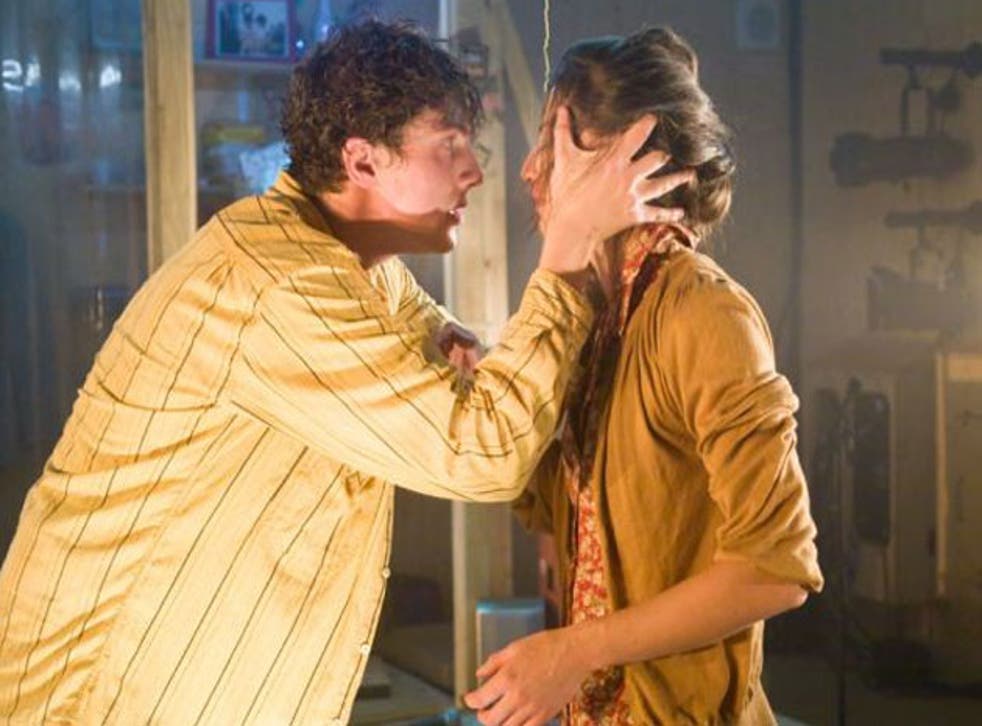 The exquisite, knuckle-gnawing agony of teenagehood is inhabited in Enda Walsh's brilliant early play, here revived by this year's winner of the JMK Award for young directors, Cathal Cleary. The production is a raw exploration of two young minds and bodies, plagued by their own inexperience, who relish destruction.
Pig and Runt were born seconds apart. They describe these events in hilarious chattering kiddie voices, using Barbie dolls with Sellotaped baby bumps and legs akimbo.
Staring at each other from their cribs, the pair, whose parents christened them less excitingly as Darren and Sinead, invented a more vivid world for themselves. The city of Cork became Pork and Pig and Runt crowned themselves King and Queen, growing to near adulthood communicating in an invented language.
Snorting like swine, gorging themselves on burgers and gurgling down two-litre bottles of cider, at 17 they are a pair to be reckoned with. Like Bonnie and Clyde, they revel in thieving, fighting and booze. The play sees them welcome their birthdays with loutishness that hides loneliness and violence that masks a longing for affection.
Sustaining a whole play as a two-hander, in dialogue that is partly Cork vernacular and partly Walsh's invention, requires some stonking performances. Charlie Murphy, as the delicate but reckless Runt, and Rory Fleck-Byrne, as the swaggering but hopeless Pig, bring them magnificently. The action rolls from one disco to the next, Runt fending off Pig's ill-advised sexual advances with touching naïvety.
Chloe Lamford's ragtag set is a triumph, a 1990s hotchpotch of detritus, old sheets and net curtains that is an exciting backdrop to Cleary's creative directorial decisions. Characters other than Runt and Pig are played by mannequins who come to life through the two actors' skilful custody.
At just over an hour this is a short play, and at times the hectic pace gobbles up the nuances. There are brilliant moments, such as when the pair have a quiet few minutes in front of the television, watching Baywatch, when we glimpse the complicated nature of their reliance on one another and a sense of its impending implosion. Funny and terrifying at the same time, Disco Pigs is superb.
To 24 September (020 7922 2922)
Register for free to continue reading
Registration is a free and easy way to support our truly independent journalism
By registering, you will also enjoy limited access to Premium articles, exclusive newsletters, commenting, and virtual events with our leading journalists
Already have an account? sign in
Register for free to continue reading
Registration is a free and easy way to support our truly independent journalism
By registering, you will also enjoy limited access to Premium articles, exclusive newsletters, commenting, and virtual events with our leading journalists
Already have an account? sign in
Join our new commenting forum
Join thought-provoking conversations, follow other Independent readers and see their replies