Edinburgh Festival Fringe 2017: Top picks and tips
With nearly 3,500 shows across 300 venues, we guide you through the world's largest arts festival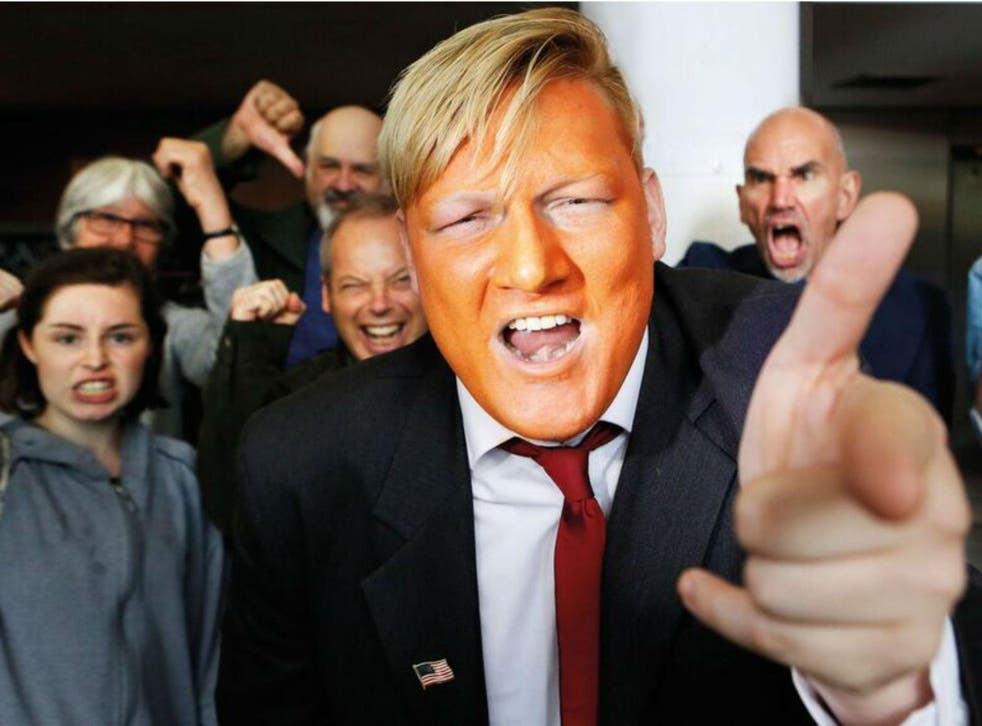 It's now 70 years since a tenacious group of theatre performers turned up uninvited to the inaugural Edinburgh International Festival, unknowingly giving birth to a whole new movement through their act of defiance – that of the festival "fringe". Decades on, not only has the Edinburgh Festival Fringe grown to become the world's largest arts festival, attracting thousands of artists and many more spectators to delight in the creative freedom of its open access platform, but it has sparked hundreds of sister events across the globe (in Australia, China and Brazil to name but a few).
Kicking off with #WorldFringeDay last week, Edinburgh's 2017 incarnation looks set to be its most diverse and daring to date, not least to mark 70 years of "defying the norm", but amid tumultuous political times, the festival's innate sentiment of dissent seems to strike a chord with an increasingly dissatisfied populace. As Shona McCarthy, chief executive of the Edinburgh Festival Fringe Society, says, it isn't just a "big, mad, entertaining festival... it's a platform for people to explore complex, difficult, challenging, sometimes controversial ideas uncensored in a safe forum. And in the context of everything else that's happening out there, it creates an incredibly powerful voice. That's what the arts, and what the festival, should be doing."
That said whether a more seasoned festivalgoer or a Fringe virgin, one could be forgiven for feeling a sense of intimidation by the sheer quantity and variety of shows on offer – faced with a whopping 3,398 shows across 300 venues, from swimming pools to festival halls, encompassing comedy, theatre, spoken word, music, dance, circus and bit a of everything in between... where on earth to begin? Tip number one: don't panic. The Fringe is as much a festival to get lost in as to find your way around, from stumbling across the next big act in comedy doing their debut, falling in love with a whole new experimental art form you didn't know existed, to getting distracted by a world-class street performer en route to your next venue – planned or unplanned, you can't go wrong!
To get you started though, here is a flavour of what's on:
Big names
The comedy offering looks set to be as excellent as ever this year, from the cutting-edge up-and-coming artists to those more established. With the 70th anniversary celebrations a big draw, there will be a host of household names to catch on the circuit, such as original loud mouth American Ruby Wax, the spectacled half of Mary Berry's beloved Mel and Sue, Sue Perkins, and I Daniel Blake's Dave Johns, who is making a return to comedy with I, Fillum Star. The razor-sharp Sara Pascoe is on a one-woman stag do with LadsLadsLads. There will be a live version of the classic improv show Whose Line Is It Anyway? hosted by Clive Anderson himself and Phoebe Waller-Bridge's Fleabag – the TV smash hit – will be back on the stage for one week only.
Returning favourites
The return of a number of previous Fringe stars is also hotly anticipated for this year. Many are waiting to see what 2015's best newcomer, Danish Sofie Hagen, will do with third show Dead Baby Frog, while triple Chortle awards-winner Joseph Morpurgo is one to watch this year with Hammerhead. The fearless Jayde Adams returns with Jayded after wild success with 31, nominee for 2016 best show, Irish Al Porter, will be back with his "council estate camp" in Campus Maximus and Richard Gadd's 2016 hit Monkey See Monkey Do will be revived for a bullet run. Award-winning US stand-up Desiree Burch brings her second hour Unf*ckable and panel show regular Angela Barnes hits the Fringe with Fortitude.
Something different
If you're after something a bit different, check out some character comedy with Alice Marshall's Blood or Graham Dickson's absurdist The Narcissist. Time Out New York's "LGBT Best Bet" Mindy Raf's demolition of the romantic comedy in Keeping My Kidneys sounds a treat as does South African-born, New Zealand-based Urzila Carlson's First Edition. Bafta-winner Hardeep Singh Kohli will give his unique take on the political climate with Alternative, Fact, and Athena Kugblenu's KMT – which stands for the Caribbean patois expression "kiss mi teeth" – should offer a provocative new slant on politics.
New faces
Or take a punt on a newbie with (son of Kevin Day) Ed Night's Anthem for Doomed Youth, Scottish Comedian of the Year finalist Gareth Waughs's debut solo show Honestly?, or Hari Sriskantha's Clown Atlas – all about happiness. Experience 2016 Funny Women award winner Harriet Braine's musical comedy, Tez Ilyas of BBC Radio 4's Tez Talks Testify or catch the live broadcast of the semi-finals and final of the prestigious BBC New Comedy Award.
Free shows
Everyone loves a freebie and for those not wishing to break the bank there are always quality shows available for no cost or a voluntary donation. Among your options are Irish Comedian of the Year 2016, Steve Bennett's aptly named Aaah Sure, It's the Irish Comedian of the Year!, character comic Anna Morris's follow up to sell-out wedding comedy It's Go To Be Perfect, Bitchelors, where four women compete for the Woman of the Year Award, or Alex Smith's deconstruction of what makes a Real Man.
Ask a local
You can also do worse than ask a seasoned local for a recommendation, which in my case resulted in insistence that I see consistently "sold out" free shows #Dave: Literally the Best Magician, Spencer Jones: The Audition ("the most glorious hour of comedy I've seen in years"), improv juggernaut Steen Raskopoulosas and much talked-about Adam Riches' Inane Chicanery ("as long as you can cope with the constant risk of being pulled up on stage, in both cases") plus guitar stand-up maestro Christian Reilly's outstanding LOLternative Rock.
Great Scots
And not forgetting of course the born and bred Scottish contingent: stand-up superstar Daniel Sloss is performing NOW, Craig Ferguson returns to the Fringe after 24 years, and the mind that gave us Trainspotting, Irvine Welsh, premieres blacker than coal comic numbers, pop-opera Creatives and Performers. Even Alex Salmond - Scotland's longest-serving First Minister - will be...Unleashed, serving up "light-hearted banter" and insights into his time in power.
Theatre
It's not only about the stand-up though - the Fringe also has a rich programme of theatre shows and performances with themes that reflect what is means to be a human being in the 21st century: from activism, in Woke about the US civil rights movement via gospel and blues, to the Syrian conflict, which has inspired Requiem for Aleppo. Global politics will feature widely in the likes of Trumpageddon!, satirising Donald Trump's presidency and much-speculated UK visit. Gender, topical more than ever at this year's Fringe, will be taken on in Kate O'Donnell's journey through transitioning, You've Changed, and tackling the issue of fertility we have alt-cabaret Dr Carnesky's Incredible Bleeding Woman. Jess Thom, who has tourettes, will challenge stereotypes of who can perform what in Samuel Beckett's Not I and friendship is a common theme in plays such as Jackie Hagan's Cosmic Scallies. From the British Council Showcase, Nocturnes is wonderfully dubbed "le Carré and Kafka digitally remixed for the post truth generation" and as part of the Made in Scotland programme, you can see Gary McNair's new play Letters to Morrissey.
Musicals
Even if musicals are not usually your thing, what could be a better antidote to the current political mayhem than following hero Boris and his side-kick Govey as they hunt down the plan for Brexit in Chris Bryant's Brexit the Musical or the wonderfully crude The Toxic Avenger, based on the 1984 cult film, with a score by keyboardist David Bryan of Bon Jovi. And for any 90s girl band fans, 2 Become 1 sounds like good craic.
Dance and circus
There's a huge spectrum of dance shows on the line-up from Julie Cunningham's reworking of an ancient Greek myth through four dancers, hip-hop and spoken word from Kate Tempest in To Be Me, to Lady Macbeth: Unsex Me Here, incorporating three males dancers as the lady herself and British Sign Language into its choreography. In the UK for the first time will be online hit, the Aboriginal group Djuki Mala, Sexbox will explore domains of liberation, perversion and sensuality inspired by electronic music pioneer Ursula Bogner, while Scottish Process Day delves into club culture via a futuristic techno soundtrack. Plus you can see gravity-defying stunts by circus performers from across the world in Circus Abyssinia: Ethiopian Dreams, Acéléré by Colombia's Circolombia and Quebec's Cirque Éloize Cirkopolis.
Spoken word
This genre is gaining traction in the arts world and the Fringe reflects that with a host of innovative invocations of the medium. You can see the nation's poet laureate Carol Ann Duffy in action alongside John Sampson, psychologist Neil Frude's (who prompted the unforgettable headline 'Boffin says we will bonk with robots') The Future of Desire, and Sage Francis's 'self-help-yourself' seminar called Tricknology. If you're a geeky fan of Netflix's Narcos, a session with the real DEA Agents behind the capturing of Pablo Escobar should be right up your alley.
Music
There's also a delectably diverse music programme which includes Toronto's gypsy-punk super-band Lemon Bucket Orkestra, a night of cheese, rock and disco in Charlotte Church's Late Night Pop Dungeon, and a live gig of contemporary music from Scottish artists Withered Hand, Iklan and Savage Mansion, all at Summerhall. Britain's Got Talent 2017 winner and multi-instrumentalist artist Tokio Myers will be at the Biscuit Factory and you can experience a live musical score to a cut of the late George Romero's Night of the Living Dead.
Family friendly
While not all loose-tongued comedians' shows might be suitable, there's plenty on offer for those with little 'uns in tow, such as David Walliams' The First Hippo on the Moon adapted for the stage by Les Petits Theatre Company, Beatrix Potter's beloved The Tales of Peter Rabbit and Jemima Puddle-Duck put to orchestra or Korean children's classical music club Arisol's Samulnori.
International
With 62 countries represented (up 30% from 2016) this year more than ever will be a chance to see the world from different perspectives through the language of art, including for the first time, a showcase of Arab arts from Lebanon, Egypt, Syria, Palestine and Morocco. You can also see a Taiwanese dance duet exploring the dynamics of relationships in Together Alone, and a reinterpretation of Macbeth in the style of a traditional Cantonese opera. From Australasia, there's the Ukulele Death Squad and the Modern Māori Quartet. Wind-Up is sold as the ultimate in Czech dance, The Offering a melange of martial arts, theatre and music from India's Aditya Roy and I Am Faransis W is a Finnish play based loosely on Büchner's Woyzeck.
Venues
Amongst the 300 venues are a boat, a swimming pool and a toilet. Get stuck in.
Tools
Visit the website, pick up or download the programme (with covers beautifully designed by some of Scotland's schoolchildren) or even more handily, download the app to navigate your way. Or else simply see where the wind takes you…
And who knows, through getting lost you might just find yourself at home, as McCarthy has seen: "People turn up, often randomly, but discover 'this is where I'm meant to be'. They find a sense of connection and community that's not defined by either religion, nationality or geographic boundaries."
The 2017 Edinburgh Festival Fringe will run from 4 to 28 August (www.edfringe.com)
Register for free to continue reading
Registration is a free and easy way to support our truly independent journalism
By registering, you will also enjoy limited access to Premium articles, exclusive newsletters, commenting, and virtual events with our leading journalists
Already have an account? sign in
Register for free to continue reading
Registration is a free and easy way to support our truly independent journalism
By registering, you will also enjoy limited access to Premium articles, exclusive newsletters, commenting, and virtual events with our leading journalists
Already have an account? sign in
Join our new commenting forum
Join thought-provoking conversations, follow other Independent readers and see their replies