I went to the maddest interactive shows on the Fringe so you don't have to
From speed-dating to gambling, rifling through suitcases to find terrorist activity and having a cucumber between her thighs, Holly Williams braves some of Edinburgh Fringe's interactive shows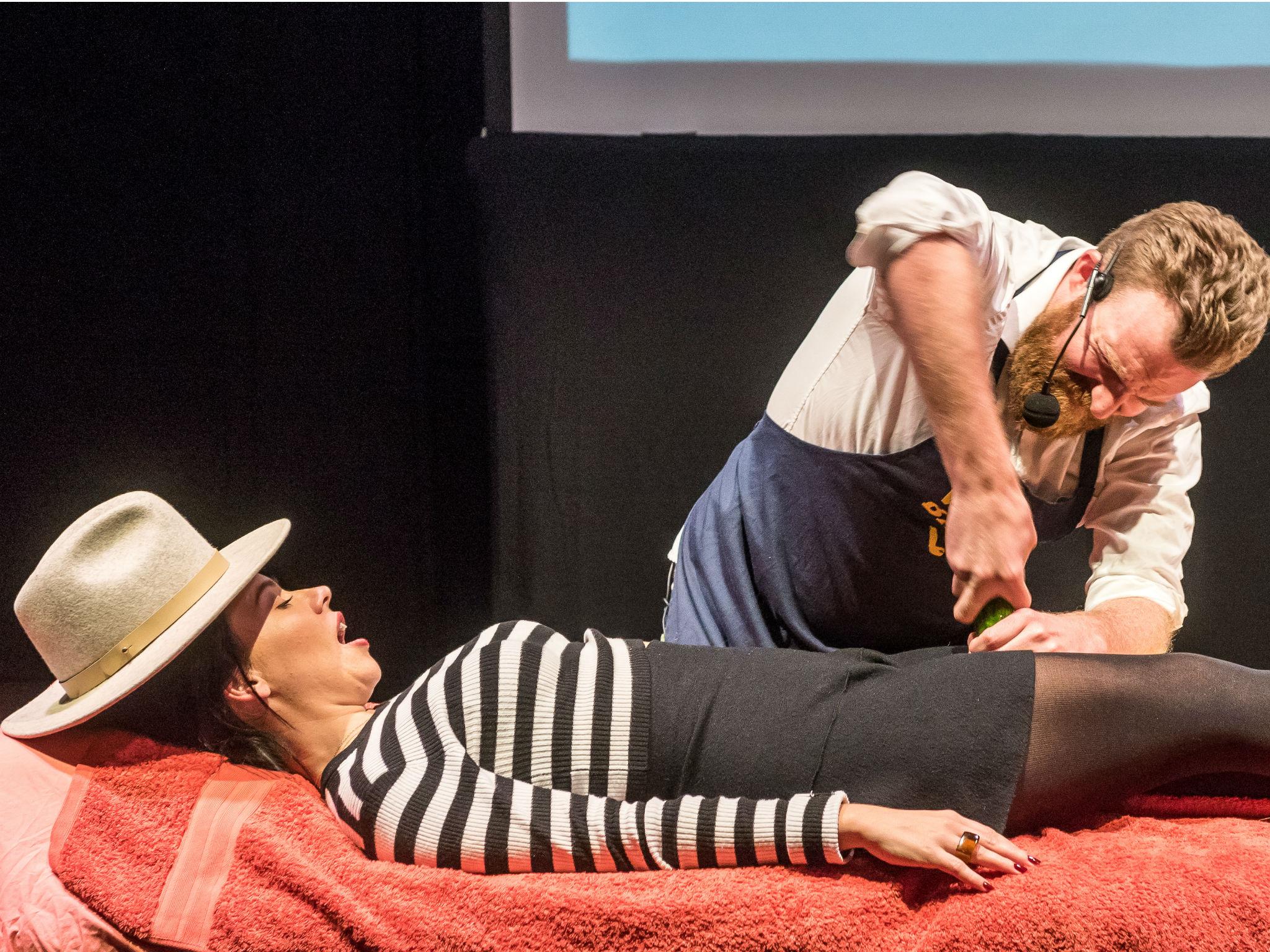 It's midnight, and I'm lying on a massage table on stage in front of a room full of people. I'm gripping a cucumber between my thighs, which a tall Australian man is demonstrating his hand-job technique on. Ladies and gentlemen, welcome to the Edinburgh Fringe.
Search for 'interactive' shows on the fringe website, and you get over a hundred results. For many, this is all part of the fun of the world's biggest arts festival: it's a chance to get involved in something different, something provocative, something immersive. But then, there's also the fear – that rather than a unique participatory experience, you'll be publicly embarrassed. Or worse, still be bored, even with a tumescent vegetable in hand.
I got my game face on and tried a bunch of these interactive shows, from stepping up to the gambling table to going speed dating, to see what exactly what is expected of audiences – and if it's worth it. Which is how I found myself on my back as a handjob model on a Thursday night. To be fair, Wank Bank Masterclass doesn't bill itself as theatre, although it does have its roots in high art – honest. It was when trying to fund an art project at MoMA that Adam Seymour began working as a masseuse. He got pretty adept at a happy ending – and Wank Bank Masterclass shares his knowledge. But he really did do an art project too, publishing a book of drawings of his, erm, satisfied clients.
Audiences are given both an – ew – wipe-clean, laminated sheet on the techniques he demonstrates on willing volunteers (don't worry, male models use cucumbers too) before we're given our own engorged gourds and deflated balloons on which to have a go at doing manoeuvres such as 'the juicer' and 'palm Sunday'. Lube is provided. Things get more raucous when Seymour suggests we do a whole-audience circle jerk. Sitting in front of me are a brother and sister – bold – who on noticing I have no-one else on my row, immediately twist round and pump away on my cucumber in tandem. This is, apparently, a first even for Wank Bank.
If this all sounds excruciating, it's actually not. I'm glad it's dark – definitely blushing – but with most of the (mostly male) audience a few drinks down, and with Seymour's totally unabashed and amiable vibe, it's actually a very easygoing and entertaining experience. And hey, I might even have learnt something…Doing is learning, after all – and, although it could hardly be more different in tone, I come away from Ontroerend Goed's gaming show £¥€$ (Lies) with a new insight into global economics. From wank bank to world bank: Lies sits its audiences at elegant gambling tables, and turns the stockmarket into a casino, with our money turned into gambling chips to invest.
The show has a sting in it, revealing how our financial system reward risk-taking with obscene profits, gambling the financial futures of whole countries. We know this; we ought to resist it. But it's also just a lot of fun – you bond with the fellow audience members, rolling the dice and running the banks on your table, pitted against all the other countries. You get whipped up, pumped up with the adrenaline rush of a trading/gambling. There's a queasy complicity to this which should be a sober reality check afterwards, but actually I can't help bragging to everyone who'll listen that I made a cool £71million profit. For the love of god, nobody ever take me to Vegas/Wall Street.
Responsibility is also heaped on the heads of audiences in Foreign Radical – we are asked to play security services, to try to work out from documents and luggage whether a suspect should be on a terror watch list. Again, the crowd can't help but get whipped up when – under a tight timer – we have to rifle through a suitcase, looking for clues of terrorist activity. But the show doesn't quite go deep enough, and – this being a liberal arts festival – the audience skews heavily towards being suspicious of surveillance rather than the suspect.
Foreign Radical also asks its audience to expose themselves, however: we're asked a series of questions by a hyperactive gameshow host, and have to move to different quarters of a room to show our answers. Vote with your feet. These touch on all sorts of hot topics, from which religious cartoons we find most offensive to whether we've ever been involved in public protests to whether we've carried any illegal substances over a foreign border. And they really don't shy away from getting personally exposing: have you watched internet porn in the last 24 hours? Kudos to the one teenage boy in my group who actually admitted to this… Still, the show never quite finds a sharp enough purpose for exposing all this personal info – although presumably the intention was to make us feel, physically, the sort of enhanced scrutiny those placed on government watchlists are under.
Of course, you have control in this situation – no-one knows how honest you're really being – but there's certainly an edgy zip of fear at being asked to make snap moral judgements or to publicly reveal highly personal facts. And I find myself feeling more or less game in different situations and, to be honest, at different times of the day while at the Fringe. An audience needs to be seduced into participating if it's not to be too cringe, and a late-night confessional tends to work better than daylight over-share.
In Bombastic Declaration of Love, Julie Cafmeyer certainly opens up first, in a one-woman show where she candidly lays out how desperate she gets in relationships. She also asks us to join in, questioning the audience about their own expectations of love. But as an early morning show (10.30am is early in Edinburgh), it's a bit squirmy; when she asks me if I ask too much from relationships, I can't quite bear to pull my heart out of my mouth. I know I'm not helping the show, but some things are just be too much to share in public – before your first cup of coffee, at any rate.
Party Game seem to have a better idea: an evening show set in a bar, we're given a drink on arrival, encouraged to chat, to learn a song. We're gathered to celebrate a gregarious party animal named Stephen, who loves to tell jokes and stories, to drink and sing and dance. Given little party game activity books, we have to write down a story from our own lives, and are asked to jot down seven things we love. A slightly wary crowd is massaged, warmed up. But be warned: the next level of participation can be a butt-clenchingly exposing. There's a tense moment when I think I might have to sing in public, the stuff of my actual nightmares; luckily, I end up just telling a story instead (about being chased by rhinos, if you were wondering). I also volunteer for a card game – more gambling, oh dear –and find that those seven things I love become emblazoned on my seven poker chips, to bet with. The stakes are high at this party game, and before I know it, with an entire audience watching, I'm tossing down chips reading 'friends and family', 'dancing all night', 'theatre' and – gulp – 'sex'. I'm rather sheepish about betting that last one, but it gets a laugh at least.
An even more intimate encounter appears to be on the cards at Dates – at the Speed of Sound, which combines a play with an actual speed-dating session, all set within the cafe at Summerhall. The audience sit at tables, complete with flowers and tablecloths, and cycle through a series of one-minute dates with each person. Speed dating is no new concept, but there's surely real potential for cleverly incorporating it into a theatre show about the joy and the hell of dating (indeed, Ontroerend Goed's Internal was duplicitous, participatory dating show at the fringe in 2009 that's still being talked about).
This show is not that, sadly – it's literally just speed dating tacked onto a very slight comedy about a couple of dodgy dates. And cupid wasn't hovering in the wings for me on this occasion: much as I enjoyed meeting fellow audience members and actors, no sparks flew. Shame: I had some new skills I might've been able to share…
'Wank Bank Masterclass' is at Gilded Balloon; '£¥€$ (Lies)', Bombastic; 'Declaration of Love' and 'Dates at the Speed of Sound' are at Summerhall; 'Party Game' is at the Wee Red Bar. The Edinburgh Festival Fringe is on until 28 August.
Join our commenting forum
Join thought-provoking conversations, follow other Independent readers and see their replies