Es Devlin interview: Meet Britain's most astonishingly prolific designer
From Miley Cyrus tours to West End plays, Es Devlin has done it all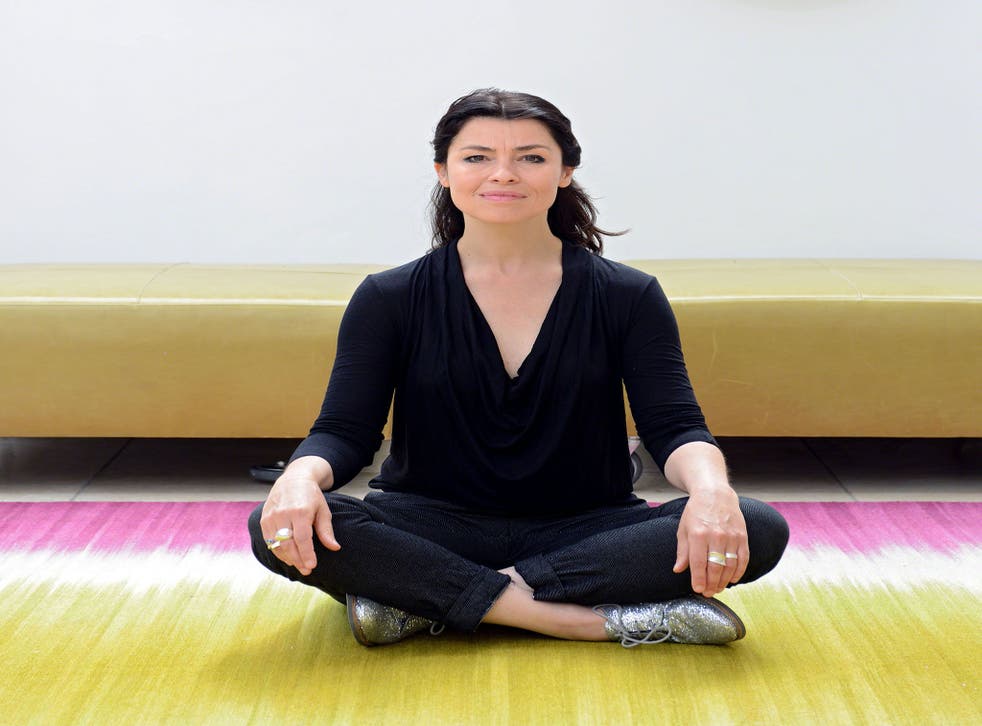 She's sent Miley Cyrus down a slide shaped like a tongue and staged the Olympic Closing Ceremony on the Union Jack. She's won an Olivier award for setting Lucy Kirkwood's play Chimerica in a spinning cube and rinsed the £6m budget on the ill-fated X Factor musical I Can't Sing! She's opened Paris's Louis Vuitton Foundation with a sci-fi take on a fashion show and dragged the Royal Opera House into the 21st century by way of fiendishly clever video projections in Kasper Holten's Don Giovanni.
Es Devlin is, it's fair to say, the most wide-ranging designer of her generation – able not merely to switch between opera, theatre, pop and fashion, but to cross-pollinate them. Her latest venture is the transfer of Jennifer Haley's five-star hit play The Nether to the West End from the Royal Court. In Devlin's words, the play is speculating on a "possible future" – a term (borrowed from Margaret Atwood) preferred to "science fiction". Devlin's reference points range from quotations from Stephen Hawking, Saul Bellow and Kanye West to Richard Linklater's film Boyhood.
"The Nether" is an advanced version of the internet, capable of recreating sensory experience; in a world deprived of natural beauty, such virtual escapes have come to be seductive. But can an alternate reality exist without consequences? This is the question at the heart of Haley's play, and she pushes some painful buttons to force us to grapple with it. Within the Nether is a beautiful realm called the Hideaway, where paedophiles may do whatever they wish to young – simulated – children. The children are not real – but does that make it acceptable?
"The genius of the piece is that it is so well poised," says Devlin "You'll find it hard to come down on either side unequivocally. And isn't that the point of any night at the theatre – to come out, sit down in the bar and debate?"
Her design, then, must serve this aim. The production begins with grey, drab scenes in an interrogation room, before opening up in the virtual realm: gloriously green poplars whisper and flutter, reflected in shimmering mirrors around the rooms of a Victorian house. When the shutters first fly up to reveal this world, it's a not-in-Kansas moment: magical, yet tangibly real. The audience is drawn in, just as the characters are. The design makes the debate sing.
"We will sit in a room – me and Jeremy [Herrin, the director], or whoever I'm collaborating with – sometimes two years before an audience are going to sit in these seats and we will be trying to craft how they will feel," explains Devlin, gesticulating around a now empty theatre when we meet after a Friday evening preview. "And what we're using to try to craft how they feel are literally a bit of mirror, a few plastic leaves, some wood and paint … "
Before our interview, Devlin insists I join the crew for a quick post-show note session; there are tweaks to be made to the speed of those shutters, and much technical chat goes over my head. But one thing is clear: this woman knows exactly what she needs to do to engender those feelings, and she's silky-steely determined to get it. "Everything is achieved by the tone [of the play], and the tone is achieved by the pace, and the pace is achieved by the shutters. What you feel is to do with how I've calibrated my hoist up there."
She's right, of course, about the shutters, but usually we look to the script or performances for emotional heft. Is design an under-recognised part of theatrical experience? "I'm glad it's under-recognised. No one needs to know what goes into it; they just need to come here and make synaptic connections."
How important is her own connection to the material? "It's everything. It's very miserable if you don't feel it. And it's not just in the material, it's in the connection between collaborators. If that connection doesn't have any life to it, I can't really do it. I was in a meeting just now on a Louis Vuitton project and I said to the designer: I need a story here. Just saying 'is it beige or is it brown?' – I'm no more use to you than someone from the street. I don't have an opinion about decoration." Her home, she insists, shows no sign of interior design, but it does tell the story of Being Es Devlin's House.
Not that it's that hard to find story or character. Clothes in fashion shows tell a story, while pop stars get into character as a coping mechanism, she says: as well as Miley and Kanye, she has worked with Lady Gaga and Rihanna. "They're standing in front of 80,000 people – you generally don't do that as a barefoot creature, you have your character on …. Generally humans operate in search of connection and meaning."
Meaning can be a slippery thing for a designer, however, as Devlin makes clear when she discusses plans for the ridiculously anticipated Benedict Cumberbatch Hamlet at the Barbican this summer. Devlin is excited but wary: "Hamlet, of course, is the classic: you think you're designing what it means, but you mustn't forget to design what the action needs. It's like Don Giovanni: you think you're talking about immortality, but really you need doors. In order for Hamlet to mean anything, what are you going to do about that arras?"
It's just one of the high-profile productions lined up for 2015: Devlin is, she suggests, "quite busy". She's working on – deep breath – this month's Brit Awards; Verdi's Otello at the Met; Caryl Churchill's A Light Shining in Buckinghamshire at the National; a floating opera, Der Freischutz, on a lake at the Bregenz Festival; U2's world tour; another Louis Vuitton project; and a Brecht/Weill opera at Covent Garden.
What's the spur behind all this genre hopping? "I think it's my way of batting off mortality," she says with conviction, before meandering into a life philosophy that boils down to: squeeze what you can out of every second. "If you're Don Giovanni and you're fucking 2,675 women, are you somehow getting more hours out of life? In the Lars von Trier film Nymphomaniac, Charlotte Gainsbourg says this thing which I cannot get out of my mind: my only sin is that I want more from the setting of the sun ... " Evidence provided, Devlin concludes: "The choices you make in how you allocate any minute of the day are a reflection of your expectations of what you're going to [achieve] – and I think my expectations are quite high."
'The Nether' is at Duke of York's, London WC2 until 25 Apr; royalcourttheatre.com
Join our new commenting forum
Join thought-provoking conversations, follow other Independent readers and see their replies