Hattie Morahan on The Changeling: an unsavoury role played with relish
Murder, infatuation and bed-hopping... Hattie Morahan can't wait to play a monster in 'The Changeling'
Holly Williams
Monday 19 January 2015 18:51 Comments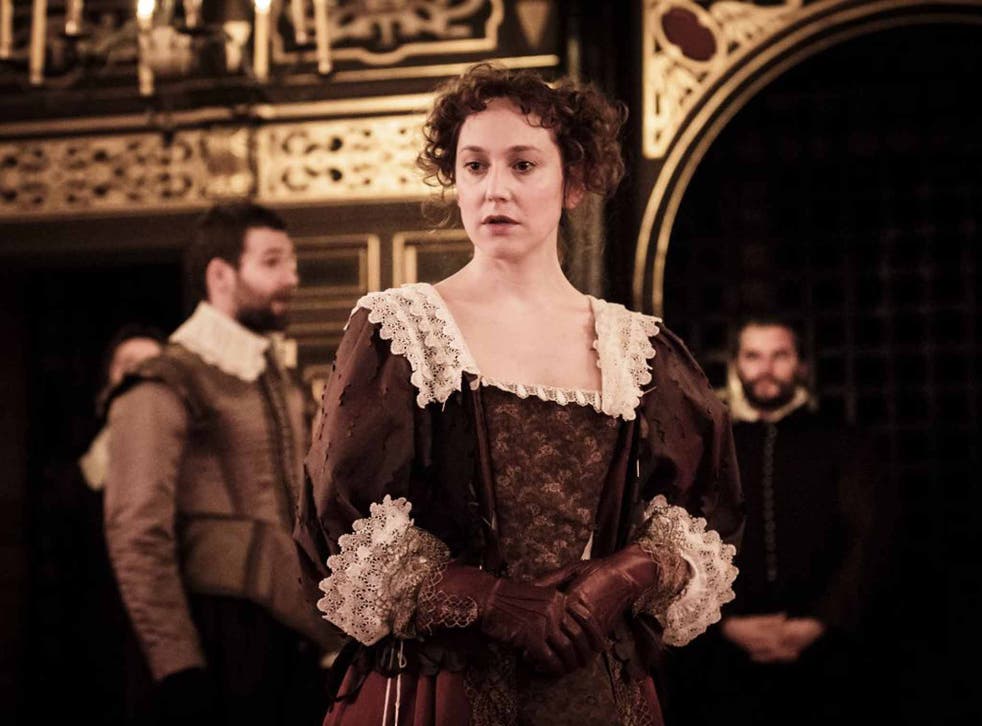 What depths will we sink to for love? In The Changeling, Thomas Middleton and William Rowley's blackly comic Jacobean tragedy, the answer is very, very murky ones. Lovers murder, bed-hop and pretend to be madmen for a chance at conjugal happiness; but, unsurprisingly, such a path not only fails to run very smooth – it fails to lead to true love at all.
Still, it's a compulsively entertaining journey for an audience. And it offers equally gleeful challenges for an actor, as Hattie Morahan – leading a new production directed by Dominic Dromgoole at the Sam Wanamaker Playhouse – is discovering.
Morahan, surely one of the nicest actors working in Britain today, is relishing the chance to play the awful Beatrice-Joanna. The lady persuades her loathed, disfigured servant De Flores to murder her fiancé, bumping him off so she's free to marry Alsemero, the new object of her affections. An infatuated De Flores wields his dagger, and then exacts a high price: Beatrice's virginity. From there, the plot spirals as she tries wildly to keep hold of her reputation as a chaste maid, while finding herself curiously attracted to her partner in crime…
"She's certainly monstrous," laughs Morahan. And while she agrees that it's actually rather liberating to play a female lead that isn't required to be "likeable", she insists she's rarely given "nice-with-a-capital-N" parts anyway. It's true: she may have won Evening Standard and Critic's Choice awards for her brilliant portrayal of Nora in Ibsen's A Doll's House, but that's hardly an example of docile femininity, while her many roles in Katie Mitchell plays have rarely been less than complex.
Theatre highlights of 2015

Show all 7
Still, she doesn't want Beatrice and De Flores to be so nasty they're a turn-off. "I hope people are compelled enough to go: 'Oh my God, they're appalling – what are they going to do next?!' The most extraordinary and most fun part of playing her is that she's got such a sense of entitlement, and of her own importance, that she forces the audience to be in that with her: 'You're my gang, aren't you?'"
The Playhouse is the perfect stage for drawing an audience into dastardly deeds. Small and intimate, the cast can eyeball them in the many soliloquies and asides that pepper the script.
"It's part of the dramaturgy, that characters share their inner thoughts, which immediately forces an audience to be complicit," says Morahan. This was partly what the Jacobean playhouse, sister theatre to Shakespeare's Globe, was built for – to see what effect replicating historical performance conditions has on plays of the era. And lit by winking candlelight, the audience may get sucked in by Morahan's appealing portrayal of this strong-willed young woman…
"There's just a sea of faces and that's simultaneously terrifying and joyful. It's incredibly democratic; it just acknowledges that we're all in the same room, and you ignore that at your peril. That's why it has such an electric atmosphere – ironically, considering there's no electricity!"
Dromgoole's production naturally has a period setting, and they've not tied themselves in knots over the occasionally thorny politics of the play. Gibbering madmen will indeed be paraded for courtly entertainment as they would have been in the 17th century, while feminist anxieties surrounding Beatrice and De Flores' relationship – that she expresses some kind of love, after being, in effect, raped by him – are left open, without any slanted, modern interpretation.
"You get into very murky political waters," says Morahan warily. "Beatrice refuses to play the victim… One can choose to draw modern readings from it – is it some kind of Stockholm syndrome? [But] the play was written when it was and it's got enough integrity in terms of the psychological plotting to stand on its own two feet. Some of those early modern plays, you have female characters that don't have any agency or a voice and it becomes much more uncomfortable. Then I feel one's beholden to do a kind of comment, whether it's through the staging or dramaturgy or design… [but in The Changeling] the characters are so strong, you can just say, 'This is the story.' "
And so to other stories… By strange coincidence, two of Morahan's forthcoming projects centre on Sherlock Holmes and his creator, Arthur Conan Doyle. There's an ITV adaptation of Julian Barnes's acclaimed novel Arthur & George, which tells the real-life story of Conan Doyle's own detective work: bringing to light the wrongful imprisonment of George Edalji. Morahan is Jean Leckie, second wife of Conan Doyle – played by Martin Clunes.
And then there's Mr Holmes, premiering at the Berlin film festival in February. Here Morahan plays a woman in Sherlock Holmes's past, in a story in which the great detective looks back over his life. What does she make of the Sherlock mania – why are we so fascinated by him and his creator?
"Yes, OK, [Mr Holmes has] got Sherlock Holmes at the centre – but it's far more a meditation of memory and moral responsibility and loss. I should imagine it has been very much triggered by [the BBC series] Sherlock, which is an absolutely remarkable phenomenon, and deservedly so."
The film has a Sherlock to rival Benedict Cumberbatch: Ian McKellen. How was it working with such an actor? "It was a real joy," says Morahan. "It just makes you up your game, working with someone who oozes the most extraordinary amount of charisma and mystery. … You pinch yourself and go, 'Well! Life doesn't get much better than this.' "
'The Changeling' , Sam Wanamaker Playhouse, London SE1 (020 7401 9919) to 1 March
Register for free to continue reading
Registration is a free and easy way to support our truly independent journalism
By registering, you will also enjoy limited access to Premium articles, exclusive newsletters, commenting, and virtual events with our leading journalists
Already have an account? sign in
Join our new commenting forum
Join thought-provoking conversations, follow other Independent readers and see their replies