'All black women are not the same': How femmes of colour are making a buzz about diversity
Hot Brown Honey are an Australian cabaret sensation – now, they're staging a new show at the Roundhouse working with young British artists 
Holly Williams
Wednesday 11 July 2018 14:16 Comments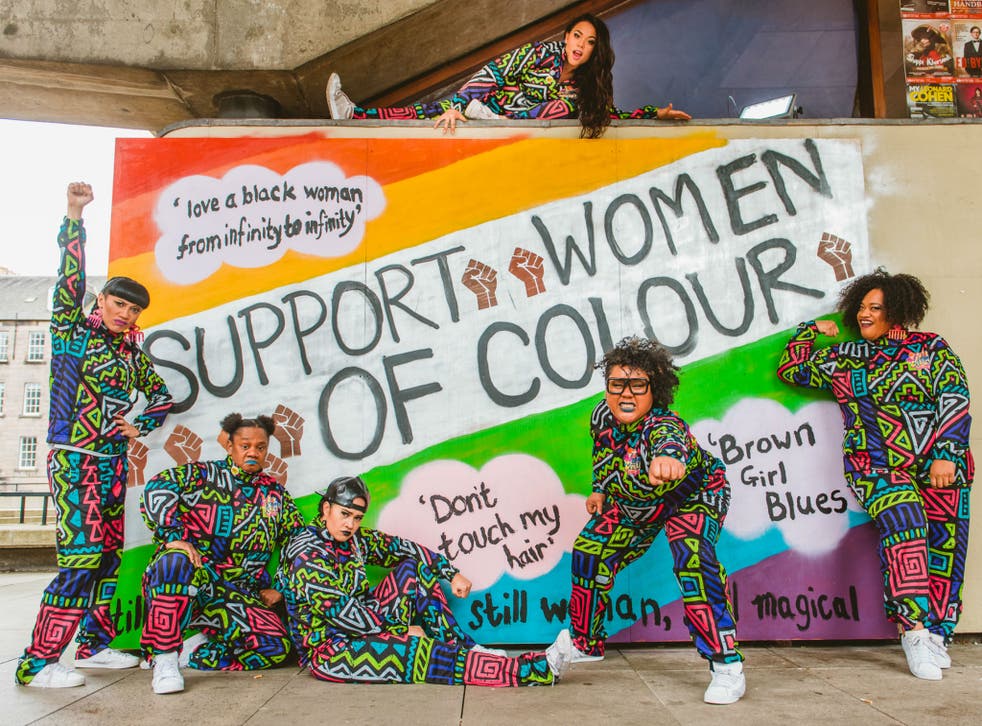 When Aminita Francis spotted the advert – an open call for nine young women of colour to put on a show at the Roundhouse in London – she realised she'd never seen such a thing before.
"Usually it's like 'we need to add a bit more culture, would you mind coming...'" she laughs, but there's also real frustration at being invited to make work as a lone, token black voice, a diversity tick box.
In Hive City Legacy, a new show blending music, spoken word, dance, and circus, everyone onstage is a woman of colour between 18 and 25. That shouldn't be unusual – over 250 people applied to be in the show, after all. The talent is there. Yet it is still rare.
"But it's so refreshing to know it can happen!" says Yami "Rowdy" Lofvenberg, the British director working on the project, which is run by Australian cabaret collective, Hot Brown Honey.
"It shouldn't be an event; it should be a norm. It's great for the young women to see that this is a possibility, and for the next generation that comes to see the show. It's great of the Roundhouse to take this risk – no, not risk: this opportunity."
Hive City Legacy is really about celebrating the diverse range of experience of femmes of colour today (Hot Brown Honey prefer the term "femmes of colour" as a broad-as-possible umbrella term that includes anyone who identifies as a woman).
"One of the lines from the show is 'all black women are not the same'," says Francis, a musician who was recently in a hit beatboxing version of Frankenstein at Battersea Arts Centre.
"The show totally reflects that, and that's the main message I want to get across. I hope people see this and think there are so many different ways that black women are, it's not just what you see on TV. Not all of us can twerk to high heaven – and that is fine!"
Lofvenberg makes a similar point: "There are nine girls in there, with nine personalities and backgrounds, different religions and sexualities. We're all different; we all have different things to say."
And the things they are using Hive City Legacy to talk about include mental health, body confidence, gender, and race.
"Obviously race is quite a sensitive subject," adds Sherika Sherard, a busker-turned professional singer who has been championed by Seal and Spike Lee. She recounts how, during the six-week development, "we got asked to talk about race – whereas sometimes you're told it's too uncomfortable for some people – making it into a creative activity, wanting people to understand. And [showing] how we all deal with it differently."
Lets rewind for a moment, and get the background buzz on Hot Brown Honey. In 2013, this Australian performance collective was set up by cabaret performers Lisa Fa'alafi and Busty Beatz.
They gathered together women of colour to perform a fierce-spirited show mixing hip hop, dance, circus, and burlesque – with a sting in its tail. Each act would use, and subvert, their entertaining forms to explore themes such as racial stereotypes, patriarchy, misogyny and colonial history.
"We wanted to fire up our audiences and get them having a conversation," says Fa'alafi when we meet at the Roundhouse. "Busty and myself are not making theatre without social change attached to it."
The show has ruffled some feathers among audiences, she says wryly – but it's also been a huge hit. Hot Brown Honey have played the Sydney Opera House, no less, and have smashed it the last two years at the Edinburgh festival; now, they're about to make their own London debut at the Southbank Centre.
But first: it's time for the next generation to be inspired.
The Roundhouse approached Hot Brown Honey about developing a show with young emerging artists here in London. I get a glimpse of the finale in rehearsals: a bold, big-hearted thing, where body-popping turns into spoken word about what it means to be a black woman today before exploding into an irresistible, upbeat dance party. It is uplifting as well as consciousness-raising.
How important is it that the show is a total blast? "It's central," says Francis. "Because the black experience doesn't end with slavery. It's not all about people getting shot in America, it's not all about brutality."
She hopes Hive City Legacy will also show aspiring black artists that they can play powerful and positive roles. "I just want them to see that it doesn't have to be the woman in shackles or underfoot, it doesn't have to be the working-class single mum. It can be so much more."
Having a riotously good time onstage has been Hot Brown Honey's approach from the start.
"We really made that specific choice that the work had to be very entertaining, very funny, to break down some barriers so people might listen to our stories," explains Fa'alafi. "Even people who are a little uncomfortable are caught up in the party of it, and then afterwards go: I need to talk about that."
So far, audiences here seem to have embraced their work (although Edinburgh may not quite be your average crowd). But what differences does she see between the Australian and British performance scenes?
"In comparison to at home, audiences here are so much more diverse, and loving," she says. "From the outside, it feels like there's more openness here – but then people in the industry have a different experience."
And she recognises that she has walked into her absolutely "ideal" working situation at the Roundhouse: "the whole creative team, we're all femmes of colour. That has never happened to me in Australia."
Hot Brown Honey always ask, anywhere they perform, if stage managers, crew, even front of house staff can be women of colour. And if nowhere else has actually managed it before, even the act of asking can be a way to jolt venues into thinking harder about their own commitment to diversity.
And they are seeing changes happening, slowly, even back home.
"It's right at the forefront of discussions at the moment, all of the venues have been called out on their lack of diversity. It's good. But we're in that transition [phase]; we're really working to shift that culture, and we are gaining more support throughout the industry in Australia – not necessarily from some of the audiences..." Fa'alafi laughs, in a way that suggest she's extremely comfortable in making some ticket-holders uncomfortable.
"But we can play major stages and a main programme now, we don't have to be in the 'ethnic' box."
When it comes to major stages, Hot Brown Honey have long had certain venues in their sights. "We made a list of places we want to perform, and we put the Southbank Centre on our list four years ago," says Fa'alafi, recalling their positive-thinking ambition. "We were like: 'this is happening'." And now it is.
They pulled off the same trick with the Sydney Opera House: "we said we wanted to play there – and literally two days later we got a call..."
With that in mind, Fa'alafi is keen to tell me Hot Brown Honey's next dream gig: "One of the other things we put out into the universe is that we'll end up in the West End with a 200-person cast."
She thinks that Hive City Legacy could become a template for further shows with young femmes of colour, in whatever country asks. And, she adds with a grin, "what better way to build a cast of 200 than to make these shows around the world?"
So, have they seen a change in their cast over the past six weeks of rehearsals?
"Yeah, there's been crazy changes," says Lofvenberg. "We have girls that were very shy in the beginning who are just changed women on stage, feeling so much happier and more confident... it's beautiful to watch. The job was to empower these young women, and then they can empower the next generation.
"For me, the job is done."
'Hive City Legacy' is at the Roundhouse till 21 July; 'Hot Brown Honey' are at the Southbank Centre 24-28 July
Register for free to continue reading
Registration is a free and easy way to support our truly independent journalism
By registering, you will also enjoy limited access to Premium articles, exclusive newsletters, commenting, and virtual events with our leading journalists
Already have an account? sign in
Join our new commenting forum
Join thought-provoking conversations, follow other Independent readers and see their replies