How ballet has been transformed by choreographers from contemporary dance: 'It's an exciting time for the art form'
The Independent's critic Zoë Anderson is the author of a new guide to ballet
Zo Anderson
Tuesday 21 July 2015 22:06 Comments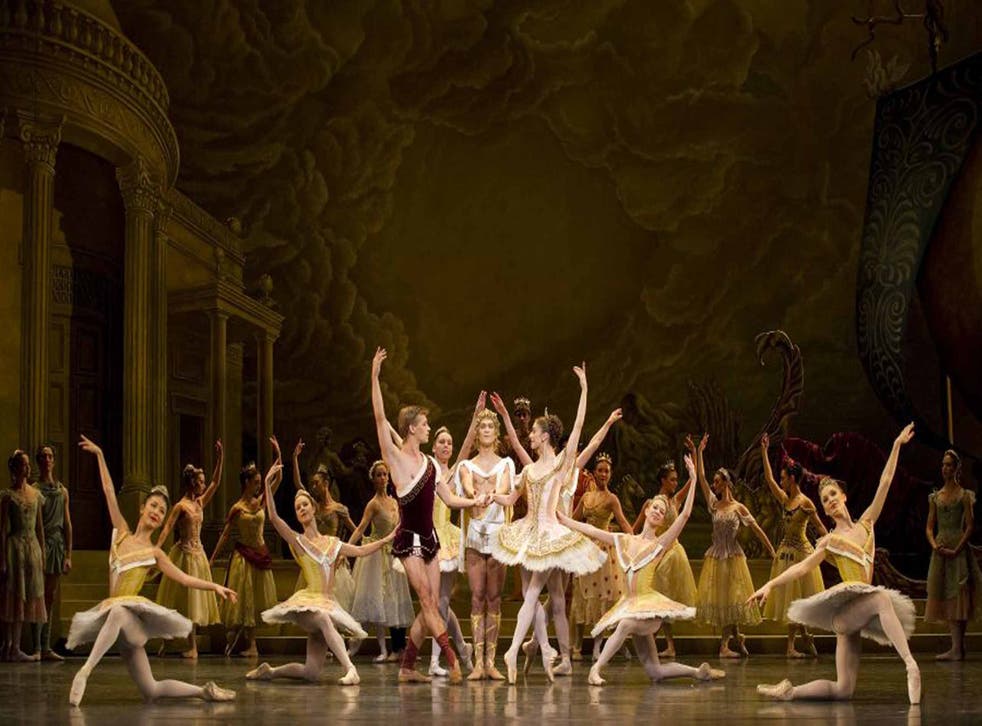 For a grand and stately art form, ballet can be very unpredictable. When I started writing The Ballet Lover's Companion, I knew that I'd have entries on the 19th and 20th-century classics, plus recent works establishing themselves on world stages. Then I found my history was expanding in both directions. I hadn't expected so many recent works to make the cut, or so many older works to leap back on stage after decades of neglect.
That reflects a new assurance in ballet itself. It's an exciting time for the art form, with new works and artists emerging: there is plenty to look forward to. It's very different to the sense of gloom I remember when I started watching in the Nineties. The giants of the 20th century, such as George Balanchine, Frederick Ashton, Kenneth MacMillan and Jerome Robbins, had died. Where were their successors? There is a natural human tendency to see the past as a golden age, but it's true that new ballet hits were scarce. Fewer new works were commissioned; fewer still managed to gain a foothold in the international repertory. It was a situation that prompted historian Jennifer Homans to declare that ballet "may have come to an end" in her 2010 book, Apollo's Angels. It's still here.
At the time, ballet's Nineties loss of heart was more noticeable because other forms of dance weren't suffering the same doldrums. Indeed, choreographers, such as Michael Clark and Russell Maliphant, left ballet for contemporary dance, finding more fertile ground for their work outside ballet's formal world. Ballet companies increasingly turned to contemporary choreographers for their own new works, from crossovers and collaborations to simply adopting existing works. Many major companies now dance works by modern dance figures such as Jiří Kylián, Mark Morris or Nacho Duato; the boundaries between styles are less strict. But this was one-way traffic: ballet was borrowing from contemporary dance, not vice versa.
There was plenty of soul-searching about why that should have been, from the training of dancers and choreographers to ballet's own identity. I believe that one reason lies in the huge social changes of the 20th century, and how ballet was able to respond to them. It's always drawn on social dance forms: stylised waltzes, mazurkas and jazz steps quickly appeared on the ballet stage, transformed from the ballroom to performance.
As the sexual and social revolution of the Sixties took hold, it affected dance along with everything else. Couple dancing offered physical intimacy in a stricter age – there's a reason why some of the most popular ballroom styles, from the waltz to the tango, were scandalous when they were first introduced. As the rules of personal behaviour relaxed, ballroom dancing slid out of fashion. People were less likely to dance in couples, more likely to improvise alone on the dance floor. As late as 1963, Ashton added a new solo to Swan Lake that was based on the twist – but it was getting harder for ballet to borrow from the dancing in clubs.
That change had less of an impact on contemporary dance, which was already experimenting with "pedestrian" or non-dance moves, improvisation and more: it had other ways of generating movement, and of digging into everyday experience. Ballet took longer to recover from the loss. It's noticeable that at least two leading choreographers of the late 20th century started out as social dancers: William Forsythe was a high school rock'n'roll champion, while Wayne McGregor, currently resident choreographer at the Royal Ballet, trained in ballroom and Latin American dance as a child.
Forsythe, who emerged as a major choreographic star in the Eighties, offered a different way of working in ballet: he deconstructed it. He made his name internationally with In the Middle, Somewhat Elevated in 1987, showing off a young Sylvie Guillem and a new generation of Paris Opéra Ballet artists in fractured, virtuoso moves. He loved putting ballet steps under pressure – and presenting them with ironic detachment. In 1988, he expanded In the Middle… to create Impressing the Czar, which he has since called "a fake full evening ballet": something that "looks and acts like a full evening ballet, but it's not". By refusing to tell a story, and commenting on its own absurdities, Impressing the Czar turned the traditional story ballet inside out.
For Forsythe, ballet's accustomed forms were "something that was made in another era". For a generation of ballet choreographers, the choice seemed to be between embracing post-modernism and risking looking old-fashioned. More traditional choreographers felt unsupported by their nervous companies, while Forsythe's own experiments increasingly led him away from ballet. Though companies around the world snapped up In the Middle… and other Forsythe works using classical technique, he increasingly moved towards contemporary dance and conceptual art.
Audiences, meanwhile, still loved full-evening story ballets, so companies went looking for more of them. One solution was to look to ballets that really had been made in another era. Ballet is a fragile art, unfortunately prone to losing its past. Unlike music, it was late to develop a standardised notation system. Instead, dancers learned steps from each other, passing choreography from body to body. If something fell out of repertory long enough for dancers to forget it, it might be gone for ever. The history of ballet is packed with game-changing works that have gone missing in action: we know that Vaslav Nijinsky's choreography for The Rite of Spring helped to start a riot in the theatre, but we don't know what the steps actually were. By the end of the 20th century, ballet woke up to how much had been lost, and started working to reverse the trend.
More ballets are now notated or recorded on film, giving them a better chance of surviving the vagaries of fashion. Research is now being done into earlier methods of notation, making it possible to restage apparently "lost" works – plenty of which have turned out to be worth having. As the ballet establishment lamented the loss of Balanchine, Ashton and others, it threw itself into preserving and recovering their work. Balanchine himself had compared ballets to butterflies, beautiful but short-lived. As a result of the Balanchine Trust, established after his death, his own works have become the most fiercely guarded legacy in ballet history.
Other ballets have actually done better in the 21st century than in their own day. Ashton's 1952 Sylvia was created to show off his muse, the ballerina Margot Fonteyn. It was a leisurely mythological spectacle, with lovely music and a meandering plot; without Fonteyn's star presence to hold it together, it drifted from the repertory. In 2004, after a gap of almost 40 years, the Royal Ballet and American Ballet Theatre carefully restaged it. Ashton's demanding choreography became a challenge for a new generation of ballerinas – who took to it so enthusiastically that the work has now been staged around the world, from the Staatsballett Berlin to the Mariinsky Ballet of St Petersburg. If I'd written The Ballet Lover's Companion 15 years ago, I'd never have included Sylvia. In 2015, it's earned its place.
Recovering lost or nearly lost works is one way to engage with ballet's history. Another involves looking directly at the past. The break-up of the Soviet Union had an immediate and powerful influence on ballet, which had been the flagship art form of the USSR. Behind the Iron Curtain, Soviet ballet was a powerhouse of technique, but cut off from other developments in the West. When it broke up, that led to an exchange of dancers and ideas. Ballet became more international, while Soviet-trained dancers were suddenly exposed to a wealth of new material.
The choreographer Alexei Ratmansky's career has been shaped by those political changes, and by his own response to them. Born in St Petersburg in 1968, he graduated from the Bolshoi Ballet school just as the Soviet Union began to break up. After dancing with Western companies, and making his name as a choreographer, he returned to direct the Bolshoi from 2004 to 2008. His attempts to modernise it were controversial – divisions between factions at the Moscow company would later result in the horrific 2014 acid attack on current director Sergei Filin – but focused on restoring lost parts of the company's history. The Bright Stream, which he created in 2003, reimagined a lost Soviet ballet that had been banned in 1935.
Ratmansky's way of going back to the past is both aware and unselfconscious. The Bright Stream throws itself joyfully into the brilliant dances of the Shostakovich score, delighting in traditional ballet vocabulary. He doesn't deny the Stalinist terror that led to the original ballet's suppression – the front-cloth quotes Pravda's attacks on Shostakovich – but he celebrates what had been lost. We can't know what the original Bright Stream looked like; the giddy comedy of Ratmansky's version is laughter in the face of past oppression.
It also shows how ballet has relaxed again. Ratmansky is explicitly making something from "another era", neither as imitation nor as ironic commentary. In The Winter's Tale, created for the Royal Ballet in 2014, Christopher Wheeldon's use of ballet steps was direct and fluent, digging into the Shakespeare story to create distinctive imagery. Wayne McGregor's recent Woolf Works for the Royal Ballet combined the star power of ballerina Alessandra Ferri with experiments in balletic stream-of-consciousness. McGregor, originally known for cerebral contemporary dance, was finding his own ways to explore the kind of drama and characterisation that the Royal Ballet had long been known for. Even William Forsythe seems interested in what he once called "ballet ballets" again: he's returning to the Paris Opéra Ballet next season, with the dance world eager to see what he'll create.
New works are always a risk, but there's a new energy in the way ballet's choreographers are experimenting, trying new things and old things, or different ways of combining them. And success breeds success: when ballets are returning to repertory, finding a connection with audiences, there's less reason to worry if the next production can be the one to get ballet back on track.
It's also a reminder that history changes as you write it. So far, ballet's 21st century hasn't been revolutionary. It's been a pattern of recovery and rediscovery, of absorbing change and developing from it. The urge to wring our hands over the art form's survival has faded. Ballet's got its confidence back.
Zoë Anderson's 'The Ballet Lover's Companion' is published by Yale University Press. ISBN 9780300154283
Register for free to continue reading
Registration is a free and easy way to support our truly independent journalism
By registering, you will also enjoy limited access to Premium articles, exclusive newsletters, commenting, and virtual events with our leading journalists
Already have an account? sign in
Join our new commenting forum
Join thought-provoking conversations, follow other Independent readers and see their replies