'I fell in love with Shakespeare': Director Maria Aberg is on a mission to modernise theatre
As she prepares her Glastonbury-style As You Like It for the RSC, Aberg talks to Arifa Akbar about love, war and gender imbalance.
Arifa Akbar
Wednesday 27 March 2013 20:30 Comments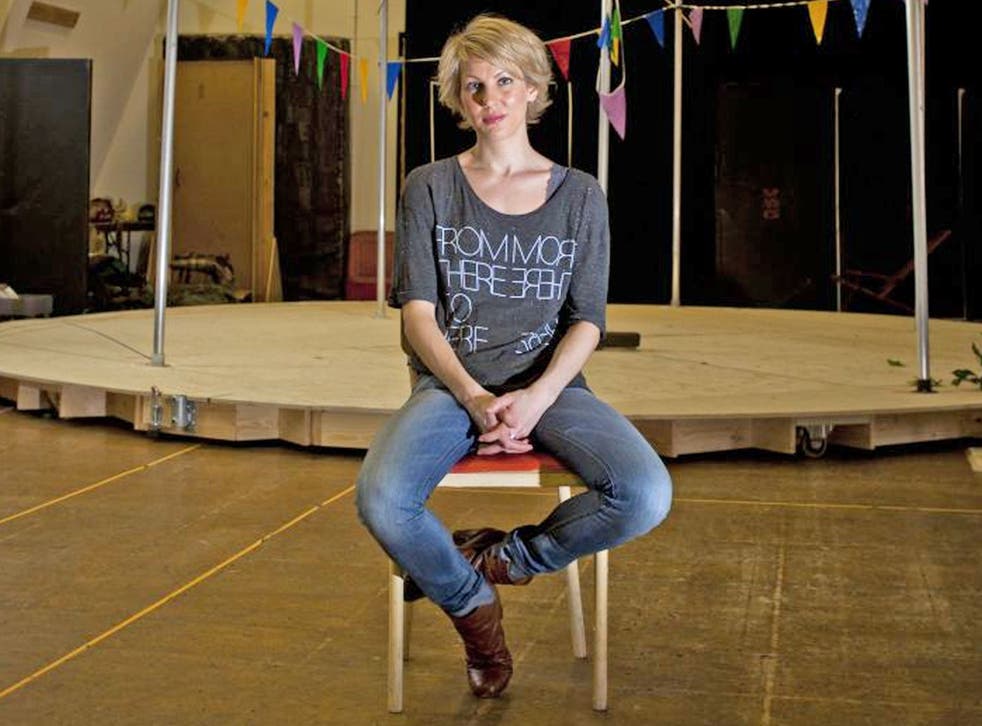 Maria Aberg is talking about falling in love with just a hint of breathlessness. It is partly because she is directing As You Like It, in which Orlando falls head-over-heels in love with Rosalind the minute he sets eyes on her in the forest of Arden (which, under Aberg's direction, is redrawn as a Glastonbury-style music festival).
But it is also partly because, by some strange Shakespearean serendipity, she fell in love herself, around the time that she began rehearsing the pastoral comedy with her actors. Suddenly, the idea of thunderbolt passion didn't seem so preposterous or notional or old-fashioned. It felt profound and terrifying and really rather glorious, she says, smiling. Who is her Orlando, and was it love at first sight? I ask her. He is a playwright, she says, but won't be further drawn.
The greatest loves aren't always instant, of course. Her own love of Shakespeare is a case in point. When she left southern Sweden and came to London to study drama at Mountview at the age of 20, she didn't fully appreciate the playwright's worth.
"In Sweden, we don't grow up with Shakespeare. I thought he was an amazing playwright but there are other amazing playwrights. We [in Sweden] don't have the weight of the legacy which is good and bad. But then I came here and fell in love [with Shakespeare] and now I understand what the fuss is about."
Yet her critics would say that it – the lack of a legacy – shows. Aged 33, she has directed several controversial productions including a Shakespeare-with-a-twist that left some traditionalists shaking their heads at her iconoclasm. Her 2012 adaptation of King John was a very contemporary production indeed, not only because the text had been edited and some characters conflated but also, most contentiously, because the "bastard" – the apogee of warring machismo – was played by a woman.
Aberg's As You Like It will feature the same leading players as King John – Pippa Nixon (who played the bastard) and Alex Waldmann (who played the titular role). Conveniently in this play, the gender-bending is already woven into the plot, with Rosalind, among others, disguised as a man for part of the play.
Aberg's reason for putting a woman in a man's part in King John was pragmatic – she wanted to do her bit to balance out the male bias in Shakespeare. "It's depressing when you sit in a room with 20 actors and see that five of them are women. It's visually quite obvious and it doesn't reflect the world we live in. Just compare Hamlet to Rosalind. King John is an incredibly male-heavy play, the women in it are mothers and brides – that's basically it.
"I thought 'what if I turned this slightly arrogant warrior character into a woman?' Once the light-bulb went on, the production was there."
The gender imbalance extends itself well beyond Shakespeare and into Britain's theatrical world as a whole, she thinks. "That the British theatre industry is male-dominated is a fact rather than an opinion," she says, and that can be rectified by employing greater numbers of women per production until inequality is ironed out. Doesn't that discriminate against the best person for the job? I ask. "We are not living in a world where the best person gets the job or it wouldn't look like it does now", she answers.
Aberg's treatment of Shakespeare may be unconventional but it is also clear-headed and unapologetic. Last year, the director of the World Shakespeare Festival, Deborah Shaw, spoke about the reverence with which British theatre producers treat Shakespeare. Directors and playwrights from abroad tend to be more audacious and less apprehensive about doing something different, she said.
Aberg says this might well apply to her, though she also likes to think that an experimental approach chimes with the spirit of Shakespeare. "Reverence is very difficult in a creative production. I'm not sure it has a place. Being faithful to theatrical tradition is not the same as being faithful to the text.
"I feel that Shakespeare was such a maverick. He experimented with everything from form to content to character to clashing realities. If you don't respect that spirit then you miss out on why the work is so exciting. I think original productions have their place but it's not something that massively interests me. I don't find it incredibly inspiring as a theatrical spectacle."
For As You Like It, she has stayed faithful to Shakespeare's text – though there is a very gentle edit and the Brit award-winning folk singer Laura Marling, who has written the music, has changed some of Shakespeare's lyrics for the musical interludes in the play.
Aberg's court is a "highly sexualised place where you have to perform at being a woman or man", and most innovatively, the forest of Arden has been contemporised into a music-festival setting – the poster features the kissing lovers in anoraks that are caked in mud.
In 2008, Aberg staged Roy Williams's play Days of Significance, which mixed elements of Much Ado About Nothing into a powerful story about young Iraq war veterans. Its critical reception after it was staged at Stratford by the RSC was explosive, dividing those who thought it a highly timely production, and a Daily Mail contingent who accused it of "treason" for its criticism of the war (even though the play was pointing out the deficits in resources and training for troops).
"It was completely ridiculous to talk about treason," says Aberg. "The play was critical of the army in the sense that it showed how young men are put in situations they are not equipped to handle. It was irrefutably on the side of these young men. In our after-show discussions, the people who leapt to the play's defence were relatives of the people who were out there. They could see that it was the system that was being criticised."
Many of her past productions have been grounded in conflict and war, such as Days of Significance and King John and also Belongings, a 2011 play about a female squaddie returning from Afghanistan.
"To a certain extent, you react to what's happening around you. But part of it [the subject of war] is a kind of fascination with the darker side of the human psyche. I'm interested in exploring it", she says, adding that Othello is next on her directing wish-list.
Now, though, her thoughts are with Rosalind and Orlando, and with love. As You Like It is the first play she has directed in which "nobody dies". But isn't it a peculiar follow-up to the heavy-weight subjects she has dealt with up until now? George Bernard Shaw thought of As You Like It as a crowd-pleaser which lacked Shakespeare's high artistry. What does Aberg think about that?
"It's interesting that it has the reputation of being lightweight and insubstantial, but when you start looking at it, it is the most glorious celebration of the capacity of the human heart. It is celebratory but not insubstantial," she says.
When Orlando falls instantly in love with Rosalind it is not sentimental or a schmaltzy bolt out of the blue, suggests Aberg, but a moment of keen recognition. They are both orphans. They are both fleeing persecution, and both stranded, in a sense. When he sees her, he sees himself in her. "And Rosalind is terrified to fall in love with him – we can all recognise the absolutely terrifying fear of letting go and falling in love. It is about the courage it takes to fall in love and to allow yourself to be loved.
"Just as with King John, I am constantly overwhelmed by how profound Shakespeare is."
'As You Like It', Royal Shakespeare Theatre, Stratford (0844 800 1110, rsc.org.uk) 12 April to 28 September
Register for free to continue reading
Registration is a free and easy way to support our truly independent journalism
By registering, you will also enjoy limited access to Premium articles, exclusive newsletters, commenting, and virtual events with our leading journalists
Already have an account? sign in
Join our new commenting forum
Join thought-provoking conversations, follow other Independent readers and see their replies