Ian McDiarmid's Merchant of Venice: 'It's not anti-semitic'
As Shakespeare's most controversial play moves to Las Vegas, its star Ian McDiarmid tells Claire Allfree that 'The Merchant of Venice' is not racist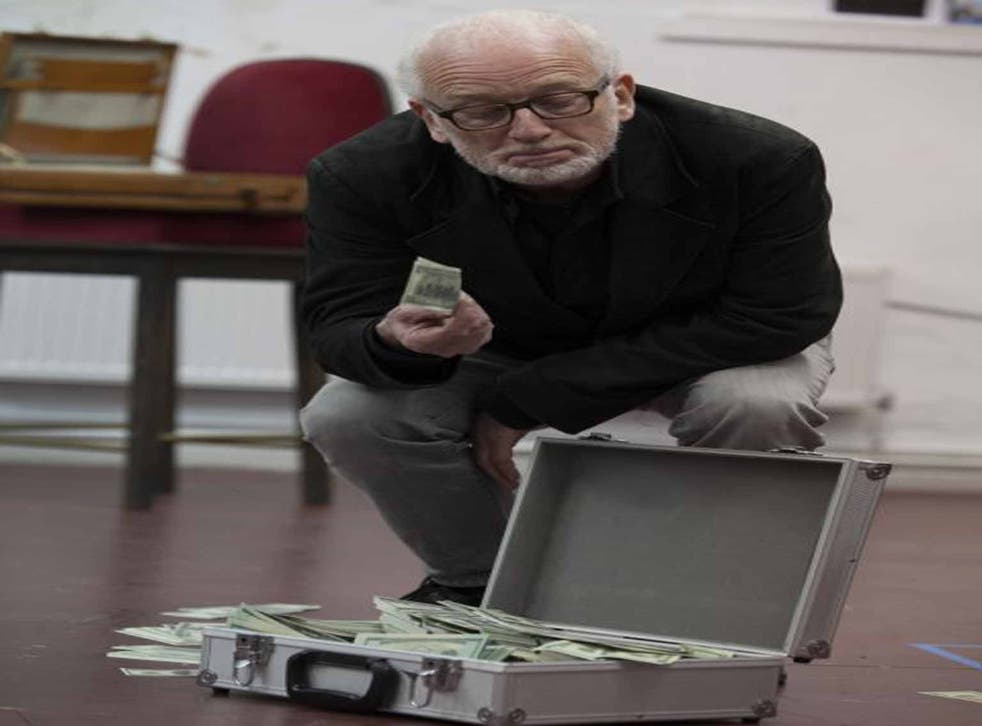 Ian McDiarmid doesn't hang about: he's straight in before I can even open my notebook. "The alleged anti-Semitism of the play, well of course it's not anti-Semitic, we wouldn't be doing it if it was,' he says having barely sat down for lunch at a north London restaurant. "People who say the play is anti-Semitic, well they are wrong. They are absolutely wrong."
McDiarmid is, of course, talking about Shakespeare's The Merchant of Venice. Anyone these days who gets involved in Shakespeare's most controversial play has already armed themselves with the arguments. The Merchant of Venice is just too divisive, comes with too much historical baggage, and for many is just too distressing not to have your defence ready to hand. A common line is that it's not just the spat-upon Jewish moneylender Shylock who gets it in the neck: Shakespeare is equally scathing about its Christian characters; it's a play about bigotry in all its forms. The prosecution maintains that in the final instance the play judges only Shylock in terms of his race rather than his character. Either way, Shakespeare's tragicomedy, with its mass of seemingly irreconcilable points of contention, throbs like an implacable trapped nerve within our highly confused, religiously conflicted, 21st-century times.
"I've always been obsessed with Merchant and felt that when I did it before there was so much we hadn't explored," says McDiarmid, who first played Shylock in 1984 for the RSC. "Like all of Shakespeare's plays it lives in its contradictions. It's a play about seeming; it's about the outside, the surface, and what is underneath. It forces you to be constantly revising where your sympathies lie. All the characters in the play have anti-Semitic or racist tendencies. Shylock is a racist. 'I hate him because he is a Christian', he says of Antonio. That's a bald statement of feeling."
McDiarmid – seen by some as one of our greatest stage actors but better known by others for playing the evil Palpatine in the Star Wars franchise – is stepping into the shoes vacated by Patrick Stewart in Rupert Goold's revival, which premiered to largely glowing reviews at Stratford in 2011. McDiarmid has been directed by Goold before, in Pirandello's Six Characters in Search of an Author, and loves the way Goold "detonates a script and puts it back together". In this ostentatiously modern-dress production set in Las Vegas, the multimillionaire Shylock owns a casino; Launcelot Gobbo is an Elvis impersonator; and Portia is a contestant in a reality TV show.
"Merchant is, in heavily inverted commas, a kind of fairy tale like All's Well That Ends Well; it benefits from a context," enthuses McDiarmid, whose sonorous, actorly voice is much more playful off stage than on it. "Las Vegas is not exactly a fairy tale place but it is a sort of synthetic paradise. Everyone in Merchant is on the edge of a kind of hypocrisy, which is where the play lives. And in Vegas, this place full of theatre, magic and unfettered capitalism, you have a place pretending to be Venice. … It's not The Merchant of Vegas though. Vegas is just the dreamscape for the play."
In many respects, Shylock is a perfect role for the 70-year-old McDiarmid, who has always been drawn to characters within which the big questions of faith and reason, society and alienation are played out. His not quite handsome face, with its mix of patrician angles and haunted contours, is well suited to weighty, conflicted roles that combine grandeur with solitude, and his CV reads like a roll call of powerful outsiders at odds with the world around them. Recent stage roles have included Galileo for the RSC; Timon of Athens for Chicago Shakespeare Theatre; John Gabriel Borkman at the Donmar Warehouse; and the beleaguered Catholic priest Father David in Be Near Me, the play McDiarmid adapted himself from Andrew O'Hagan's novel.
Intriguingly, while running the Almeida with Jonathan Kent during the 1990s, he also played Barabas in Christopher Marlowe's The Jew of Malta – a play whose central Jewish character makes Shylock looks positively sweet by comparison. "I felt I was playing the anarchic spirit of Christopher Marlowe with that play," McDiarmid says. "Even though Barabas does terrible things he draws attention to the terrible things that other people do. That play is definitely anti-faith. Marlowe is critical of Turks, Muslims, Christians; you could go on."
McDiarmid, who was brought up in Scotland, has no faith. "I can't. Just can't. But I love arguing with people who do. We are surrounded by people who hijack certain kinds of barbaric belief in the name of religion. That is horrible. I long to show people how that is not true."
This, I think, gets to the heart of how McDiarmid views The Merchant of Venice. Naturally he embraces the usual arguments: that Shylock is the unhappiest of social outcasts, deserted by his beloved daughter Jessica and shunned by the capitalist, Christian society with whom he longs to be assimilated. "There is no doubt in my mind that Shylock experiences extreme pain at the loss of his daughter, and that confirms him in his final concentrated act of murder against Antonio, which he absolutely wants to do," says McDiarmid. "He wants to torture him. But also, when the opportunity arises to become 'the vengeful Jew', he seizes it. He puts all the trappings of society, all the tenets and complications of Judaism to one side, for a single notion: that he might achieve purification for his soul through a vengeful act. He 'out Jews' what that society thinks a Jew should be. He does a popular thing: he hijacks his religion for his own purpose. He becomes a jihadi for his race.
"As for the conversion scene, it's not that serious. He knows he can still be a Jew in private. It's not like he's living in Iraq and Isis have stormed in shouting 'lose your head or convert'. He knows he's not gong to be killed. Although I think he'd rather be. He's got nothing left to live for. It's a painful existence. The whole experience has taken everything out of him. I've always really understood him. I've always felt a real empathy for him."
It's tempting to see something of the outsider in McDiarmid, although he bats that away: "Everyone is on the outside every so often." Still, he is intensely private: you won't find anything about his personal life on the web, which is just how he likes it.
"I do think it's important to keep it separate, in order to enrich your working life as much as anything. I enjoy myself on the odd red carpet, although I've only done it once or twice, for Star Wars, obviously. I thought they were shouting Ewan [McGregor]'s name, but no – it was mine. Then you go back to Leicester Square the next day and no one knows who you are. Which is great. Because that sort of thing can quickly take you over, and before you know it you realise you can't move. There is no one left for you to be."
He has always spent a lot of time by himself. "Maybe it's something to do with my upbringing but I do really like being on my own. I have this house in Scotland by the sea and it's actually quite solitary and hermit-like. Acting is wonderful because you are always part of a group, but the great advantage of it is that it stops. Then you go back to being this thing called yourself."
And who is that self? "You'd have to ask other people! Although the playwright Howard Barker did once say: 'I think Ian uses acting as a way to live another life.' I think that's true of many actors – we represent many lives – but he meant something deeper than that."
He starts talking about The Merchant again. "I've been reading John Lahr's recent biography of Tennessee Williams and in it Williams describes one of his characters as being full of 'unspent tenderness', which made me think of Shylock," he says. "But it was Harold Bloom who said of him that he was this displaced spirit. And I thought: yes, that's it. That's Shylock."
'The Merchant of Venice', Almeida Theatre, London N1 (almeida.co.uk) to 14 February
Register for free to continue reading
Registration is a free and easy way to support our truly independent journalism
By registering, you will also enjoy limited access to Premium articles, exclusive newsletters, commenting, and virtual events with our leading journalists
Already have an account? sign in
Register for free to continue reading
Registration is a free and easy way to support our truly independent journalism
By registering, you will also enjoy limited access to Premium articles, exclusive newsletters, commenting, and virtual events with our leading journalists
Already have an account? sign in
Join our new commenting forum
Join thought-provoking conversations, follow other Independent readers and see their replies