IoS dance preview of 2012: All the best dancers know their lefts from their rites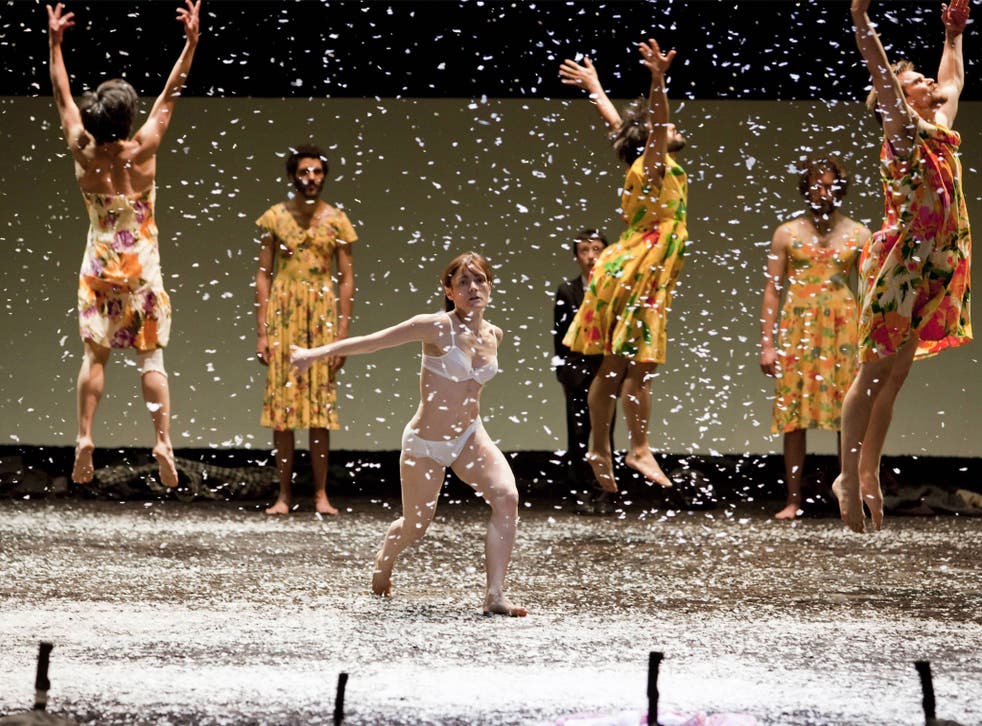 As belts continue to tighten, don't be too surprised by a sense of déjà vu, as theatres pad their schedules with known quantities (hello again, 50th-anniversary revival of West Side Story). This may be good news for those who missed, say, Akram Khan's marvellous Desh first and second times around (catch it once and for all at Sadler's Wells in June), or Sutra, Sidi Larbi Cherkaoui's mesmerising date with 20 plywood cubes, and the Shaolin Monks (Sadler's Wells, March). But it's also good news for Scottish Ballet, who have persuaded Matthew Bourne to let them loose on Highland Fling, his deliciously grungy 1994 update on La Sylphide. It tours four Scottish venues in April and May.
But even this writer had not dared to hope for a second glimpse of Michael Keegan-Dolan's exhilarating, harrowing take on The Rite of Spring, made for his Irish company, Fabulous Beast. It resurfaces as part of A String of Rites, a Sadler's Wells season marking the 100th anniversary of Igor Stravinsky's act of orchestral savagery, here nicely paired with Keegan-Dolan's new take on Petrushka (11-13 April).
The second Rites programme promises more valuable insights with a new full-length company work from Akram Khan. iTMOi (In the Mind of Igor) explores the ways in which Stravinsky used repetitive pattern to aim a wrecking ball at the polite world of orchestral music in 1913.
And risk-taking is not dead, far from it. Michael Nunn and Billy Trevitt, aka the BalletBoyz, are staking their all on the third incarnation of The Talent, with nine young men trained up to take the BalletBoyz brand of tough contemporary ballet to parts of Britain that might otherwise miss out. A new double bill features work by Liam Scarlett and Russell Maliphant, and tours 19 venues from later this month.
The Royal Ballet, too, is ticking items from its long-term wishlist. Russian exile Alexei Ratmansky, long fêted in New York as a choreographer, makes his first work for the company this season, reportedly using Chopin's Preludes. It shares a bill with a new work by Christopher Wheeldon and a revival of George Balanchine's untouchable Apollo. (At the Royal Opera House, 22 February – 14 March). Another Royal Ballet premiere to make a date with is Wayne McGregor's Raven Girl (24 May – 8 June), braced with Balanchine's fizzing Symphony in C.
Finally, anyone hankering for a sighting of ex-Royal Ballet wunderkind Sergei Polunin, back in Russia since he left the company almost a year ago, will want to note his starring role in Peter Schaufuss's Hamlet (at London's Bloomsbury Theatre, 15-24 May) which unusually promises dance-drama laced with spoken text. Schaufuss has, let's say, interesting form. Consider yourself warned.
Face to watch
At the Royal Ballet, the future's Scarlett. Last year, Liam Scarlett, 26 became the company's first artist-in-residence and stopped dancing to focus on choreography. Viscera, made for Miami City Ballet and performed by the Royal late last year, was thrilling. A new work for BalletBoyz: The Talent will show him in less classical mode.
Register for free to continue reading
Registration is a free and easy way to support our truly independent journalism
By registering, you will also enjoy limited access to Premium articles, exclusive newsletters, commenting, and virtual events with our leading journalists
Already have an account? sign in
Register for free to continue reading
Registration is a free and easy way to support our truly independent journalism
By registering, you will also enjoy limited access to Premium articles, exclusive newsletters, commenting, and virtual events with our leading journalists
Already have an account? sign in
Join our new commenting forum
Join thought-provoking conversations, follow other Independent readers and see their replies