Is Oscar Wilde's reputation due for another reassessment?
As a new play and book put the writer back in the dock, his reputation may be set to change once again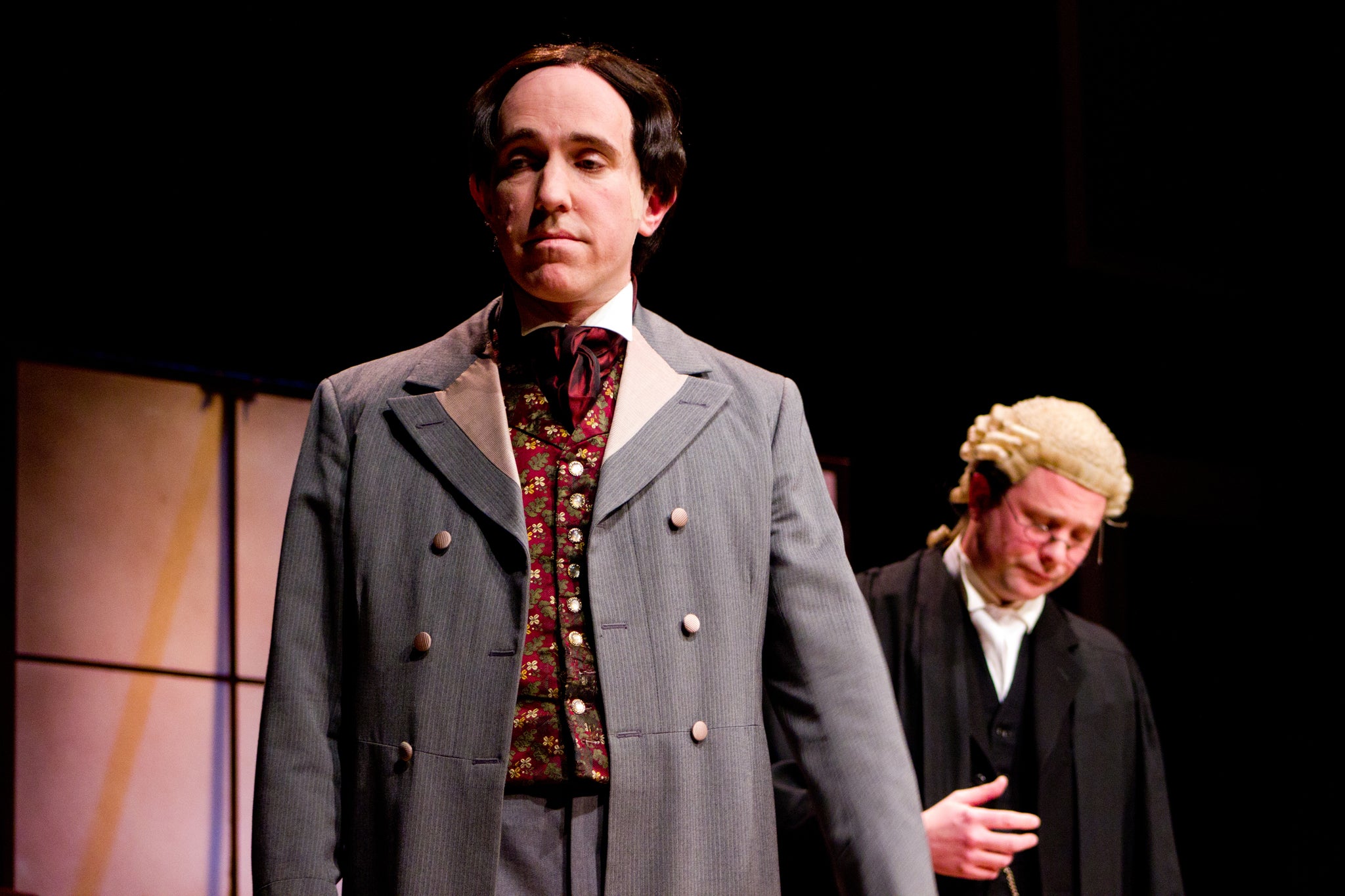 He has often been judged a victim of Victorian hypocrisy, but is Oscar Wilde really the saint and martyr he is now held up to be?
Next year marks the 120th anniversary of the playwright, wit and poet's conviction for gross indecency with a string of young men, which saw him sentenced to two years' imprisonment. More than a century later the details of his downfall have lost none of their power to fascinate and shock. What is more, the recent trials for sexual offences of high-profile figures from Rolf Harris to Max Clifford have lent the Wilde case a dubious kind of lustre, giving it the status of what Wilde's grandson, Merlin Holland, recently described as "one of the very first celebrity trials". In a timely move, a new play co-written by Holland and opening in London next week gives us an opportunity to review it.
In fact, Wilde appeared in three trials in 1895, the first being the libel case that he recklessly brought against the Marquess of Queensberry, the father of his lover Lord Alfred "Bosie" Douglas, who had left a card at his club accusing him of "posing as a sodomite". This case collapsed when, to justify the allegation, Queensberry's lawyers produced evidence that Wilde had engaged in sexual acts with at least 12 men. This evidence was then passed to the director of public prosecutions who charged Wilde with gross indecency under the 1885 Criminal Law Amendment Act and brought him to trial at the Old Bailey. The first criminal trial ended with a hung jury and this led to a final trial which saw Wilde convicted and sent down.
For The Trials of Oscar Wilde, Holland and John O'Connor have drawn on an original transcript of the libel trial (which only came to light in 2000), together with reports of the two criminal actions. In doing so, they have put Wilde back in the dock, speaking the exact words that he used to defend himself in 1895 and allowing us to play judge and jury, as if the case were happening today. For Wilde aficionados much of the play's material will be familiar. From the Queensbery trial we hear evidence of Wilde's sparkling wit – "I have never given adoration to anybody except myself" – and the now legendary line from a letter to Bosie: "It is a marvel that those red, rose-leaf lips of yours should be made no less for music of song than for madness of kissing."
But there are also scenes which have a fresh resonance in the age of Operation Yewtree. These are the parts of the case that deal with Wilde's relationships with teenage boys. Most of those on Queensberry's list were "renters", prostitutes who Wilde paid for sex. Charles Parker, 17 when he met the 38-year-old Wilde in 1893, is typical: he alleged that on their first meeting Wilde took him to the Savoy, gave him iced champagne and took him to bed where he performed "certain operations with his mouth". The next morning Wilde gave him £2. Parker became a star witness in the criminal trial, and we now hear his voice again as he claims that Wilde "committed the act of sodomy upon me".
In many published accounts of the Wilde trials the rent boys have been dismissed as rough trade whose statements are unreliable. But there were three other boys who gave statements who were not prostitutes – Walter Grainger, Edward Shelley (later dismissed as an unreliable witness), and Alphonse Conway – and their stories make uncomfortable reading.
Of the three, Grainger probably draws most modern sympathy because of his particular circumstances. He was a servant, aged 16, in the Oxford house where Bosie had rooms. In his witness statement, Grainger claimed that on Wilde's visits to Oxford in 1893, he kissed him and "placed his penis between my legs and satisfied himself". It was the prelude to a series of sexual encounters during which Wilde threatened Grainger that he would be in "very serious trouble" if he told anybody about their relations. Given how Wilde used Grainger, his famously flippant answer to the question of whether he had ever kissed him – "Oh no, never in my life, he was a peculiarly plain boy" – seems especially cruel. It was the turning point of the whole libel case since it implied that if Grainger were handsome, Wilde would happily have kissed him.
And then there is Conway, an exceptional case among Wilde's "lads", as the prosecuting lawyers called them, in that he was neither a renter nor a servant. In a revealing new book, Wilde's Scandalous Summer, Antony Edmonds tells the story of how Wilde met and seduced Conway, also aged 16, on a family holiday to Worthing in 1894. Over the next six weeks Wilde entertained him and gave him presents including a silver-topped cane. When Queensberry's detectives tracked Conway down the following year, he gave a statement saying that Wilde had masturbated him on a walk, taken him to bed and finally, on a trip to Brighton, "used his mouth" on him.
A modern audience is likely to feel uneasy in the parts of the dramatised trial which deal with Wilde's relationship with these boys. Even his celebrated defence of "the love that dare not speak its name" as "a great affection of an elder for a younger man" now strikes us as skewed, reflecting Wilde's specific preference rather than homosexual love in general.
Merlin Holland, however, cautions against judging Wilde's actions by our own standards. "One is taking it out of context," he argues. "It's very difficult for me to look at it and say there was nothing wrong, but he was not an odious predator. The boys seemed to be willing partners and there appeared to be a relationship going on between him and them."
Antony Edmonds is less reluctant to make comparisons across time and feels sure that Wilde would have faced prosecution today. "For example, he certainly paid for sex with youths under the age of 18 which is a criminal offence," he says. "But even if his activities had led only to exposure and not to arrest, he would have been savagely pilloried in the media. Wilde was 39 when he seduced Alphonse Conway, and Conway was an inexperienced boy of 16. I'm sure that Wilde's plays would have been taken off the stage just as quickly today as they were in 1895."
Interestingly, it was not so much the boys' ages as their social status that provoked opprobrium during the trials. "In terms of getting the jury to take a negative view of Wilde it was much more damaging that his companions were uneducated than that they were boys in their teens," points out Edmonds.
After Wilde was released from prison in 1897 he spent the remainder of his life in France and Italy – not in a state of depressed humiliation, as is often assumed, but enjoying the hospitality of his wealthy friends and the easy availability of boys for sex without censure. According to Neil McKenna's book, The Secret Life of Oscar Wilde, it was in Sicily in 1900 – only seven months before his death, aged 46 – that Wilde struck up a relationship with 15-year-old Giuseppe Loverde and every day "kissed him behind the high altar" of the cathedral in Palermo. Since Bosie and Oscar shared most of their "lovers", and since Oscar during this time wrote of Bosie being devoted to "a dreadful little ruffian aged 14," it is possible that more than one of Wilde's relationships was with a boy under the current age of consent.
Victim or villain – whatever we make of Wilde as we consider the case afresh – it's hard not to be drawn to the drama of his destruction. Why are we still so fascinated by it? "It's partly the inevitability," says Edmonds. "It had to happen in the way it did – almost like the story of Christ - and it couldn't end any other way."
'The Trials of Oscar Wilde' is at Trafalgar Studios, London SW1 from 13 Oct to 8 Nov. 'Oscar Wilde's Scandalous Summer' is published by Amberley (£20)
Join our commenting forum
Join thought-provoking conversations, follow other Independent readers and see their replies