Je suis... un playwright: In the wake of Charlie Hebdo attack plays by Neil LaBute, Caryl Churchill and Mark Ravenhill explore censorship and freedom of speech
The new series of five-minute pieces, all world premieres, were commissioned by Offstage Theatre in association with Theatre Uncut, responding to issues of freedom of expression, censorship and boycotts in the arts
Charlotte Cripps
Thursday 15 January 2015 01:00 Comments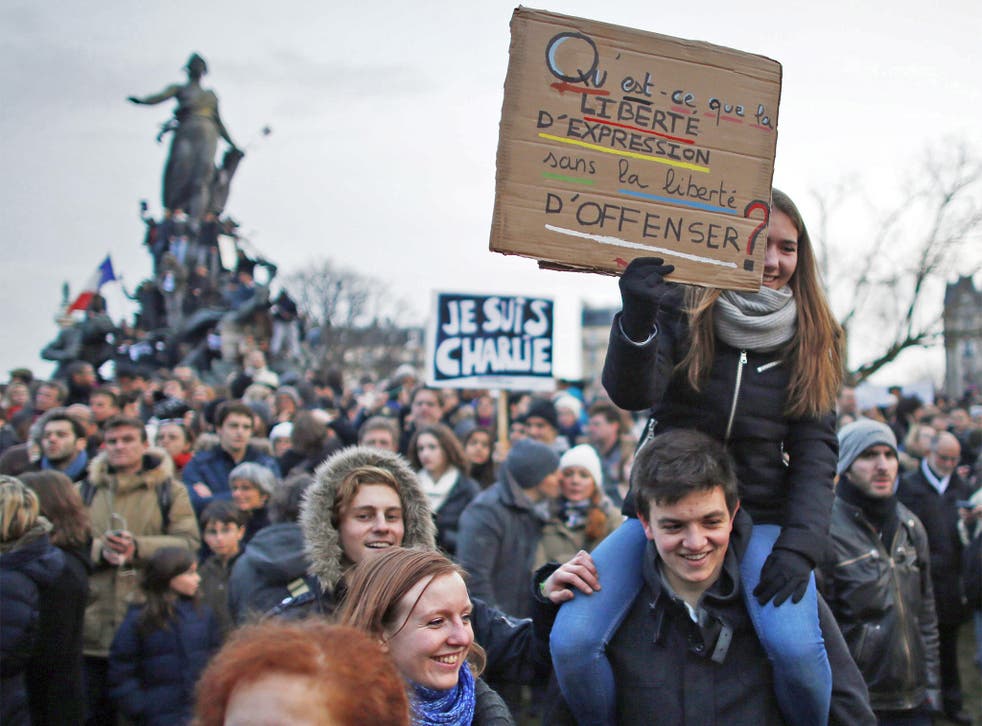 The controversial American playwright Neil LaBute is better known for his West End plays, including In a Forest, Dark and Deep, than he is for writing a five-minute play about freedom of expression to be performed in an empty office building in London.
But given the events of the Paris attacks last week and the topicality of freedom of speech, nothing could be more timely than the staging of a collection of 11 five-minute political dramas, written by top playwrights, including LaBute, Caryl Churchill and Mark Ravenhill, at the end of last year for a freedom of expression festival, Walking the Tightrope. The plays, which explore the tension between art and politics, will be performed all in one sitting over one week at the Theatre Delicatessen in Farringdon, later this month.
LaBute, who says "the shorter the play the harder I find it is to master it", has written a work called Exhibit A about an artist having anal sex with a woman for the sake of art – bringing into debate, is this art or rape? LaBute is passionate that "there is nothing that can't be said or seen on the stage".
"Even before the attacks in Paris, I've always put forward (by word and print) that I find nothing sacred and out-of-bounds for the theatre," says LaBute. "This is a place where we should be examining these things. If an artist doesn't feel free to do that or doesn't have the courage to do it, then not just basic liberties are being lost but much darker things are at work. Fear tests all of us and to see artists killed for their beliefs is a sobering thing but knowing that they did what they did, with the knowledge that this could be the outcome, is a spiritual and rudimentary message to other artists and audiences everywhere: live your beliefs every day, not just on the days when it's easy and convenient and when someone you want to impress is watching. Artists live and die with their art in hand, not hidden behind their backs."
The five-minute pieces, all world premieres, were commissioned by Offstage Theatre in association with Theatre Uncut, responding to issues of freedom of expression, censorship and boycotts in the arts.
They will be followed by post-show discussions about freedom of expression by a panel of politicians, journalists, campaigners and theatre directors, including the Young Vic's David Lan and the comedian and political activist Mark Thomas.
The plays include Ravenhill's What Are We Going to Do About Harry? in which a meeting between a theatre director and a wealthy patron of the arts leads to a discussion about the theatre's internship programme as the patron attempts to secure her son's place. While Churchill's play, Tickets Are Now on Sale, centres on how sponsorship affects the content of art.
Walking the Tightrope: the playwrights

Show all 4
This project was the brainchild of Cressida Brown, who founded Offstage in 2006 and directs all 11 plays. She was inspired by a series of events that happened in 2014: the closing down by the Barbican of the live art installation Exhibit B, following protests that it dehumanised Africans; the Tricycle Theatre being accused of anti-Semitism after refusing to host the Jewish Film Festival in the light of the Israeli-Palestine conflict because it was partially funded by the Israeli Embassy; and Underbelly pulling an Israeli show, The City, at the Edinburgh Fringe Festival after pro- Palestinian protests.
"All these events caused division within the art community and among my peers," says Brown. "Social media went mad over it – people were tweeting furiously at one another – and there didn't seem to be any actual opportunity for face-to-face debate about these events. Freedom of expression is essentially what all of these incidents are about it, so I decided to contact playwrights of contrasting opinions in the hope that I would bring an audience of different opinions into the same room together."
Brown says it was "shockingly easy" to get playwrights to write a work because the topic of freedom of expression "is so relevant now to the UK arts scene". "I got rapid responses. Within a month I had a complete line-up. It's such a tricky issue that needs to be explored," she says. "Playwright Sarah Solemani said 'Yes' and I got a perfect play in my inbox about anti-Semitism in the cultural boycott of Israel within five minutes and then I got the most genius of pieces by Churchill in about the same time – these pieces are straight from the heart. But I am now questioning myself as to whether I should censor one of the plays I've received about censorship! I'm wondering if I am going to get anybody into trouble by doing these plays."
LaBute, who has worked with Theatre Uncut and Brown before, agreed to be involved because, like him, they also "ask hard questions". "My short play is about how far we can go in the name of art? What is OK and what is allowed to happen in front of us as spectators and what we are willing to stand by and watch in the name of 'art'. I worked within this same framework years ago with a play called The Shape of Things and I'm tapping into some of that same energy to deal with the events that surrounded the closing of Exhibit B. My play is called Exhibit A so my intent is to reference what happened there in a fictional but completely intentional way. In Exhibit A, a man physically assaults a woman in front of an invited audience. The man is an artist and the woman is his subject. Is it rape or is it art? I want to try and equally understand the man who created Exhibit B and the people who were offended and worked to shut it down."
David Lan, who is on the discussion panel, insists we "have to protect freedom of thought at any cost". "It's appalling what happened in Paris," says Lan. "People say that the artists knew the consequences if they satirised the Prophet, but that kind of thinking is completely unacceptable," says Lan. "Freedom of expression is absolute – it can't be compromised. Which is not to say that people should be allowed to bully people. That is completely different."
He adds: "I think the Paris attacks strengthen people's commitment to freedom of speech. The response has been very powerful. It is terrible that it takes something like this to make us appreciate freedom of expression."
April De Angelis, who is better known for her West End hit Jumpy, wrote her five-minute play Sun City in about an hour. It is about a musician who is flying out to play a gig in the apartheid-era South African resort Sun City, but he hasn't read the small print. It asks what is an artist's political responsibility?
"Should an artist allow their work to be performed in, or supported by, a state which is committing human rights abuses and where that state is using its support for the arts as 'culture washing' abroad – that is promoting a vision of itself as benevolent? Not in my opinion," says De Angelis.
But like LaBute, who loved being given "a test" to write such a short play, all the playwrights enjoyed the challenge of writing a five-minute play.
"It is almost as challenging [as a full-length play] and very difficult, I think, " says LaBute. "To fully realise even a few characters and a plot or a theme or anything that usually serves us in a longer form is hard to accomplish and often the work can feel piecemeal or schematic or simply a quick sketch rather than a full portrait.
"It's great fun as an audience member to see many artists weigh in on a subject all in one evening and this is a pretty heady group to be a part of. A few of them I've met or spent a little time with and others are new to me but their work as a whole is kind of remarkable."
Walking the Tightrope: The Tension between Art and Politics, Theatre Delicatessen, London EC1 (theatredelicatessen.co.uk) 26 to 31 January
Register for free to continue reading
Registration is a free and easy way to support our truly independent journalism
By registering, you will also enjoy limited access to Premium articles, exclusive newsletters, commenting, and virtual events with our leading journalists
Already have an account? sign in
Join our new commenting forum
Join thought-provoking conversations, follow other Independent readers and see their replies