Singing truth to power: How Kneehigh's new show uses mass karaoke to topple a dictator
Ubu Karaoke features group singalongs, anarchic games, toilet humour – and a bar that stays open throughout. The Cornish company explains why it's all about going back to its roots
Holly Williams
Thursday 09 August 2018 14:45 Comments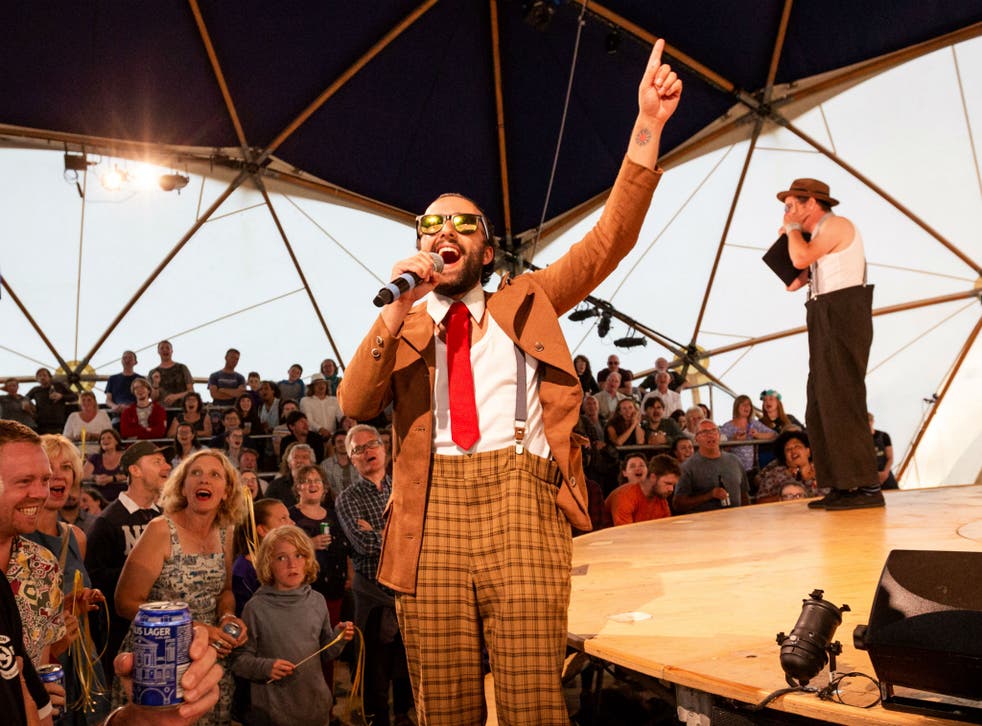 The audience pelts ping pong balls at each other, bellows along with karaoke hits from "Your Song" to "My Way", impersonates a zoo and suggests public figures to be flushed down the toilet: there are huge cheers for Jeremy Clarkson and Nigel Farage.
Welcome to the Asylum.
Nestled in the corner of another Cornish tourist attraction – the beautiful Lost Gardens of Heligan - this domed tent is the summer playground for Kneehigh. The much-loved Cornish theatre company is known for its lively, very live shows which, over its 38 years, have rarely allowed audiences to just sit quietly in the dark.
And this is Ubu Karaoke – its semi-improvised take on Alfred Jarry's 1896 classic Ubu Roi, about the rise of the megalomaniac Ubu, a foul-mouthed, grotesquely greedy tinpot despot who tells blatant, shameless lies.
Any real-life modern resemblances are entirely intentional.
When it was first staged, Jarry's gleeful, puerile, linguistically exuberant take on a cruel dictatorship horrified audiences, who rioted.
This new version is also a riot – but one we're all in on. Because Kneehigh has paired this comedic study in power and populism with another form of crowd interaction: mass karaoke.
"The songs drive the action; it's not about watching the performers, but about the audience being the main focus," explains Kneehigh's musical director Charles Hazlewood when I meet the company a few weeks previously, as it is beginning rehearsals.
"It should feel a bit like being at a festival – bellowing your lungs out to whatever is playing."
And the songs are ones audience members young and old will be familiar with, whether that's Britney Spears' "Toxic", Queen's "We Will Rock You" or the Sex Pistols' "Anarchy in the UK".
The show's hot, punky, swinging live band – named The Sweaty Bureaucrats – are onstage throughout. The audience sings along, but karaoke refuseniks fear not: no-one is singled out for an individual go on the mic.
"It's about being part of a crowd. We're not here to embarrass an audience; we're here to make them feel they're having an experience together," says assistant director Keziah Serreau.
The other thing that surely helps the party atmosphere is that the audience is free to move around the whole time. Although there are bleachers to sit or stand on, there's also a pit around the central circular stage, where you can get up close and personal with the performers.
And – crucially – it means you can always get to the bar, which stays open throughout the entire show.
This is theatre as a good night out; it's a gig, a knees-up. It's also a hoot: this troupe are masterful comic improvisers.
This is, for Kneehigh, a deliberate exercise in going back to its roots. Recent shows such Dead Dog in a Suitcase and The Tin Drum have been more polished: fully scripted, with complicated sound and tech elements.
Artistic director Mike Shepherd, who founded the company back in 1980, tells me he was keen to get back to its old-school devised and improvised work. Kneehigh shouldn't be doing stuff you could see in any old sit-down, face-front theatre.
They only had two weeks to rehearse Ubu Karaoke – which was fine, as to over-rehearse improv would be deadly, after all.
"It's a rough, very spontaneous event. The exciting thing about improv is getting yourself into the s*** – that's where the magic happens," says director Carl Grose. "We should never get it too good."
I watch one warm evening in early August, adding to the south coast of Cornwall's heaving hordes of tourists. After an afternoon spent strolling around the walled gardens and lush, sub-tropical jungled valleys of the Lost Gardens of Heligan, I follow its snaking pathways to a field where the Asylum sits, the dome squatting in front of a stunning view out to sea. The whole thing, frankly, seems charmed.
The rest of the audience clearly feels the charm (and possibly the Cornish cider) too: a mix of tourists and Kneehigh die-hards, they're all up for it, whether 'it' be hugging a man in a bear costume or competing in Ubu's bizarre Olympic Games, strangers getting intimate with each other, and balloons.
"It should feel quite anarchic," says Hazlewood. "And very live. It does feel good not to be doing another incredibly complicated technical show, but to be doing something dirty and earthy.
"What Kneehigh has is an amazing bunch of performers and musicians, and what they absolutely have is bravery, so almost the best scenario is when you just say: 'off you go.'"
But to be brave as a performer, you need to feel safe. And you can certainly sense the trust and closeness of this troupe. I frequently hear people refer to Kneehigh as "a family".
That is surely, in part, due to where it makes work: Kneehigh is based near the tiny village of Gorran Haven, a rural spot far removed from everyday distractions.
After the show I join the troupe at the Kneehigh barns, the clifftop headquarters that provide rehearsal spaces and prop storage, but also a place where the company can come together. There are great pots of food and crates of drinks; outside a bonfire flickers, and someone points out the Milky Way to me overhead. You don't get that at an opening night party in the West End.
It's a make-your-own-fun kind of place, but also a make-your-own-kind-of-work place. Living and working as a collective in this very beautiful environment clearly nourishes the company's identity.
"A lot of it is about the spirit of a group of people working together," actor Niall Ashdown says, on the importance of building trust in a company, so that you can foster it in an audience.
"It's about going on a journey where we empower each other to fail. If we're going to get the audience to try things, they need to be in that spirit too – where it doesn't really matter what happens, we'll make it all right."
Kneehigh founder Shepherd is in the show – initially, Grose wanted him to play Ubu, but he only had eyes for Ma Ubu, and performs her swathed in a red feather boa and some shockingly badly applied red lippy.
The tiny Katy Owen – who also bewitched London audiences as Puck in former Kneehigh artistic director Emma Rice's A Midsummer Night's Dream at the Globe – is our moustachioed Ubu, with a mop for a wig and an absurd mix of pomposity and cowardice.
They make quite the double act: little and large, carnivalesque grotesques, spouting nonsense and flushing anyone who opposes them down a giant lav.
"She's a firebrand," says Grose of Owen, explaining that gender wasn't really a consideration when casting it. "We just needed the craziest person on the block!"
For all that it's a lark, there's also a kernel of chilling truth to Ubu Karaoke. It's easy to mock Trump, when he makes reality itself so absurd. But the show aims to remind us that, while we may laugh incredulously at the current political situation, we should never get used to it.
"It's saying to the audience we must never let this reality become normality. We must never settle into this thing – because it's insane," says Grose.
Mob rule can be an ugly thing, but collective action can be a beautiful one. The audience engages in both, at times, in Ubu Karaoke – but it ends on a final moment of j'accuse, the crowd in one strong voice promising Ubu and Ma Ubu that they will reap what they sow.
It sends a shiver through the tent on a warm night. It is a reminder to speak truth to power; a reminder that our voices, together, really can be louder.
'Ubu Karaoke' is at the Asylum at the Lost Gardens of Heligan till 25 August (kneehigh.co.uk)
Register for free to continue reading
Registration is a free and easy way to support our truly independent journalism
By registering, you will also enjoy limited access to Premium articles, exclusive newsletters, commenting, and virtual events with our leading journalists
Already have an account? sign in
Join our new commenting forum
Join thought-provoking conversations, follow other Independent readers and see their replies