Pop stars scoring theatre: David Bowie's Lazarus was evidently an artistic swansong rather than a cash cow
With the transatlantic transfer of the David Bowie musical Lazarus, as well as the Young Vic's production of The Nest with a score by PJ Harvey, is the theatre-pop marriage a dream ticket?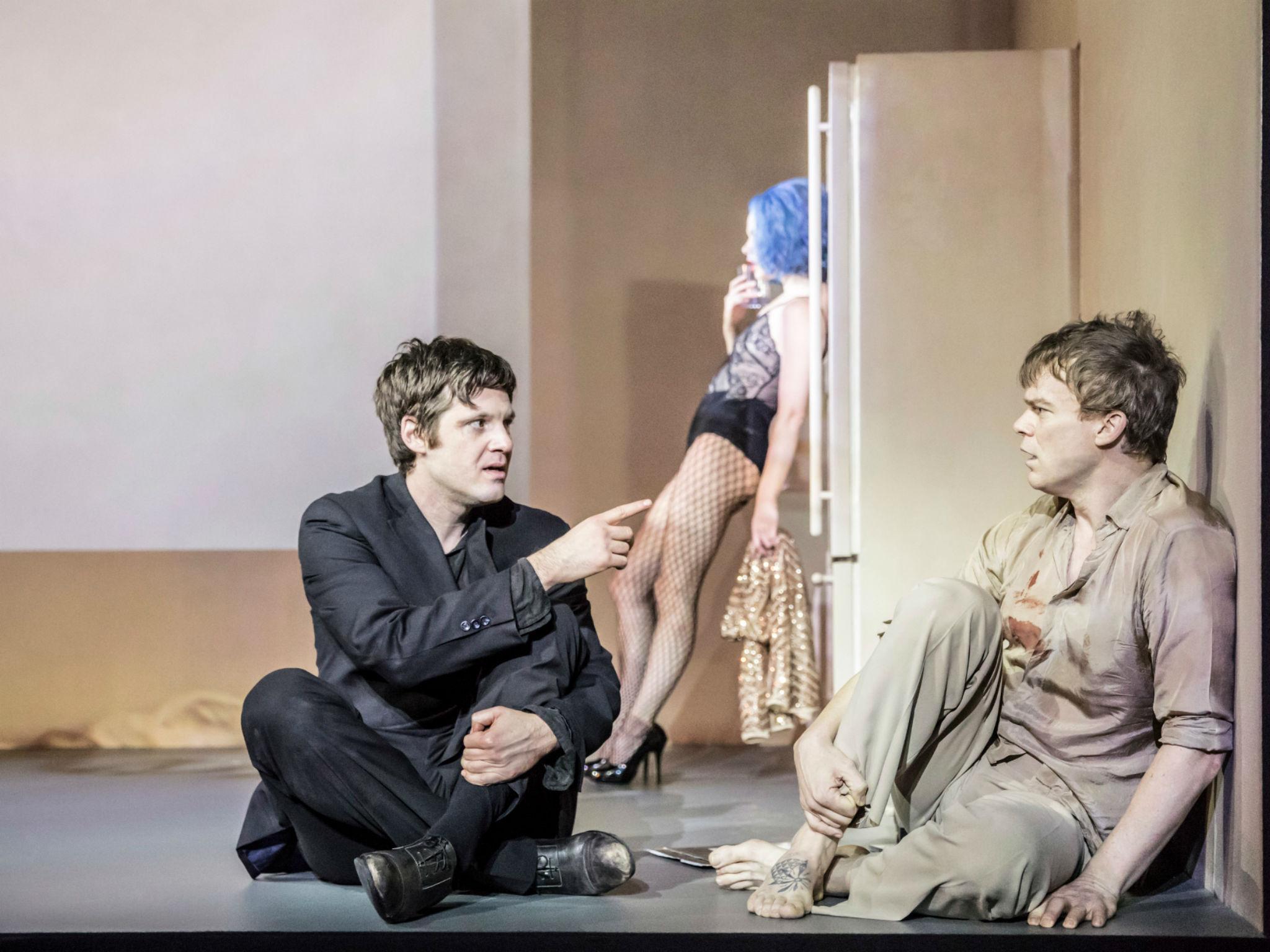 "Look up here, I'm in heaven/I've got scars that can't be seen." So opens Lazarus, a song on David Bowie's final album Blackstar – and also the title of a stage musical sequel to The Man Who Fell To Earth, which premiered in New York last year before his death, and opens in London next week.
The song's poignant lyrics have since, unsurprisingly, been interpreted as a parting gift, a carefully orchestrated farewell to fans. But all of that was unknown when the musical, co-written with Enda Walsh and directed by Ivo van Hove, opened late last year – and although there was some ardent admiration for the space oddity, critics were also befuddled by the show's story of a lost alien.
Lazarus inevitably will now come with an added wave of grief for the late great musician, and such lyrics are sure to carry an extra electric charge, just as hearing Bowie classics such as "Changes" and "Heroes" live onstage will be newly poignant. There's no need to worry about pepping up this transatlantic transfer, raising it from the dead – Lazarus will be absolutely critic-proof.
Which is what, if we're to be cynical about it, producers of big-budget musicals are often hoping for when they call on pop and rock stars to provide a score. The presence of a famous name above the lights can help draw an excitable audience, produce greater media foaming, and – hopefully – provide some crossover, memorable tunes.
Not that such cynicism should be applied to Lazarus: the project was evidently an artistic swansong rather than a cash cow. And often, cross-pollination between the world of theatre and music can be completely organic, a result of ambitious artists in different fields recognising that jumping between forms offers a refreshing challenge. In a modern, multimedia, multi-platform world, it would be a bit weird if music and theatre didn't swap notes.
London witnesses another such fruitful collaboration this month, when The Nest opens at the Young Vic. This new translation by Conor McPherson of a play by Franz Xaver Kroetz – about a couple whose desire to provide for their child leads the father to take on some morally dubious work – is directed by Ian Rickson and has a brand new score by one PJ Harvey. It's their fourth collaboration; Harvey previously provided sounds for his Hamlet, Hedda Gabler and Electra. This "incidental" music has never been released on record, and it's fair to say she was never the main draw – but being able to call on an artist of such calibre sure lends kudos.
Even background music for a text-based play – as opposed to the narrative-driving songs of a musical – can still hugely effect one's experience of it, and directors quite naturally want to tap into that. We don't consume, or make, theatre in a vacuum: just as film directors may become famous for their excellent soundtracks (where would Quentin Tarrantino or Baz Luhrman be without them?), so too may directors who've grown up equally obsessed with music want to use it to give their Shakespeare, say, some edge. And if you can commission a favourite musician to write a whole new score – a move that will also bring a certain credibility, coolness or broaden a play's appeal – well, that's a dream ticket.
There have been increasing numbers of such offerings in recent years: electronic artist Jon Hopkins provided sounds for the Lyndsey Turner/Benedict Cumberbatch Hamlet, These New Puritans scored a stage version of Brave New World last year, while Goldfrapp's ominous compositions brilliantly underlined the menace of Medea in Carrie Cracknell's production at the National. Laura Marling has worked with the RSC, putting Shakespeare's songs in As You Like It to new music, and Cerys Matthews wove new tunes through Nadia Fall's recent revival of Timberlake Wertenbaker's modern classic Our Country's Good.
All have spoken about the challenge of working in a different format, where sound must serve a wider vision. But such challenges can form a nice artistic nice leg-stretcher or palate cleaner between the demands of recording and touring. None of those mentioned actually performed onstage, it's worth noting; theatre here offers a stimulating side project, where the spotlight is ultimately turned on someone else.
The pressure steps up a gear, however, when you're delivering a full-blown musical – when an artist's tunes really do have to carry a show. And pop star-scored musicals are a pretty mixed bag. For every Elton John mega-hit (Billy Elliot,The Lion King) there seems to be a terrifying flop – consider the much-delayed, loss-making Broadway Spider-Man musical, scored by U2. Actually, better to forget that one, maybe.
In the UK, we've had notable hits in recent years. Charlie Fink of Noah and the Whale provided a delightfully knowing, genre-hopping set of songs for Dr Suess's environmental tale The Lorax – a theatrical highlight of last year, at the Old Vic, which returns in October 2017. His songs swung confidently from homespun folk to Motown to shiny electro-pop, all in sync with the story of growing capitalist greed.
Cyndi Lauper's scored the stage musical of Brit flick Kinky Boots, a hit on Broadway before it crossed back to Blighty to do stomping business in the West End. Despite being a slightly over-sanitised, formulaic show, her ability to craft a pop hook helped things go with a zip, underpinning some belting song-and-dance numbers.
And the only musical that has really, truly had me humming a tune for weeks after – often considered a measure of success – was Here Lies Love. A collaboration between David Byrne and Fatboy Slim, it told the story of Imelda Marcos, wife of Philippines dictator Ferdinand, through shiny disco and driving dance beats. Here was a musical you actually wanted to dance to: a good thing, considering that Byrne himself joined us grooving around on the floor when it opened at the National Theatre.
The National continued to be bold with such programming – but other recent crossover musicals have faltered. Long in the making, Tori Amos's fairytale The Light Princess won plaudits for just about every aspect of the show – except the music, deemed bland and lacking tunes. Meanwhile wonder.land, a contemporary take on Alice, faltered despite its stunning design. For a musical written by Damon Albarn, whose immense talent with a tune has carried him from Blur to Gorillaz to Renaissance-set operas, wonder.land was just bafflingly lacking in proper songs.
Things could be worse: on Broadway, Sting's musical The Last Ship closed early last year – even after the singer himself started appearing onstage to boost the beleaguered box office. And Gary Barlow's music for a stage version of the film Finding Neverland, about Peter Pan author JM Barrie, was slated Stateside too for being formulaic, cloying and mushy. Curiously, that hasn't stopped it coming to these shores next year, but will having a Take That star on the poster really help its fortunes?
Making a hit musical is a famously mysterious business. And clearly, a pop star on scoring duty isn't always a guarantee of success or failure – either in packing in the crowds (a given if you're Bowie, but surely as many people would be put off by Sting or Barlow as would be tempted), or in proving adept at propelling a show to great heights. It's strange thing, but those that are brought in for their ability to write a tune, sometimes entirely fail to find one when it has to be in service of a story.
Lazarus is at the King's Cross Theatre from 8 November; The Nest is at the Young Vic; The Lorax at the Old Vic returns in October 2017
Join our commenting forum
Join thought-provoking conversations, follow other Independent readers and see their replies