'I'm not interested in being sentimental': Lia Williams on starring in 'The Prime of Miss Jean Brodie'
After 'Kiri', 'The Crown' and 'Mary Stuart', the actor is enjoying a moment. Now, she follows in Vanessa Redgrave and Maggie Smith's footsteps in playing Muriel Spark's memorable creation 
Sarah Bradbury
Monday 11 June 2018 11:24 Comments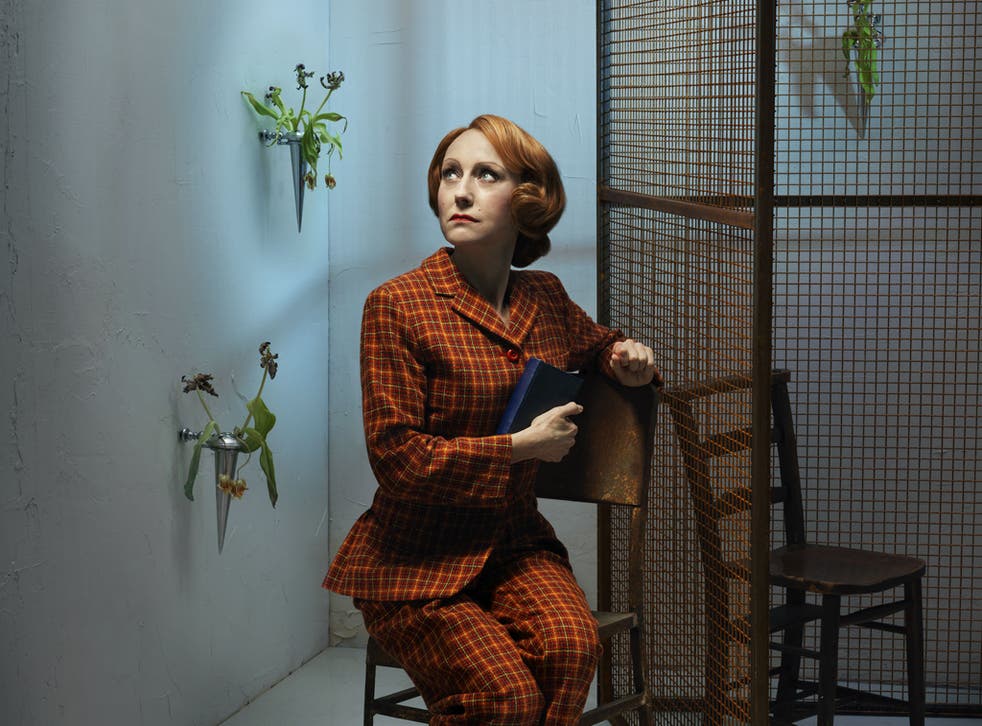 "Give me a girl at an impressionable age and she is mine for life," says Miss Brodie in Muriel Spark's 1961 short, sharp novel. It follows the eccentric schoolmistress and her set – "the crème de la crème", as she calls them – of a group of favoured students at the Marcia Blaine School for Girls in 1930s Edinburgh, through whose lives she sought to control fate.
This year marks the 100th anniversary of the Scottish author's birth and, in a meeting of great Scottish talents, Edinburgh-born playwright David Harrower (Knives in Hens) has adapted the much-loved book for the Donmar Warehouse, to be directed by Polly Findlay.
But the milestone anniversary is not the only reason now seems a fitting time to see the dangerously charming hero depicted on the stage.
For lead actor Lia Williams, The Prime of Miss Jean Brodie holds relevance on numerous levels for a contemporary audience, most notably in its extraordinary, complicated female lead. We've been rather short on these, she observes.
"I think women are much more interesting than they're often portrayed, particularly on screen but often in the theatre too. Female characters are the housewife, the best friend next door, the lover, the killer. But I think they can be all of those things at the same time."
Miss Jean Brodie is a character we should feel conflicted about; Spark's story slowly reveal's the teacher's desire to indoctrinate her students with the ideals of fascism, which were gaining popularity in Europe at the time she was teaching. There are, therefore, "some interesting comparisons with Trump and [Brodie's] fascism, and what absolutism would do to us," suggests Williams.
Williams admits she wasn't previously familiar with Spark, but found herself "stunned" on first reading: "She's got such a glinting edge to her writing and it's so witty. But it also has a certain fierceness to it and a shock element to it." The chance to work with David Harrower was also "utterly irresistible".
"Harrower has the same qualities in him so I just thought 'this is the most perfect match'."
It's not the first time the hero has been brought off the pages of Spark's book, having drawn some of our best-known actors to the role: in 1966, Vanessa Redgrave starred in a London stage version adapted by Jay Presson Allen, which went on to become a Tony award-winning Broadway production with Zoe Caldwell. Maggie Smith's Miss Brodie in the 1969 film directed by Ronald Neame earned her an Academy Award for Best Actress.
Does following such incarnations of the character add to the pressure? "Of course Maggie Smith is a genius. I would never even begin to put myself into her category," Williams asserts. "But I'm not trying to do that. I'm trying to tell a story."
In particular, what Williams wants to capture is the teacher's nuanced, ambiguous nature: "What I love about Brodie is that she isn't this chocolate box, Hovis advert, gorgeous teacher that all these kids fall in love with and it all gets a bit sad. I saw her as full of flair and zeal and passion and love, but I also saw her as complex and flawed and somebody who grabs onto ideas and belief systems and then discards them at will.
"I'm not interested in being sentimental, but in telling her as Muriel Spark and David Harrower have written her."
Williams admits, however, that this is no easy feat, not least needing to train with a dialect coach to nail a perfect Morningside accent, which "is sort of intrinsic to who she is". She adds that the character also "thinks 17 thoughts a second; she's very quick witted, and she's many things at the same time. So that's quite a difficult thing to pull off."
Ultimately though, she hopes to leave space for theatregoers to decide how they perceive this protagonist. "Harold Pinter first said this to me, and I think he's absolutely right – the audience must decide what 'the thing' is. If you start telling them what is it then you're underestimating their intelligence. I'm just hoping I can present a Brodie that people can have feelings for, I'd like them to be affected by her."
Coming hot off the heels of a critically-acclaimed run of Mary Stuart, adapted and directed by Robert Icke, alternately playing Mary Stuart and Elizabeth I alongside Juliet Stevenson, Williams seems to be enjoying a well-overdue moment of recognition. Her career, across theatre, TV and film, has spanned decades.
This sudden recognition is something she expresses a certain cynicism over: "I couldn't even begin to tell you what the process is," she says with some exasperation. "I think it's just a collection of things happening at certain moment in time."
Her Mary Stuart role emerged out of playing Clytemnestra in Oresteia, also with Icke, which dovetailed with her TV roles as Wallis Simpson in The Crown and playing foster mother Alice Warner in Channel 4's Kiri early this year. She's just been asked to direct her mentor, Harold Pinter's, Ashes to Ashes at the Pinter Theatre in the West End, building on her directing experience, which includes short films such as 2008 Bafta-nominated The Stronger.
She recognises this sense of momentum but adds: "I have worked for a load of years really, really hard. So I'm quite steady in my head about the idea that 'this is my moment'. I love the work and I hope it keeps coming. But I think there are flurries of activity, and I'm sure that this is just a flurry."
Williams also points out her "moment" has coincided with her having more time and energy for her work, with her son now grown up. This has happily coincided with women of a certain age finally being written for more: "maybe we've got more to say. And also, demographically, we're getting older as a people. The combination of those things makes it a very exciting time. I feel really energised by that."
Whether a "flurry" or career changing run of hits, the momentum continues: Williams is in talks for a TV series specially developed for her. "The idea of creating a character that develops on screen over a period of time would be my dream."
However, it's theatre where her passion really lies: "Theatre is the thing that I have to do. There is no choice. I'm not sure I could say the same about TV and film."
And while she is driven by how attractive an individual role is, whichever medium it might be in, for Williams there no is denying that "theatre is about 9 million times harder than film acting. It requires much more courage and it's a much greater test of your ability and skill. You invest a piece of yourself if you're doing it well so there's always a cost to it that sets it apart."
Her only bugbear is her sense of theatre no longer being taken seriously in our culture, and her own reverence for it being seen as overzealous. "Sometimes I get people, particularly journalists, saying 'she's got this intensity to her' as though it's a bad thing.
"But if you're doing it really well, with real truth and clarity and spirit, then you will convey something to an audience that matters, and they will feel it. And in that way, theatre can be life changing."
'The Prime of Miss Jean Brodie' is at Donmar Warehouse 12 June-28 July (donmarwarehouse.com)
Register for free to continue reading
Registration is a free and easy way to support our truly independent journalism
By registering, you will also enjoy limited access to Premium articles, exclusive newsletters, commenting, and virtual events with our leading journalists
Already have an account? sign in
Join our new commenting forum
Join thought-provoking conversations, follow other Independent readers and see their replies