Why drag queen Vicky Vox is starring in the summer's big musical Little Shop of Horrors
Usually, Audrey II is brought to life by a feat of stagecraft. So why cast a living, breathing drag queen in the role? It's all in the service of director Maria Aberg's determinedly anti-realist, subversive approach, and because drag is having a crossover moment
Alice Saville
Monday 13 August 2018 15:12 Comments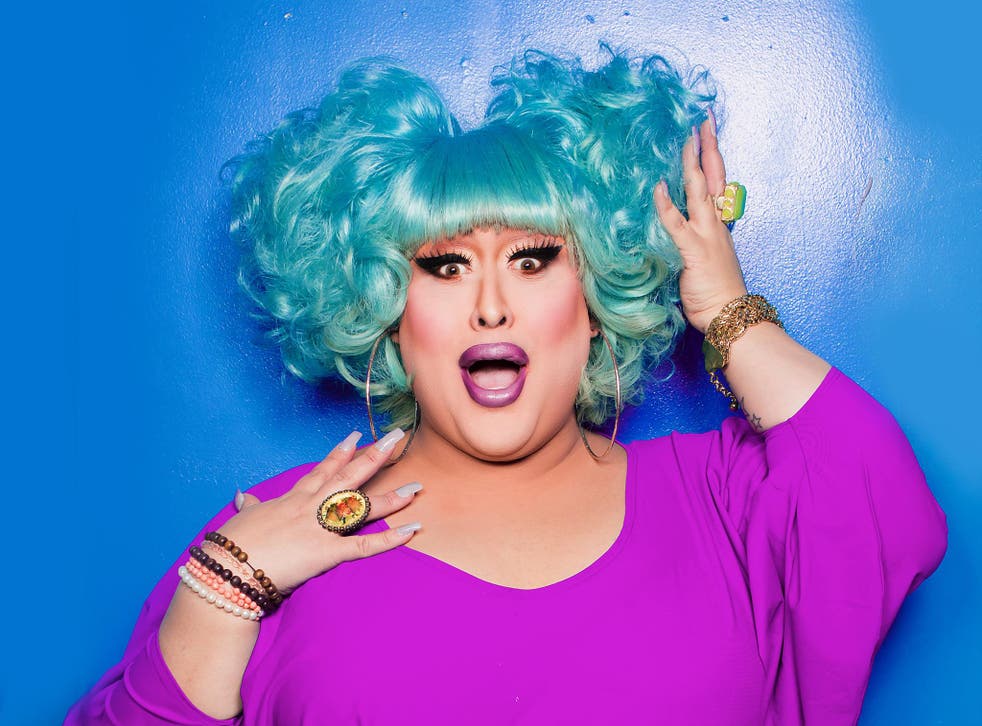 "Audrey II is actually me. Isn't that nuts? I'm a little dramatic when it comes to things I care about, and I don't let anyone get in my way!" American drag queen Vicky Vox is in London to star as Audrey II, and she identifies pretty strongly with the melodramatic, murderous singing plant that sprawls across the dark, campy heart of Alan Menken's cult musical Little Shop of Horrors, which is playing at Regent's Park Open Air Theatre in London.
Usually, Audrey II is brought to life by a feat of stagecraft – think elaborate arrangements of artificial foliage or photosynthesising puppets. So why cast a living, breathing drag queen in the role? It's all in the service of director Maria Aberg's determinedly anti-realist, subversive approach, which she uses to breathe new life into everything from Shakespeare to Roald Dahl.
But it's also likely to be influenced by the fact that drag is unquestionably having a bit of a crossover moment. London's alt-drag and cabaret scene is sending its brightest stars into the theatre world – including Le Gateau Chocolat, the bearded drag artist who lent their velvety baritone to last year's Twelfth Night at Shakespeare's Globe. And meanwhile, the unstoppable telly hit RuPaul's Drag Race gathers new fans with each season.
As we chat in a quiet corner of her dressing room, Vicky Vox is candid about the fact that although – unlike her former bandmates in hit drag trio DWV – she hasn't managed to land a place on the show, its influence is huge: "Look, I wouldn't be here without Drag Race, because it raised the profile of drag to a place in pop culture where it's allowable, a possibility. Without it, I don't think I even would have been thought of."
But she's also sanguine about the show's impact on the drag scene she's been part of for more than a decade. "It's changed drag culture immensely. It's stepped up the standards: before, drag queens could just be awful; now it's expected of them to be TV ready. Your local queen is expected to be this glamour puss. But that's not the point of drag. The point of drag is to be whatever you need to be express."
This season of Drag Race blew up into issues around race and gender, after drag queen The Vixen called out RuPaul for the double standards that she and her fellow African American contestants are held to. There's also a rising hum of dissent towards the show's policy of not allowing transgender contestants, despite the success of Peppermint, who came out as trans after her series aired. Vicky Vox is keen not to directly criticise the show. But she does say that "the point of drag is about holding a mirror to people and saying 'this is what's wrong' but in a way that's digestible. I do think that every body shape and every performance style is necessary. You need to see that not everybody is you, but everybody is valid."
In the UK, there's a move towards pushing at the boundaries of what drag can be, and moving it away from traditions of idealised femininity. Performers at venues like tinsel-decked Dalston drag haven The Glory often perform with no padding, hairy legs and sequinned gowns sitting in thrilling juxtaposition – it's the kind of messy, gender-binary-blurring approach that would get you thrown off RuPaul's Drag Race.
I ask Vicky Vox what she reckons to this move towards more realistic bodies in drag. She says: "I wouldn't want to negate that approach, but also there's a part of me that says 'Why not? If you want to have tits to high heaven, then put them on!'" Her school of drag is built on a fantasy of femininity of the hyper-glitzy, campy kind that thrills crowds at the London venues she's performed at like Heaven and GAY. She's cut her teeth in the Californian drag scene, where there's less emphasis on performing, and more on batting bejewelled eyelashes at hordes of dazzled punters: "The whole tipping culture is still a thing there. Here, when you're a drag queen, you're doing a show for people. Whereas in the US, a drag queen is the show, and you bring that by interacting with people. You've got to feel everybody out and make them feel special."
It's a very different energy from that of Regent's Park Open Air Theatre, where the staidly dressed crowd mutely sips white wine instead of necking strawberry daiquiris. But it's a transition that Vicky Vox is delighted to be making, not least since she spent her school years honing her singing voice at every choir, music class and theatre club going.
"In America, especially in LA, there aren't many live singing drag queens," she says. "In the beginning, that was my ticket! Vox is the Latin for voice, my gimmick. But because my job back then turned from performing into just getting people drunk, I got lazy and just decided not to bother so much anymore."
Now she's working alongside a professional musical director, she's being put through her paces like never before. As she explains, her vocal part as Audrey II in Little Shop of Horrors is one that "basically in a lower vibration that's the undertone of the whole show, and it's earth-shattering. I'm used to shouting to the rafters and hollering and making a big noise but this is very much the undercurrent, the show's underbelly, and it's kind of intense."
Vicky Vox grew up in New Jersey – "I'm trash, girl!", she says, "I'm sure everyone knows Jersey Shore, well that's who we were." After dropping out of musical theatre training (something she now very much regrets) she moved to California, where her first taste of real fame came with drag queen band VFD, who rose to fame with a bitingly funny musical attack on American fast food chain Chick-fil-A's anti-gay stance.
The following few years of wild fame were, she says, "some of the best years of my life. We were all messes, just like chaos chaos chaos chaos, but it was great. Sometimes the crowd would be singing so loud I couldn't hear the music. I was just like a giant child, I would forgot to sing because I was just so in awe it was even happening."
She seems just as overawed to be working at Regent's Park Open Air Theatre. She explains that director Maria Aberg's approach mixes a subversive, queer approach to a musical that's earned its status as a cult classic, with a solid anchoring in the show's text and score: "She's one of the most direct and compassionate people I've had the pleasure of working with, I really love her."
But amidst all the rigour, is there still room for some mayhem? Vicky Vox lets out the most intense, screeching laugh of glee. "Girl, if there's not, I'm gonna make it! I definitely get to be myself, a lot, and that's really fun." She's cagey about whether Audrey II will be a literal man-eater or a metaphorical one, but she does say that "I don't think it's been done this way before. I just feel like the little kid in me is getting to play, and that's really rad."
Her excitement is infectious, and like her character in Little Shop of Horrors, she feels like a wild, rogue presence in the precision-tooled world of Regent's Park Open Air Theatre. And that extends to her own personal spin on the venue's dress code: "Whatever you do I want to tell them come in their fanciest dress. I wanna see them ridiculous. Like, if you're gonna come see the show, see the show. Do it."
Little Shop of Horrors is on at Regent's Park Open Air Theatre until 22 September. More info here: https://openairtheatre.com/production/little-shop-of-horrors
Register for free to continue reading
Registration is a free and easy way to support our truly independent journalism
By registering, you will also enjoy limited access to Premium articles, exclusive newsletters, commenting, and virtual events with our leading journalists
Already have an account? sign in
Join our new commenting forum
Join thought-provoking conversations, follow other Independent readers and see their replies