Members of the few, the happy few, the band of brothers: The unique experience of playing Henvy V revealed
As Jude Law takes the stage to play the part, some of the best actors explain why Henry V, not Hamlet, is the true rite of passage
Nick Clark
Friday 06 December 2013 19:37 Comments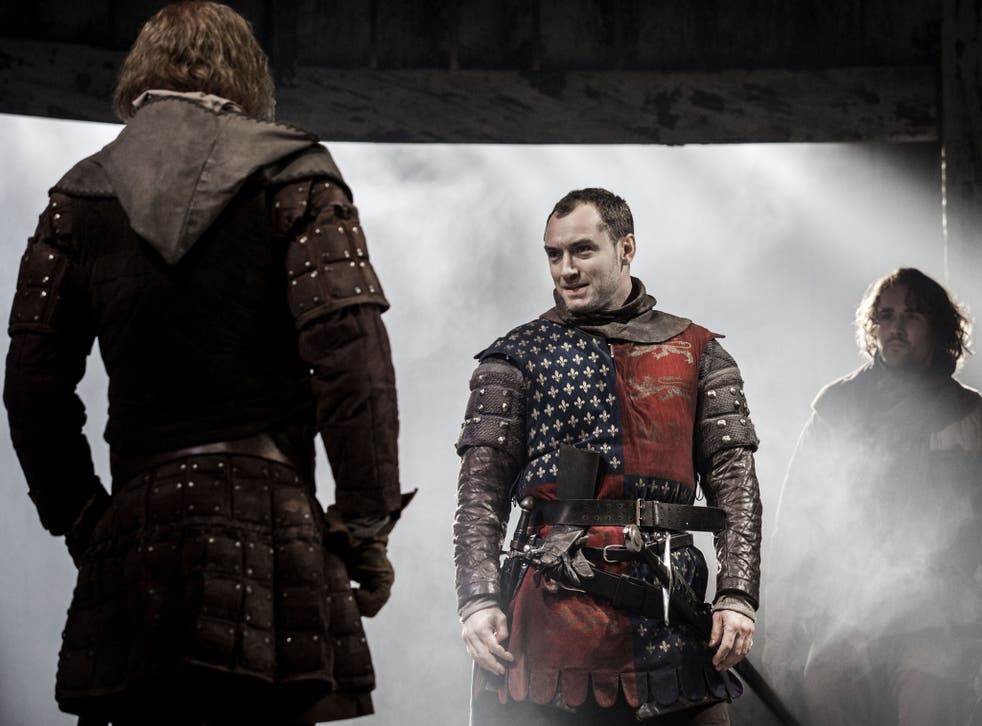 Jamie Parker, The Globe, 2012
Parker, one of the originals in The History Boys, said he had been preparing for the "extraordinary" role of the warrior king all his life. "It was a goal fulfilled. I had been working towards that since the age of eight when I saw Kenneth Branagh and Laurence Olivier's Henrys. Since then it was the one I always wanted to do.
"It is the most significant role in my life. He's probably my only fictional role model. He is the alchemist – when it's all going wrong, he'll pull something out of the bag."
Henry's drama, Parker said, is in how much farther he could be pushed. "How much pressure can you put on one man's soul until it breaks? In every single scene there's temptation, doubt and frailty for him. What redeems him is his desire to grip it harder, he keeps going."
Parker finished the run of eight performances a week exhausted, with a bad knee and ruptured intercostal muscles, and on steroids for his throat. "I was knackered and emotionally invested in the play's success. [But] having done that, I left a lot of worries behind about acting. I've been a lot more relaxed on stage ever since."
Mark Rylance, The Globe, 1997
The Globe's first season was opened by Henry V directed by Sir Laurence Olivier's son Richard. It starred Rylance, who was described by one critic as "magnificent, with a quiet intensity that is almost hypnotic". The actor said he wanted to study the "birth and nurturing of a leader. The politics of leadership as opposed to how patriotic someone is."
Adrian Lester, The National Theatre, 2003
Henry V also kicked off another era: that of Nicholas Hytner at the National Theatre. In his version, the play was updated to the Iraq war.
"He's every young man's dream," Lester said. "Able to take charge, to react well and lead. To be witty and read people, to spot who would do him wrong. He's a historical army superhero, but he's also deeply vulnerable and eloquent.
"I tried to imagine what it would be like now for a crowned king who had previously spent a lot of time hanging out with a gang in the East End. I didn't want to lose any of that headstrong, street-savvy nature the prince would have."
Many of the actors were attracted by the soliloquy known as the "dark night of the soul" speech in which, the night before Agincourt, Henry questions the very idea of ruling and servitude and "he feels like he's going to die in the morning", Lester said.
"What he goes through – asking for forgiveness, berating the crown, berating the common people who don't have to go through what he does – is quite a cathartic scene. I found it tricky but really liberating."
Kenneth Branagh, RSC, 1984
In 1984, Kenneth Branagh became, at 24, the youngest actor in the history of the Royal Shakespeare Company to play Henry V. Five years later, he adapted it into a successful film, which starred three other actors, Ian Holm, Derek Jacobi and Michael Williams, who had all played Henry on the stage. Branagh said in 1998 that he chose to respond to the character's doubt early on, to "the caution, the nervousness, the youth and the guilt". He would go on to say it was about the "personal journey of an individual who was growing into what was required of a statesman".
Shaun Johnson, Duchess Theatre/Old Vic Tunnels
One of the more extraordinary portrayals was that by a theatre company comprised of military veterans.
Shaun Johnson, one of the actors to play Henry, said: "We were bringing the military aspect through it, of one unit, literally a band of brothers. We wanted Henry to be part of us, and we part of him. We wanted his blood in all of us."
The Combat Veteran Players help ex-soldiers cope with mental health issues through theatre. Johnson, who served 11 years with the Royal Artillery, discovered the company after struggling with post-traumatic stress disorder and said it had "changed lives".
Taking on Henry V "was a challenge, but it resonated with the guys. It was very carefully put together as we had to be cautious about how we tapped into our emotions.
On delivering the St Crispin's Day speech, he said: "I clench my fists and I'm talking to a bunch of soldiers back in unit. I'm remembering when I was a young soldier going out on ops, our rallying call. It reminded me just how it was."
Register for free to continue reading
Registration is a free and easy way to support our truly independent journalism
By registering, you will also enjoy limited access to Premium articles, exclusive newsletters, commenting, and virtual events with our leading journalists
Already have an account? sign in
Join our new commenting forum
Join thought-provoking conversations, follow other Independent readers and see their replies