Morfydd Clark interview: Her sexual awakening performances have critics in raptures
The actress is playing Cordelia in Deborah Warner's stage production of 'King Lear' with Glenda Jackson as King Lear
Kaleem Aftab
Tuesday 01 November 2016 14:46 Comments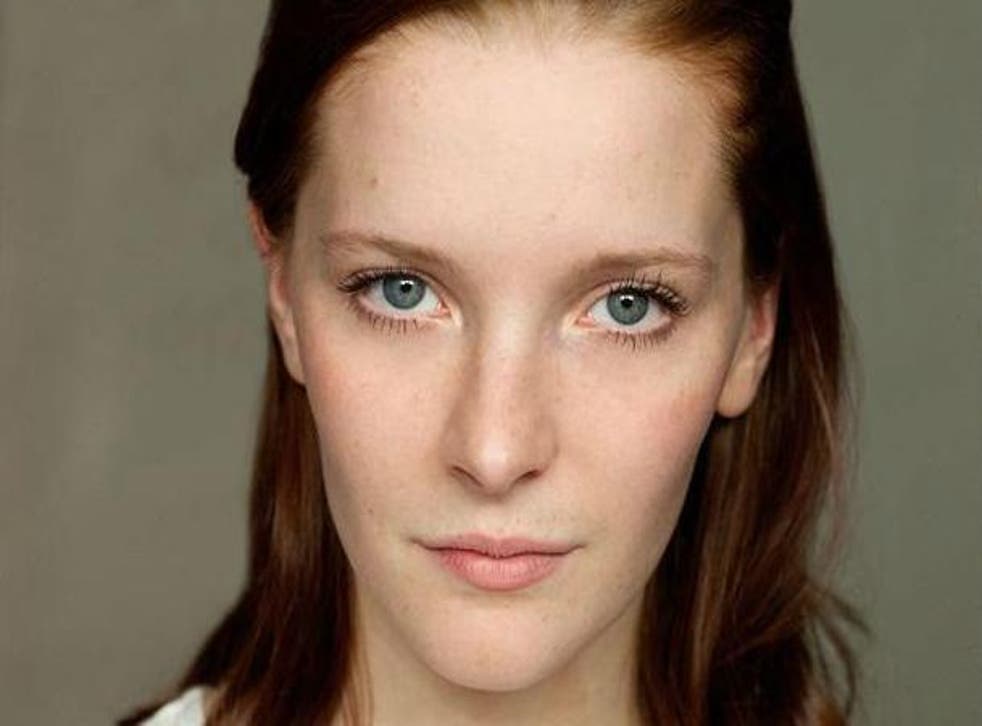 Morfydd Clark is sitting in dressing room 4 at The Old Vic. It's where she'll be stationed throughout the run of Deborah Warner's production of King Lear, in which Clark is playing Cordelia, with Glenda Jackson as King Lear. There's no need for the legs of her chair, as Clark, in blue denim jeans and white sneakers, sits with her feet on the seat, looking comfortable in a cross-legged position that would have most calling for the chiropractor.
There is a massive wave of excitement about the actress. On stage, she has delivered sexual awakening performances that have had critics in raptures. Last summer at the Royal Court Theatre Upstairs, she played the seemingly coy Doctor Who addict, Jen, in Gary Owen's Olivier-nominated Violence and Son ("If that's the highlight of my career, that will be fine"), then there was her Juliet opposite Freddie Fox's Romeo at the Crucible Theatre in Sheffield and, most recently, a sublime turn as Cecile in Christopher Hampton's adaptation of Les Liaisons Dangereuses at the Donmar.
Her film career is on an equally stellar trajectory. Recently named as a Screen International Star of Tomorrow, in 2014 Clark appeared in Carol Morley's mystery boarding school drama The Falling, and earlier this year played Frederica, the daughter of Kate Beckinsale's Lady Susan Vernon, in Whit Stillman's Love & Friendship. The in-demand actress was in the Czech Republic preparing to play Mozart's love interest in upcoming feature film Interlude in Prague when she was asked to audition for King Lear.
"I did the first audition and then forgot about it," she says with a Cardiff accent chiming through. "I'm good at forgetting auditions and then there is a surprise to getting something."
Four weeks into filming Interlude in Prague, she was recalled to meet with the play's world-renowned director Deborah Warner. They discussed four different speeches over the course of an hour-and-a-half workshop: "What is nice about Deborah is that she doesn't try to mollycoddle actors, you have to draw on your own reserves and stamina and that is really good for me."
She's even more in awe of Glenda Jackson, who she first knew of as being a politician rather than a two-time Oscar-winning actress. "She's so tiny, and I've always thought of her as being so tall. In Women in Love, she seems huge. Watching her on and off-stage has been a masterclass, really, in terms of how she carries herself. She is just so decisive."
Whereas Clark says she's someone who apologises for herself all the time. Almost immediately after she says that, she starts excusing "my poor word retrieval" when describing her approach to Cordelia. It turns out that she's modelled her performance on her mother, who is the person she speaks of more than any other during our interview. She even did a sketch inspired by her mother at school. "I think my mum is courageous. I think that Cordelia is a lot like her."
The actress was born in Sweden. Her father found a job in Scandinavia when her mother was seven months pregnant. The first two years of her life was spent in Sweden, and every few years they all go back to see friends there. Clark pokes fun at herself when she says, "For some reason, the only Swedish I know how to say is, 'There is no toilet paper'."
Her Welsh is much better. In Cardiff, aged 7, Clark was diagnosed as having Attention Deficit Hyperactive Disorder (ADHD). "My mum was a paediatrician in child heath so understood ADHD. I think it's an issue because of the way that school is, and if we moved away from the Victorian idea of education, there would be less."
She was always in trouble at school, and would wander out of the classroom on a whim or be constantly talking and shouting. "I did no homework, then would do well in exams." It was through drama that she discovered her calling. "When on stage, I have good concentration. When I don't find something interesting, I can't concentrate." Shakespeare was especially congenial, "Aged 13, I forced myself to read A Midsummer's Night's Dream, Romeo and Juliet, and As You Like It. I always found novels really difficult, but I was amazed that I could read Shakespeare because the verse and short snippets worked in my mind."
Her mother encouraged her to apply to drama school. Aged 16 she moved in with her cousin in London to attend the Drama Centre, and although homesickness was a problem, it wasn't her biggest; "My cousin was really tidy and that is really difficult for me." Luckily for their relationship, the jobs started to come in and quickly, and Clark found herself back in Wales for an open-air production of Blodeuwedd for the Theatr Genedlaethol Cymru. She regales with tales of all the gnats and the one night where she had a wasp flying up her skirt.
She's been working solidly ever since. On the set of The Falling she became fast friends with fellow Screen International Star of Tomorrow Florence Pugh. Although, director Carol Morley tried to keep them apart: "Because of my role, she told me that I couldn't be friends with the girls that much. This worked for the character, so I didn't try to enforce myself on the others. Flossie was like, 'I thought you hated us!' No, I wanted you to like me so much. To be part of the girl gang."
Such statements make Clark sound young, but the only time she stops in her tracks is when I ask her age. She is wary about revealing it because she gets lots of teenage parts, and she's older. How much older she won't reveal. It's a problem that many actors face, knowing that casting agents and directors' ability at make-belief can stop on a number. She says she does still have a 16-25 Railcard.
On the gender swap of King Lear, Clark hopes that it's a sign of changing times. "When you see how we have set it, it will all make sense ... We just need those parts written for girls and it's got to come to the point when men will want to play woman's parts. I mean more to the point, I strive to have parts for women that are just as powerful as men."
King Lear is at the Old Vic from 4 Nov until 3 Dec
Register for free to continue reading
Registration is a free and easy way to support our truly independent journalism
By registering, you will also enjoy limited access to Premium articles, exclusive newsletters, commenting, and virtual events with our leading journalists
Already have an account? sign in
Join our new commenting forum
Join thought-provoking conversations, follow other Independent readers and see their replies