Natasha Gordon interview: 'I didn't experience prejudice in Britain until I went into the middle-class world of theatre'
The first black woman writer to have a play in the West End explains to Sarah Crompton why she got fed up with playing lesser roles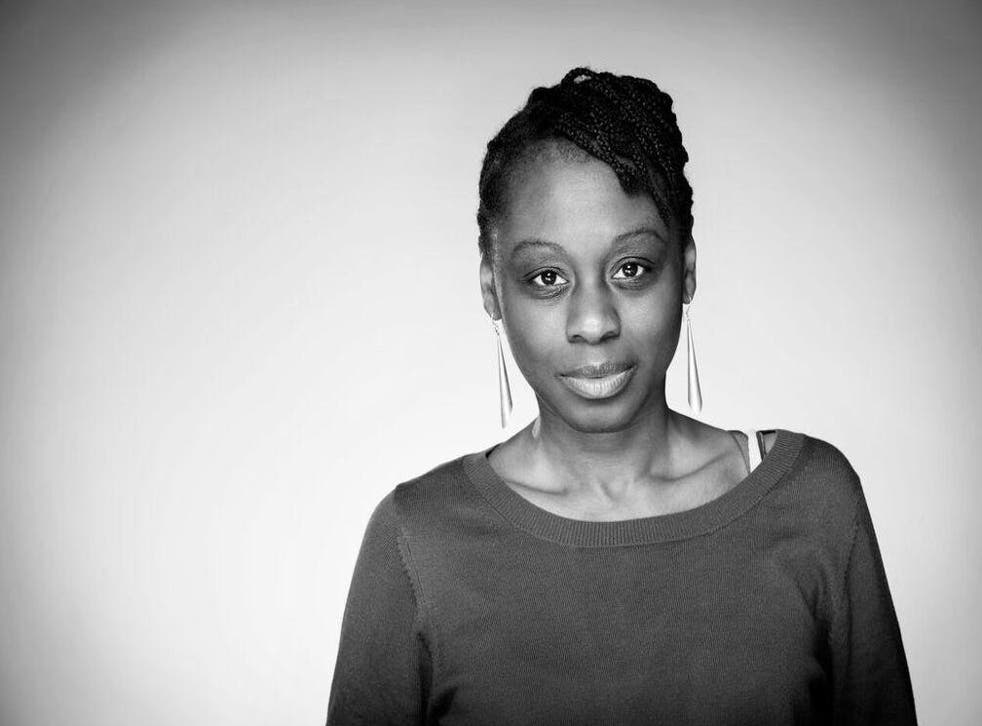 There's a protocol to award ceremonies which dictates that nominees sitting furthest from the stage are unlikely to have taken the prize. So when Natasha Gordon walked into the Evening Standard Theatre awards ceremony the other week and saw that she was sitting at the very back of the room, she decided she hadn't won.
"I looked at my partner [the actor Tom Anderson] and he looked at me, and we thought there's no way," she says, with a laugh. "There's no way they are going to make me do that long walk."
When she did indeed take the Charles Wintour Award for Most Promising Playwright, for her debut play Nine Night (which comes with a substantial cheque donated by Wintour's daughter, Anna), the warmth and depth of the applause sustained her all the way across the stalls. She made a speech that was simultaneously ecstatic and poised. "I wanted to talk about daring to think that anyone would be interested in a play featuring not only a predominantly black cast, but predominantly female characters over the age of 40. I mean it's not what you'd take to a West End producer, would you?"
But the progress of Nine Night from the submissions pile at the National Theatre to a triumphant production in the National's Dorfman Theatre to a slot at the Trafalgar Studios from 1 December, has made the former actress – rather shockingly – the first living black woman playwright to have a play in the West End. The triumph of the play, which centres on a British Jamaican family's rituals and rows after the death of its matriarch, is that it combines broad humour, acute social observation and a moving study of grief. It is about a British black family but its tensions and emotions are recognisable to everyone.
"I wish we had actually filmed the audience, because that was an event in itself," says Gordon, with a grin. "Watching whole rows of families just completely cracking up and the traditional audience looking round, worrying they had missed something."
For a play about death and mourning, it is strangely full of life and joy. Yet it sprang from Gordon's dissatisfaction with the parts that she was being offered as a middle-aged black actress. "I had hit a weird grey area where I was no longer young enough to play the mouthy Londoner but I didn't look old enough to progress to the mother. I started to get frustrated. And I felt I was always the support: the friend, the nurse or the teacher. I never got the opportunity to discover what it was like to lead a company."
She was not alone. Her friend, Sharon Duncan-Brewster, had called together several of her actress friends, all women of colour and of a certain age, to see whether there was anything they could do to improve matters. They met in the foyer of the National's Olivier Theatre. "At first, it was just about supporting each other in the business as actresses, where we were all getting called for the same parts. Then we started to share experiences about injustices we had had along the way.
"And then, we all started to write. After about four sessions we started tentatively bringing in scenes and reading them to each other." It took Gordon, who has two children aged 12 and nine, about a year to finish her play; but when she shared it, she was encouraged not only by the group, but also by the director Dominic Cooke, who showed it to the National, and who developed it for the stage.
Quite by chance, it premiered in the midst of the Windrush scandal, where the headlines were dominated by the British government's unjust treatment of a generation of British subjects who had arrived from the Caribbean. The way it honours that generation, while quietly acknowledging the racism they faced, struck an echoing chord.
Best-dressed at the Evening Standard Theatre Awards 2018

Show all 20
Growing up in Walthamstow, in east London, Gordon never felt she suffered prejudice herself. "I would say my experience was different even from that of my brother who is seven years older than me," she says. "My school was very mixed and I didn't have that experience of being the only black child in a class, or the only Jamaican. But I think I did experience it as I got older.
"It was going to drama school and suddenly being in a very white middle-class world that I went, 'Oh things are quite different over here.' Then navigating the world as a black actress, I think that is really where I've experienced racism and prejudice."
In person, Gordon is incredibly warm and charismatic, with a quicksilver lightness, and a way of shaping her cadences as she speaks that makes each sentence a carefully modulated story. Those qualities are all on display in Nine Night. Looking back, she thinks she always wanted to write, but was put off by an assumption that it wasn't something for people like her.
"I love creating story, I love creating characters. I have these voices that are just in my head all the time. And when I was a child I used to write loads and loads of stories. But I didn't read because I struggled with it.
"I remember watching a programme on TV – I think it was Parkinson – and listening to a famous writer saying something like if you haven't read all of Dickens by the age of 12, then you're not a writer, you haven't got it in you. And it was enough, you know, for me to say to myself, well that's it then. That voice of authority – he was a white man – must be right. It was total nonsense that I had taken it to heart so much."
She discovered drama, thanks to a determined teacher called Mona Henshall, now a friend. "I had a vicious temper in school – and when I had a wobbly, Mona Henshall would be sent to talk to me. I respected her out of the classroom as well as in. She was extraordinary." Before she was seduced by the stage – "She took us to the Edinburgh Festival and cast me as Boudicca" – Gordon had had her heart set on becoming a lawyer.
Now, although the 42-year-old is starring in Nine Night in the West End, she wants to keep writing, but is finding it harder with the burden of expectation upon her. "When I started writing Nine Night, it wasn't for anybody. I was just getting this story out. Now it's been successful, I did start to freak out, thinking maybe that was it, maybe I did just have this one story in me," she says, laughing again. Luckily, she had one half-written play "literally in the sock drawer" to pull out; she has begun another.
When she realised that she was the first black woman playwright to have a work in the West End, Gordon felt honoured and shocked. "It wasn't something I could celebrate because I was looking at Winsome Pinnock, debbie tucker green, Bola Agbaje, all these brilliant talented playwrights who, as an actor, when I have learnt they've got a new play on, immediately I've thought I might work this year. It didn't occur to me that it hadn't happened before; I felt sad and angry that that is the case."
Now she faces the responsibilities that so many black playwrights feel when faced with the issues of race, class and gender that have impelled them to write in the first place. "One of the things I felt proud of about Nine Night was that it is a story about a family that happened to be black, but that story of dealing with grief is universal.
"I do feel a responsibility as a black writer to create work for black actors and for female actors, and when I put something down on the page, I am thinking what does it mean if she's black, what does it mean if she is from India, what does it mean if she is white and middle class? If I put a white middle-class woman at the centre of a story, I'd have to have a very strong reason for doing that. I am battling with that a little bit."
What she is absolutely sure of is that putting plays featuring black characters on in the West End will bring out an audience who can recognise themselves on stage. "It's a myth that if you tell stories featuring black experience they won't sell," she says, firmly. "I went down the escalator the other day, and next to a poster for Aladdin, there was one for [the civil rights musical] Caroline, or Change, and then one for Nine Night. And I thought, that's it. That's what we should be seeing. I can choose to see this amongst all the other revivals and classics. We need to invest in talent and give people the option. If we don't give people choice, how can they decide whether they want to see it or not?"
Nine Night is at the Trafalgar Studios from 1 December 1 to 23 February; nationaltheatre.org.uk; 020 7452 3000
Join our new commenting forum
Join thought-provoking conversations, follow other Independent readers and see their replies