Northern Ballet's new dance production takes George Orwell's '1984' classic to the stage
Jonathan Watkins, whose ballet of Orwell's nightmare premieres next month, reveals exclusive details during rehearsals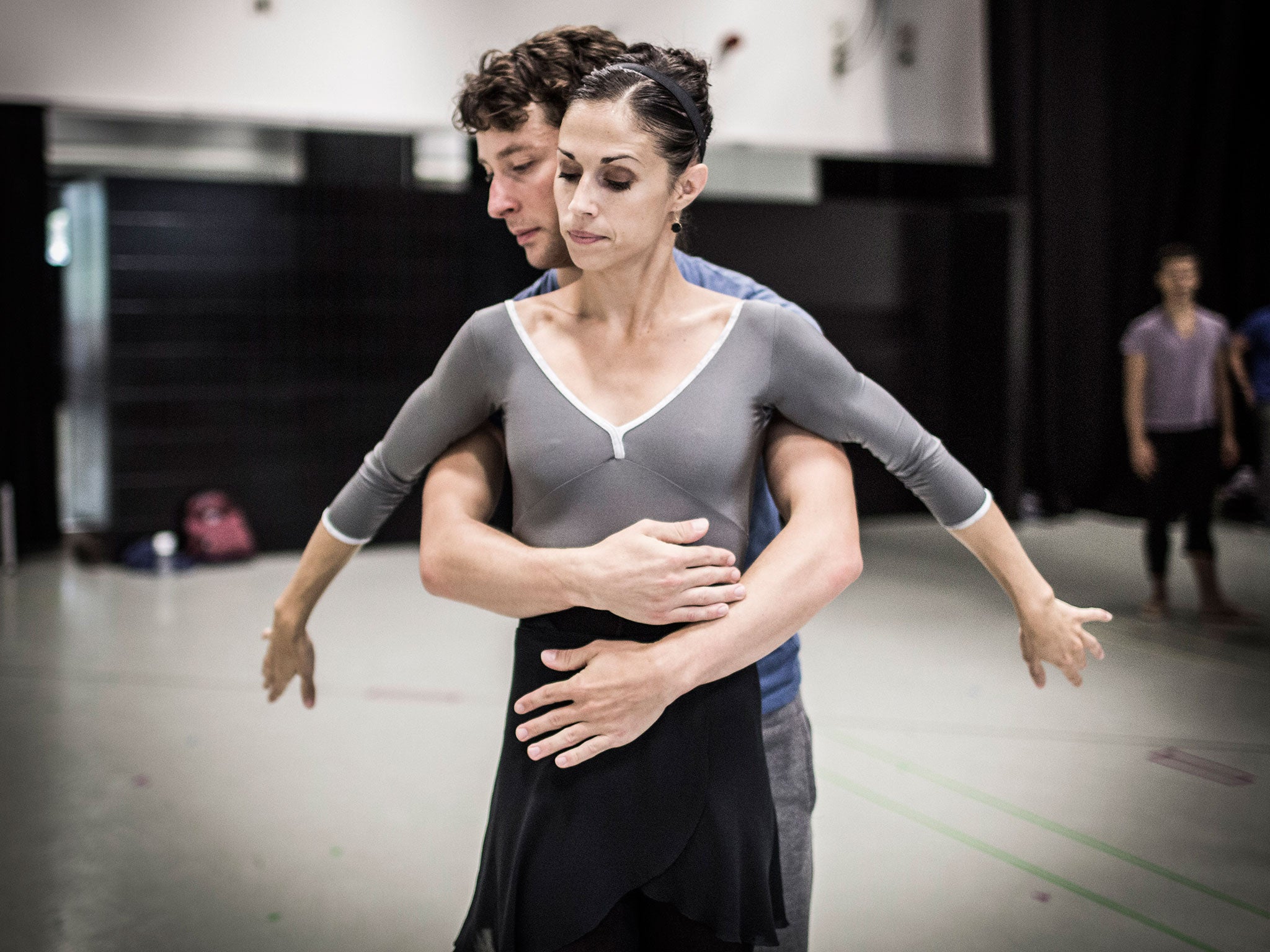 The world premiere of the Northern Ballet's production of 1984 is only weeks away, and its choreographer, Jonathan Watkins, is finessing a pas de deux with the principal dancers.
The Independent on Sunday has been granted exclusive access to the rehearsals and so I am able to watch Watkins work his magic with Tobias Batley and Martha Leebolt, who will take on the roles of Winston, the hero of George Orwell's dystopian masterpiece, and his lover, Julia. Six other dancers mark out the steps behind the graceful pair and it is extraordinary to witness the ballet come to life, set to an original score by Alex Baranowski.
It is thought to be the first full-length ballet based on Orwell's novel. Watkins had the idea for it after he was approached by Northern Ballet, which had been impressed with his version of Kes – a ballet that ran last year to acclaim at the Crucible Theatre, Sheffield.
"I was only really interested in doing this story," he tells me before the day's rehearsals start. "With a big undertaking like this, and with this kind of creative process, you need to know the material inside and out, be really passionate about it and really engaged with it.
"I read 1984 when I was 14 or 15 and it has been inspiring my work since then, with ideas about individuality and going against the system and about how we behave in the presence of other people as opposed to when we are in private."
Watkins has not seen Headlong's stage adaptation of 1984, currently running at the Playhouse Theatre, London, and has deliberately avoided the film version starring John Hurt and Richard Burton, which came out in 1984 – which is also the year Watkins was born.
"I wanted the book to be my sole frame of reference," he says. "With a dance piece, with a ballet, it's almost as if you have to absorb the book and all of its concepts, and the research that goes with that, and filter it out into this reimagined new world, and so I didn't want anything getting in the way of that."
Watkins, 31, grew up in Barnsley, the son of a builder and a teacher. A friend, spotting him dancing at a wedding, advised his parents to send him to dance classes, and he joined a local ballet school at the age of eight. He won a place at the Royal Ballet School in London four years later. He says it was hard to leave Yorkshire to board in London at such a young age, but he adds: "I would not be where I am now, so it was worth it." Watkins was a dancer with the Royal Ballet Company for 10 years after graduating from the school and while there he realised his true calling as a choreographer. He no longer performs.
"I am thankful for my dancing career and I was ready to give this my whole life commitment," he says. "I feel like this is exactly what I am meant to be doing."
Although Orwell's predictions have "so much relevance and reflection on how we are living now", Watkins did not wish to set his ballet in the present.
"With the LEDs and the individual screens, you are not going to see Twitter feeds or anything like that," he says. "For me, 1984 is not a time but a concept and I wanted the whole look of it to be of itself."
There must be challenges in transforming such a famous novel into a ballet?
"There are always big challenges," Watkins says. "I think the book is brilliant and amazing in its predictions, but it is not without its faults. Some of the characters are drawn very one-dimensionally and the way the proles are depicted is a very old-fashioned, working-class projection, and that is something I do not need to use in this production."
Because the Inner Party that rules the world of 1984 does not see the proles as a threat, Watkins has allowed them to "move as though there aren't restrictions on them", in contrast to the Outer Party members, who have "a unison and rigid sort of classicism to their movement".
Watkins started thinking about the concepts for the ballet not long after the start of the Arab Spring uprising, and images of people rising up in protest against their governments informed how he thinks about the proles in the ballet.
"Winston says, 'If there is hope, it lies in the proles,'" Watkins explains. "We have seen that happen with the masses of people coming together. We don't see that in this story but you want to leave it with people thinking that that might happen at some point."
1984 , West Yorkshire Playhouse, 5-12 September. From October to May it tours to Nottingham, Manchester, Sheffield, Edinburgh, Milton Keynes, Southampton and London
Join our commenting forum
Join thought-provoking conversations, follow other Independent readers and see their replies