Olivia Vinall: the National Theatre darling on starring in a new Tom Stoppard play
The fired-up young actress leads the cast of Stoppard's mind-bending new play, The Hard Problem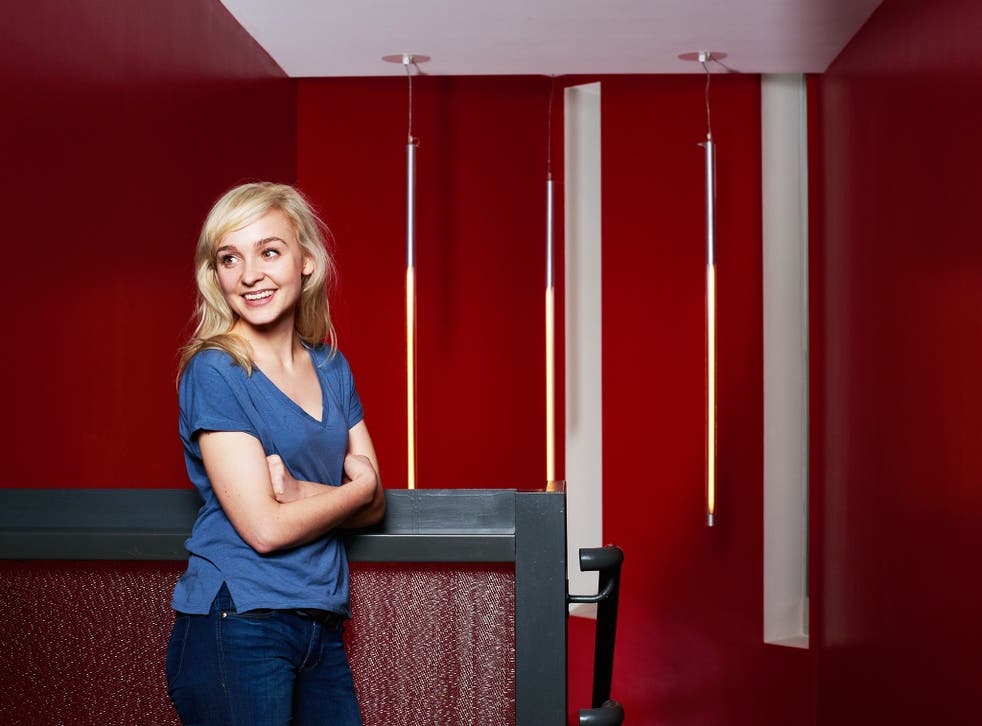 To be the lead in a new Tom Stoppard play – his first in nearly a decade – at the National Theatre, in the final, big-finish production by artistic director, Sir Nicholas Hytner … well, it doesn't get much better than that. When you're a 27-year-old actress who only finished drama school four years ago, it's extraordinary.
Olivia Vinall is aware of this. Wide-eyed with wonder, she can't quite believe her luck. And she's had quite a streak of it, all thanks to the National: her big break was being cast as Desdemona in Hytner's modern-dress Othello with Adrian Lester in 2013. The critics raved; one called her performance "almost unbearably poignant".
Then she graced the South Bank once more as Cordelia in Sam Mendes' King Lear, opposite Simon Russell Beale, as well as taking part in the National's 50th birthday bonanza. And now: a chance to make a new Stoppard heroine her own. Vinall plays Hilary, a young scientist in his meaty new play The Hard Problem, which premieres in the Dorfman.
"With Desdemona or Cordelia, obviously so many people have [played them before], and audiences have expectations, but with Hilary no one has yet and that's wonderful: I can just invent her," says Vinall. Not, she is subtly at pains to point out, that she was a shoe-in for the part. There were several rounds of auditions for Othello, Lear and for The Hard Problem.
Theatre highlights of 2015

Show all 7
But she insists it's better to go through that process and "feel the fear – or you'd [worry] everyone thinks 'oh they're just letting her go on again, for some reason ...'" Hytner, for his part, remembers that first Othello audition vividly: "she captured Desdemona's naivety but also her unflinching faith in human nature ... [and] she brings the same inner light and sense of integrity to Hilary."
Vinall is modest throughout our interview; in her low and cooing voice, she almost swallows the point that she got a First in drama at the University of East Anglia. When I ask how it was to get Othello so early in her career she dips into dreamy memory: "Oh wow ... I didn't know I'd be taken into the Olivier [for the audition] – I'd never been on a stage that size in my life: absolutely terrifying! There was Adrian Lester, and Sir Nick Hytner … It was fight or flight."
Fight she did. And she's enjoyed an enviable working relationship with Hytner ever since. "The fact that he's had belief in me to come back is extraordinary. Nick is an incredible director because he just knows how to make an audience really hear what you're saying: it's all about placing your thoughts in their ear. Which has helped with Stoppard actually – it's got the same feeling of epic-ness as Shakespeare."
So, what can we expect in The Hard Problem? The National's been on lock-down: the script's not available until press night. But Vinall is too fired up to be totally tight-lipped … In typical Stoppardian fashion, the play fuses the personal with big philosophic questions. She plays a psychology student who becomes obsessed with the concept of goodness: "what it is to be good, what makes us good, whether it can be measured scientifically or whether there's something that isn't just evolved behaviour in our genetic coding," splurges Vinall. "Hilary really believes that we're more than the sum of our parts, but she comes up against a lot of people who disagree with her and challenge her."
The title refers to a scientific problem: what is consciousness? It's "the hard problem" because, um, we don't have a clue. Despite neuroscience making all sorts of strides in understanding the mechanics of the human brain, the question of why we have subjective experience and individual consciousness – rather than being merely high-functioning automatons – is nowhere near to being answered.
"I find that amazing; I never really thought about it before, and it's so fundamental to who we are!" buzzes Vinall as we rush down the rabbit hole; having done a (fairly feeble) amount of reading round the hard problem, I too feel my tiny mind being blown. Does Stoppard's writing tilt towards religion, I ask – after all, if human consciousness remains such a mystery … it might make you wonder if there is some other force behind things? "Hilary has a belief but it's not necessarily in God or the institution of religion: she just feels there must be something else, if science can't explain everything … she has to use the ideas behind God for herself, but actually that could be – as she says – overall moral intelligence."
Happily, Stoppard has been in the rehearsals every day – "Oh my God, we have Shakespeare in the room!" Vinall exclaims – ready to answer questions about technical terms and obscure concepts.
And Vinall is fired up about being "a channel for Tom's thinking and beliefs" – especially as the character is a young woman who, unusually, is front and centre because of her intelligence.
There's a more personal reason why she's particularly thrilled to be in this show. The first National production she saw as a teenager was Jumpers in 2003 – by one Tom Stoppard, and starring one Simon Russell Beale: "I remember being front row, and being blown away." Has she told them about this formative experience? "Nooo!" she squeaks with embarrassment. Sorry, Olivia.
And playing Beale's daughter in Lear was emotional for another reason: he looks like her actual dad. "My parents don't come from an acting background at all, but they love Shakespeare" – fun fact: they plucked her name from Twelfth Night – "but my dad found it too difficult to watch. I found it quite hard – I'd never thought about his mortality before, and suddenly you can't help it …" They are, she laughs, looking forward to seeing her in something where she doesn't die.
Asked what else 2015 holds in store, she confesses there's nothing else lined up … But The Hard Problem is probably enough to be going on with, I say hastily? "Yes! Even when I'm old and grey and have loads of wrinkles, I'll say 'I got them from dying onstage, and speaking Stoppard' – even if there's nothing else, just this." Something tells me that's very unlikely.
'The Hard Problem' is at the National Theatre until 16 April (nationaltheatre.org.uk) and will be broadcast live to cinemas on its final night (ntlive.com)
Register for free to continue reading
Registration is a free and easy way to support our truly independent journalism
By registering, you will also enjoy limited access to Premium articles, exclusive newsletters, commenting, and virtual events with our leading journalists
Already have an account? sign in
Register for free to continue reading
Registration is a free and easy way to support our truly independent journalism
By registering, you will also enjoy limited access to Premium articles, exclusive newsletters, commenting, and virtual events with our leading journalists
Already have an account? sign in
Join our new commenting forum
Join thought-provoking conversations, follow other Independent readers and see their replies