Othello: 'Freshly minted' RSC production is the latest twist for a play that needs radical casting
Both Othello and Iago will be portrayed by black actors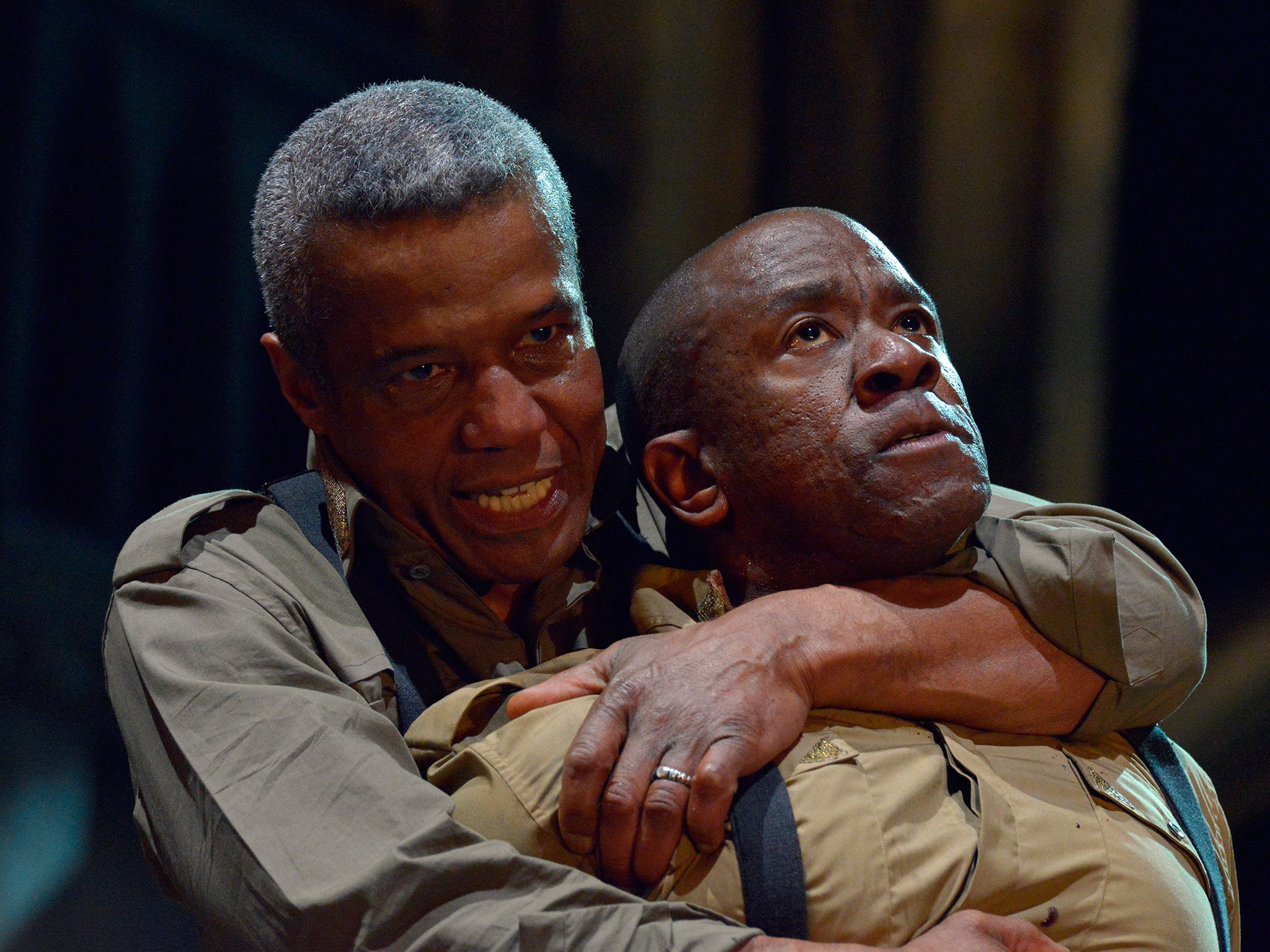 An intriguing bit of casting might just make Iqbal Khan's new production of Othello at Stratford-upon-Avon feel – in the words of RSC artistic director Gregory Doran – "freshly minted": not only is Othello being played by a black actor, Hugh Quarshie – but so is his tormentor, Iago. It is Lucian Msamati uttering lines such as "an old black ram is tupping your white ewe".
It will be interesting to note what effect might this have on our reading of the play and the role of race within it. Might it be erased, no longer an issue between the two men – or for the audience, who just get to watch two top-drawer actors? Or might it be highlighted, even encouraging us to see both as victims of prejudice, an Iago consumed with self-loathing? Will Iago seem more of a mirror to the man he calls "the lascivious Moor" – both are soldiers, both outsiders, both convulsed by jealousy, both killing their wives.
This may be the first high-profile instance of a black Iago and Othello, but the tragedy has a fascinating performance history.
Edmund Kean, the great 19th-century actor, played Othello opposite his son Charles as Iago; he may have been made-up as a "tawny Moor", but the familial closeness must have added theatrical spark – and, ultimately, gave rise to an onstage, real-life tragedy. Kean's performances were famously physical and he was once found in his dressing room violently throwing up blood. Kean finally collapsed on stage during a performance of the tragedy in 1833 and never recovered, passing away some weeks later.
There's also a long history of alternating the roles. In 1881 at London's Lyceum, Henry Irving and Edwin Booth switched between the parts, the former a "raving and stamping" Othello; the latter a melancholic, gentle Moor. But while Irving's Othello convinced few, his Iago – a model of cold calculation, observing the action while picking his teeth with a dagger – was highly praised.
Flash forward to 1956 for the next celebrity double-casting: Richard Burton and John Neville, at the Old Vic in London. Critic Kenneth Tynan was unimpressed, claiming they were both too young and lacking "majesty" as Othello. Again, it was an Iago that carried the day – in this case, Burton's: "The imposture is total and terrifying. Mr Burton gives us a simple, dirty, smouldering drive towards power without responsibility."
Perhaps there was less difference between their performances than the critics realised: Neville later recounted how they got drunk at The Ivy before one matinee: "We returned to the theatre and both played Iago. The audience noticed nothing unusual and nor, in the state we were in, did we."
The stakes were rather higher for some performers, however. The great American actor Ira Aldridge played Othello at Covent Garden in 1833, and was monstered by the press. The Athenaeum was shocked to see Ellen Tree "being pawed about" by a black man, adding that it was enough to make Shakespeare's "indignant bones kick the lid from his coffin." In fact, such reviews were the nails in Aldridge's coffin, as far as his career on the London stage went.
It was a century later before an African-American actor would triumph as Othello. Paul Robeson took on the role in 1930, but even international celebrity wasn't enough to ward off racism: some reviewers were still shocked that he was allowed to kiss Peggy Ashcroft's Desdemona. And while his performance was praised, it was in queasy terms: The Daily Telegraph wrote that Robeson's jealousy rang true, because he "comes of a race whose characteristic is to keep control of its passions only to a point, and after that point to throw control to the winds."
Shakespearean sayings you use without knowing it
Show all 8
While the tradition of white actors playing Othello continued in the 20th century, the tipping point was reached in the Eighties – blacking up became seen as definitely not OK. Depressingly, however, this meant the play was little performed by Britain's theatrical institutions for a generation.
Recent years have seen plenty more Moors, including Adrian Lester, Lenny Henry and Chiwetel Ejiofor. And now that casting a black Othello is utterly uncomment-worthy, many productions stake their focus beyond the race issue.
But – as when the RSC announced Msamati's role – casting can still make a statement. Consider a 1997 "photo negative" production directed by Jude Kelly in the US, with Patrick Stewart as a white Othello to Ron Canada's black Iago. Though flipping the casting, it visibly preserved the sense of Othello as an outsider: the only white man in a cast of African-American actors. It was Stewart's hope that the production would "encourage a much broader view of the fundamentals of racism". Well, maybe: although it also reads as a way for a white actor to play a role he confesses he'd always dreamed of, without offending anyone.
'Othello' is at the Royal Shakespeare Theatre to 28 Aug; rsc.org.uk
Join our commenting forum
Join thought-provoking conversations, follow other Independent readers and see their replies