Outdoor theatre 2016: Why are open-air plays so popular? The 5 best to get tickets for this summer
'One touch of nature makes the whole world kin': Francesca Street explores the popularity of outdoor theatre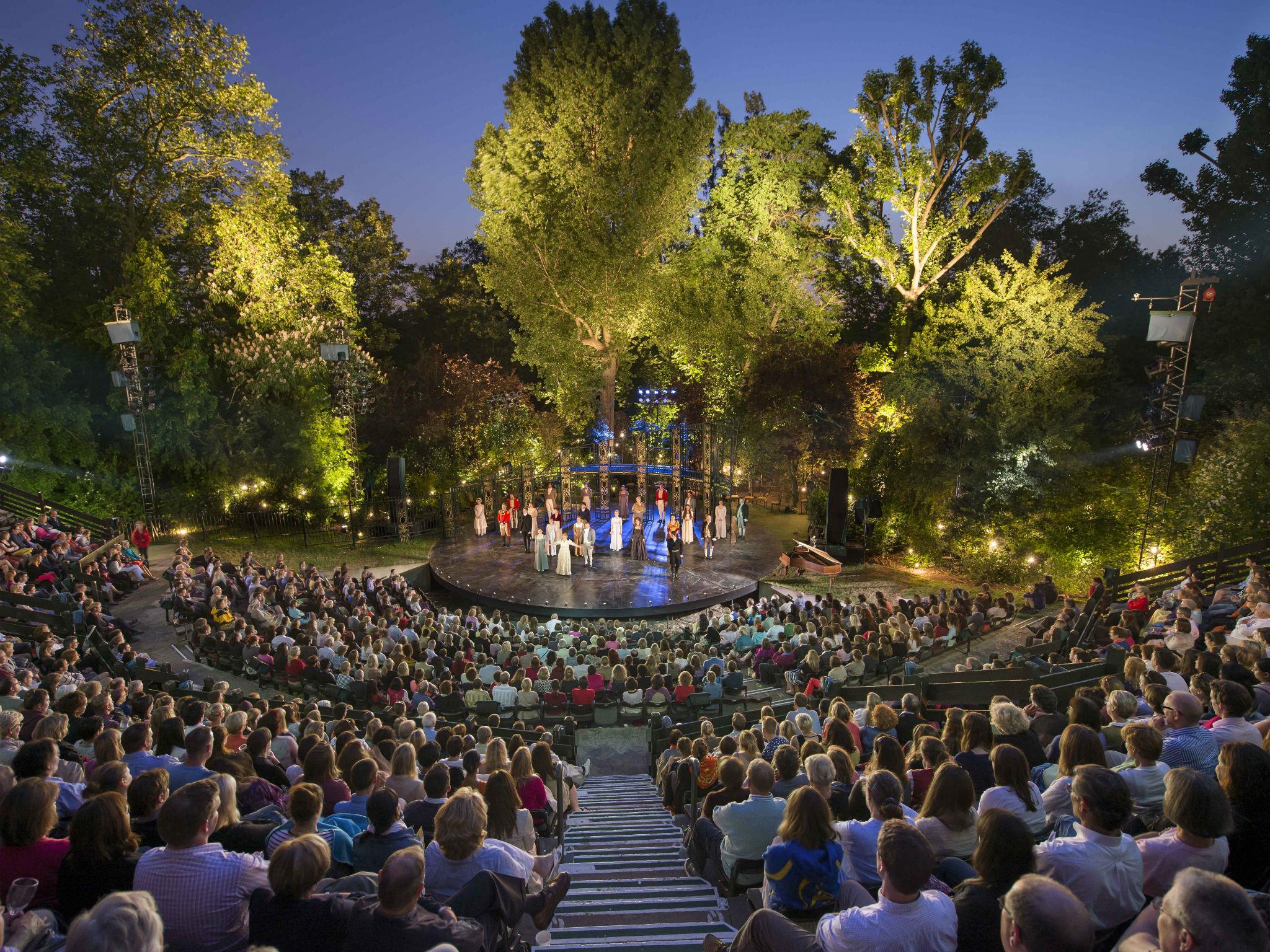 Shakespeare has always been closely linked with the outdoors. In his Elizabethan heyday, the Bard's plays were performed in the open-roofed Globe Theatre in London. This outdoor setting gave productions added impact. Take The Tempest: this late work takes place over one day and ends with tyrannical leader Prospero renouncing his magical control. In an open-air setting, the day and the play draw to a close simultaneously. Appropriately, the sun sets both on the action and Prospero's career as a magician.
Sam Wanamaker's recreated Globe Theatre retains this exposure to the elements, but across the Thames in Regent's Park the natural world is even more immediate. Here, Pimms-drinking theatregoers gather in a picturesque clearing surrounded by trees, an ideal spot for the forest antics of A Midsummer Night's Dream or the Highlands-based drama of Macbeth. Regent's Park Open Air Theatre traces back to 1932, when directors Robert Atkins and Sydney Carroll attempted to save grace after the early closure of a disastrous play by the Italian dictator Mussolini. On a whim, they pitched a makeshift theatre in the park and presented their musical version of Shakespearean comedy Twelfth Night. It was an immediate success.
"I have discovered the perfect way of enjoying Shakespeare," commented one reviewer. "It is to lie back in a deck chair on a velvety lawn with so much space between the seats that no latecomers can tumble over your legs, with freedom to smoke, and rose-scented air to breathe."
Herein lies the appeal of outdoor theatre: the smoking reference might be outdated, but the pleasantness of being at one with nature is timeless. Whilst the roots of outdoor theatre lie in ancient Greece, not north-west London, the 20th-century success of Regent's Park reinvigorated the trend in Britain. Today touring companies perform across the UK – everywhere and anywhere, just as long as it's outside.
On any given day in June and July, Changeling Theatre can be found speaking verse somewhere idyllic in the Kent countryside, from the gardens of the Tudor Walmer Castle to the medieval Tithe Barn and the shores of Margate beach. This year the company presents audiences with Shakespearean tragicomedy All's Well That Ends Well alongside Oliver Goldsmith's She Stoops to Conquer. Changeling chooses its summer Shakespeare in democratic fashion. At the interval of each performance, cast members pass around voting slips for the following year's production.
Changeling's artistic director Rob Forknall believes outdoor theatre has an unrivalled appeal: "Of course, it's bonkers to do outdoor Shakespeare in Britain where we get two days of sun followed by unexpected thunderstorms. It is always a gamble – definitely part of the appeal is that it's so exciting when you get away with it – but crucially outdoor theatre is also event theatre. If we toured All's Well around conventional theatres, I don't think it would be nearly as popular, but because we're going to beautiful outdoor locations, people want to come.
"Outside theatre isn't formal. Audiences don't feel the weight of expectation that they sometimes associate with Shakespeare. Instead, they go for a brilliant night out at a beautiful location, they bring their deck chairs, sit wherever they like, drink champagne. But they are still very invested in the plays; outdoor settings are surprisingly intimate. Every year the audiences laugh and they cry".
Changeling Theatre tour mostly in Kent, but Chapterhouse Theatre Company perform up and down Britain: from the ruins of Civil War-era Corfe Castle in Dorset to the majestic Stirling Castle in Scotland.
"Every venue and every site is so different," says Laura Turner, who has written the scripts for Chapterhouse's 2016 productions of The Railway Children, Sense and Sensibility, Sherlock Holmes and Wuthering Heights. "You do take that into account when you're writing, but I love the creative challenge. It is such a privilege to be able to produce something that is going to be shown in such well-known grounds".
One of the benefits of outdoor theatre targeting countryside locations is people living in more rural areas of the country can see theatre more easily. "Often the kids at our show are getting their first taste of theatre, which is wonderful," Turner says, "We bring really exciting, immersive and interactive theatre experiences to wide audiences. We go to places that are so rural that you can barely find them on a map. Then we go amongst the audience, we break down that fourth wall, we're all in it together. Our theatre is inclusive."
At an outdoor theatre performance, the outside setting is a unifier. School children rub shoulders with theatre experts and the text, not the theatrics, takes centre stage. As Shakespeare said in Troilus and Cressida, "one touch of nature makes the whole world kin". Outdoor Shakespeare also seems fitting because the "green world", a natural landscape that offers an escape from conventional society, is so integral to his plays. In A Midsummer Night's Dream, another work on Chapterhouse's 2016 roster, this is the woods where the fairies reign supreme. In Twelfth Night, the green world is Illyria, the unknown island on which heroine Viola finds herself shipwrecked. The green world is a transformative place and nature is an ever-present force in Shakespeare's plays. It seems only fitting that outdoor theatre allows nature herself to play a starring role.
The best outdoor theatre to catch this summer
All's Well That Ends Well
Changeling Theatre, 1 July - 21 August 2016, outdoor venues across South-east England, for full list see here
Changeling Theatre bring their singular quirky touch to this Shakespearean romantic comedy, often referred to as one of the bard's "problem plays". Changeling will use music, dance and drama to bring the stories to life, promising a brilliant night out at some of Kent's most beautiful venues, from Margate beach to Belmont House.
The Railway Children
Chapterhouse Theatre Company, 16 July - 2 September 2016, outdoor venues across the UK, for full list see here
E Nesbit's beloved children's book comes to life in this outdoor production. Chapterhouse will tour across the country, but why not catch its heart-warming adaptation in the Yorkshire countryside in which it is set: from the grounds of Mount Grace priory to Oakwell Hall Country Park in Batley
Roald Dahl's Danny the Champion of the World
Illyria Open Air Theatre Company, 27 May - 29 August 2016, outdoor venues across the UK, for full list see here
Illyria tour their open-air extravaganzas across the globe, but those wanting to catch David Wood's adaptation of this Roald Dahl classic have their pick of some of the best outdoor spaces in the UK. Illyria will take Danny everywhere from the dramatic beauty of Cornwall's outdoor Minack Theatre to the majesty of Hever Castle.
Henry V
Regent's Park Open Air Theatre, 17 June - 9 July 2016, Inner Cir, Westminster NW1 4NU
Regent's Park is where it all began and this gorgeous outdoor setting remains one of the best places to see outdoor theatre at its finest. Catch Olivier Award-winning Michelle Terry take on the iconic role of Henry, directed by Donmar Warehouse's Robert Hastie. Featuring some of Shakespeare's most iconic speeches and themes of war and European relations that remain relevant today, Henry V is one of the theatrical highlights of the summer.
Various Shakespeare plays
Cambridge Shakespeare Festival, 11 July - 27 August, venues across Cambridge, for full list see here
Watch a range of Shakespeare's best-loved plays in the gardens of the Cambridge colleges at the city's annual Shakespeare Festival. Dynamic theatre performed in stunning grounds, there is something for everyone to enjoy and the festival encourages all ages to come along and experience the magic.
Join our commenting forum
Join thought-provoking conversations, follow other Independent readers and see their replies