Roald Dahl's The Twits gets the theatrical treatment at the Royal Court
It's The Twits' turn to get the theatrical treatment, but this Royal Court show isn't feelgood or a musical - it's more like Beckett for kids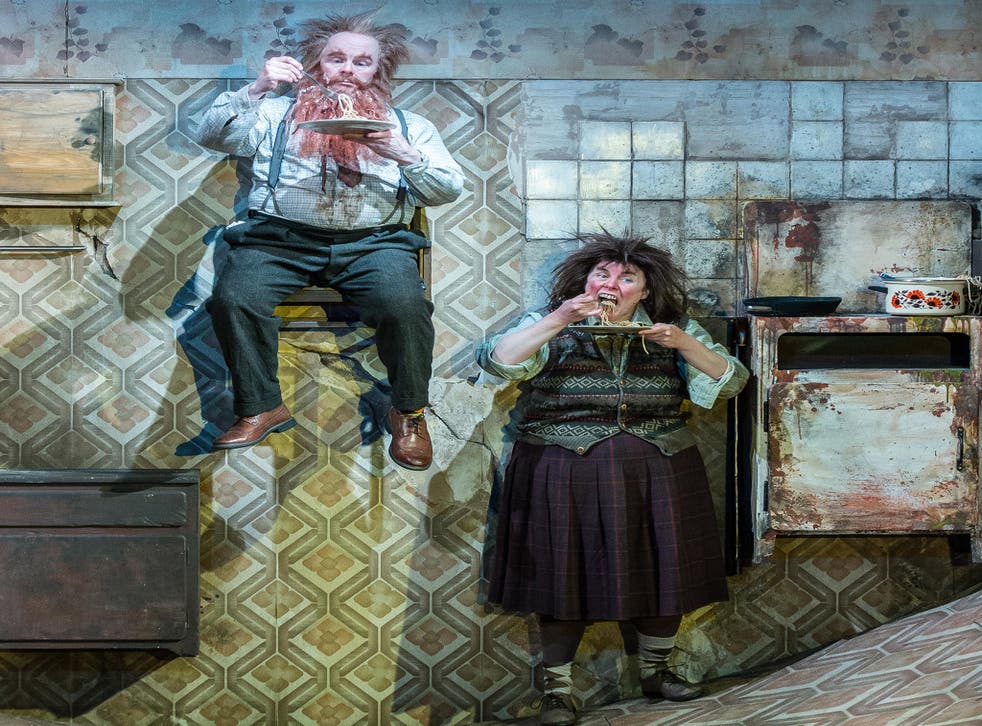 "What a lot of hairy-faced men there are around nowadays." So opens The Twits, and boy, did Roald Dahl get that right. What would he have made of today's hirsute hipsters, one wonders. The whole book – with all its horror of hair, of food caught in whiskers and unclean, unseen faces – stemmed from one line in his notebook: "Do something against beards."
The Twits is the latest of Dahl's stories to get the stage treatment. It's been "mischievously adapted" for the Royal Court by the Irish playwright Enda Walsh, with W1A co-stars Jason Watkins and Monica Dolan as Mr and Mrs Twit, the repulsive couple with a penchant for the most vicious, vindictive pranks imaginable.
Dahl has been big theatrical business of late. More than 2.5 million people have seen Matilda: the Musical in London and on Broadway; half as many again have been to Charlie and the Chocolate Factory.
But The Twits is a very different piece – both as a story and a show. It's a million miles from a blockbuster musical. It's structure is much more episodic than it is narrative-driven, and its plot is missing the sentimentality – not to mention the child protagonist – that makes Matilda and Charlie so feelgood by the end. Even so, cynics would be forgiven for assuming the Royal Court had half an eye on a West End transfer.
Actually, I'm not so sure. True, one wonders what the Court's founding father George Devine might make of it; whether it would fit his vision for "hard-hitting, uncompromising" new plays. But then, if ever Dahl came close to an in-yer-face sensibility, it's here. Mr and Mrs Twit – ugly people made ugly by their ugly thoughts – are stuck in a cycle of revenge. She puts a glass eye in his pint glass. He puts a frog in her bed. She spikes his spaghetti with worms. He elongates her walking stick to make her think she's shrinking, then sets about stretching her with helium balloons. "Cruelty for the hell of it," as Watkins puts it.
With this endless, empty violence, and all their greed and spite, the Twits encompass the very horridness of humanity. Their deeds are vile and their bodies are viler. But they also encapsulate the terror of death and disease. They're petrified by the prospect of the Terrible Shrinks. All that's a potent theatrical mix. As Mel Kenyon, the agent that represents the Dahl estate, says: "It's Beckett for kids."
The Court's artistic director, Vicky Featherstone, programmed the piece with a very specific aim – and audience – in mind. "I want to encourage, in that same Royal Court spirit, a body of work for young people that is allowed to be transgressive, intellectual and challenging, language-wise," she told me last year. This is the first kids' show, Christmas excepted, on the theatre's main stage.
It's also the final show in Featherstone's Revolution season. Rightly so, says director John Tiffany: "It's really, really pure as a revolution play." He points to the monkeys – downtrodden, caged and forced to stand on their heads – who finally take their revenge on the Twits. "They literally turn the world upside down, in that they put the furniture on the ceiling. It reminds me of those old Medieval upside-down festivals, where the jesters would be Pope for the day."
If, as Tiffany says, The Twits has an "anarchy" at its heart, that's why Walsh so suits it as a writer. "There's a similar kind of madness and anarchy to Enda's work," he says. Walsh often traps his characters – many of them family members – in deranged, repetitive rituals that they can't cope without or escape. Mr and Mrs Twit's tit-for-tat violence suits him to a T. There's a co-dependence about them, even an edge of sado-masochistic delight.
Every Dahl story has its own energy, and the trick is finding the right playwright. Once upon a time, all the books – The Twits included – fell to the children's writer David Wood, but Kenyon is keen to avoid anything "identikit" this time around. "Enda is the king of mayhem and fable," says Kenyon. "The Twits is such a slim novella – very dark, very silly – you needed somebody with courage, who could take that and make it into a dramatic extravaganza."
To that end, Walsh has added new characters of his own (hence "mischievously adapted"), although the entire team is keeping shtum on who – or, indeed, what – those additions might be. Only that "they enhance the way the Twits reach their demise," Watkins says with a coy grin. "It's like he's put his head in a big bucket of Dahl."
Watkins and Dolan have been doing the exact opposite: searching for Dahlian sorts in the real world. "Our Twits are posh," he says, nearly licking his lips at the prospect. "That wasn't a political or sociological decision. It's not us having a go at the Tories. It just seemed to work with the privilege of these people."
His Mr Twit is based, in part, on Francis Fulford, the foul-mouthed reality TV representative of the landed gentry; a Ukip supporter to boot. Dolan's Mrs Twit draws on the Two Fat Ladies: posh, hearty, quick to judge. "The Twits are wonderful eccentrics," Watkins adds. "They're utterly self-centred and from that comes an eccentricity and a cruelty." There's a lot of tweed, I'm told, and a lot of hair.
On stage, though, the Twits and their cruelty become fleshed out and three-dimensional – real people, not Quentin Blake illustrations. Tiffany cast Watkins and Dolan, fine character actors both, knowing that "they would approach the Twits almost like Shakespearean villains, without ever apologising for them." Both, he says, have the ability to peek behind the inhumanity, to show "the tiny moment of self-awareness, the moments they see the abyss".
You might look at The Twits as a portrait of a marriage gone stale. "As soon as I start to say that, I panic that I've turned it into Eastenders," Tiffany laughs. "Whenever adults start to analyse it, I get a bit upset, because we kind of go," – he puts on a pretentious, professorial voice – "'What the Twits is really about is domestic violence.' Why are we taking all the fun out of it? The reason this works for kids is that it's not explicit. They get to explore these fears or developing fears in a way that's totally fun and safe."
What you get, as a result, is a mix of slapstick and ferocity: cartoon violence and something darker. "Pure slapstick is a great thing and the actual capability of doing it live, Tom and Jerry style, is hilarious," says Watkins, "but it's got to come out of their deviousness. It's partly in the real world, partly in fantasy." The point is that the villainy has to land – much to the actor's delight. "We all like to see wicked characters punished and thumped."
Dahl knew that more than anyone. And, I think, that's both why his stories so appeal to kids and why they so suit the stage. Children, the theatre and Dahl share one thing above all else: an absolute commitment to justice. And a love-hate relationship with beards.
'The Twits' runs at the Royal Court Theatre, London SW1, to 31 May (020 7565 5000; royalcourttheatre.com)
Join our new commenting forum
Join thought-provoking conversations, follow other Independent readers and see their replies