Rory Kinnear: My life on stage with Shakespeare
Next week is the 450th anniversary of the Bard's birth. Time to celebrate, says the actor whose Iago just won an Olivier Award
Rory Kinnear
Thursday 17 April 2014 15:20 Comments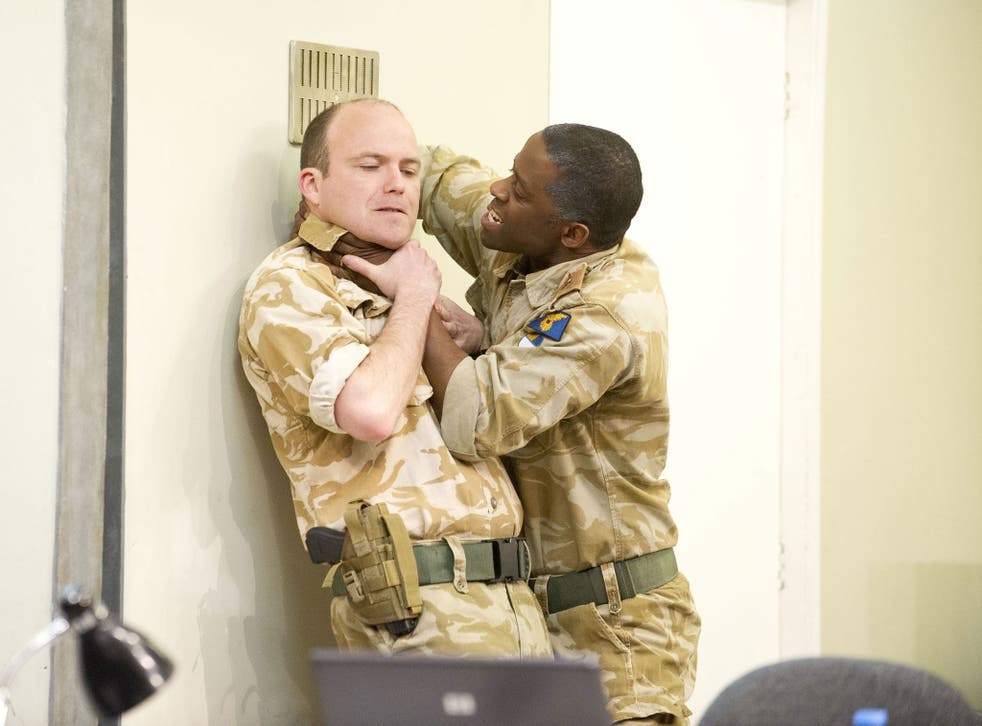 When I was very little I didn't want to be an actor. I wanted to be a butcher. Or a goalkeeper. Early in my adolescent years I took the risk of appearing as Sir Epicure Mammon in The Alchemist and Pandarus in Troilus and Cressida and then, finding to my young astonishment that I was getting attention and some praise for my performances, I began to think that acting might be a better fit. My father had been an actor, but he had died when I was 10, and so in lots of ways I had to discover it all for myself.
One of the things that I discovered, and which became clear especially when I was at university and working on Buckingham in Richard III and Petruchio in The Taming of the Shrew, was that what I got most excited by was the rehearsal process. It seemed to require identifying the particular conundrums that a play and character threw up, the various forks in the road ahead, examining them thoroughly, and then making a decision. There wasn't necessarily a right decision – especially, as I discovered to my delight, with Shakespeare – but there had to be a decision. I tend to approach parts initially just by thinking about them, and then afterwards I try to figure out what works well in the doing – they're two different disciplines really, for me – and then I try to marry them up to get a wholly successful and coherent performance, which then needs to fit in with the design, direction, other actors, and all the other aspects of a production which must combine so that everything is working together and everyone is trying to tell the same story.
One of my first professional jobs was as Caliban in The Tempest. I then worked at the RSC for a season, as Tranio in The Taming of the Shrew and Caius Lucius in Cymbeline, and then I did Laertes at the Old Vic in 2004 with Ben Whishaw in the role of Hamlet. There followed a Shakespeare- less break of six or seven years before I did Angelo in Measure for Measure at the Almeida in 2010.
Shakespeare wrote his characters precisely, and yet there is room for each actor to find his own Angelo, and also – as I was then to discover his own Hamlet, his own Bolingbroke and his own Iago, too. I had the opportunity to revisit Hamlet in the title role a little later that year at the National Theatre. I had already been quite familiar with the play, having encountered it at school and having taken the opportunity to write on it during my English degree. Acting, though, requires a different skill set than academia.
Shakespeare gives his actors quite a lot of open-endedness within which to work: you're not often given much back-story, and you're certainly never guided by him to any particular decision. You have to make your own.
Consequently, there's a lot of thrashing about involved in figuring out how to create a character with a full life, including relationships that have already been formed and those parts of his life that have already been lived – and then connect that full life, largely of your creation, with Shakespeare's creation, the character's lines.
What surprised me most with Hamlet was that, having gone through that rehearsal process, it wasn't until the first time I performed it in front of an audience that I realised that it's only in relation to that body of witnesses that Hamlet discovers himself. If you're rehearsing in a white room, doing those soliloquies to a wall, even though it's quite self-reflective and leads to a number of important insights, you're not really getting anything back.
To actually lead an audience of 1,200 people through those soliloquies and to be open-hearted in how you share them is incredibly moving, and I was surprised at the effect that had on me during the first week of performance. The rehearsal process had actually been quite isolating, since, as Hamlet, I'd spent seven weeks cut off from everyone: not only is Hamlet on stage most of the time and so excluded from the backstage experience, but the charting of the play is the deterioration of his relationships with everyone else (except for maybe Horatio, but even he gets it in the neck sometimes). Since they know the play so well, the audience tends to be ahead of him in terms of what he's thinking; as a result a lot of the time Hamlet seems to be playing catch-up with what everybody else already knows.
As a result, although at times I would hear contented sighs – and frequently people saying Hamlet's lines along with me – I also had people say to me afterwards that it was only after a while that they realised that I was doing such-and-such a speech. I suppose it can be surprising to discover these well- known words in the context of the narrative of a play, rather than as verbal set pieces. I suspect that secretly we might believe such great – and famous – outpourings of eloquence and wisdom should be heralded by a pause in the action and a suitable fanfare.
In contrast, Bolingbroke is the epitome of the joy of Shakespearean opacity. When I started filming Richard II for the 2012 BBC series The Hollow Crown, I had just been performing Hamlet in 1,200-seat theatres, on the Olivier Stage at the National as well as on tour. It was an abrupt switch: from engaging so directly with audiences to doing a very different part straight in front of the camera. In the theatre, a glance to the left, for instance, is not going to read so much as a line of text, and so you use the lines as your only way of engaging with the story and with the audience.
The camera captures details, however, and it captures them so minutely that I found it difficult to gauge the amount of thought and emotion that was necessary to have bubbling up inside to ensure that there was always something behind the eyes to support the text. Both on stage and in film, there's always an inner light, but it shines in very different ways. Bolingbroke's light is particularly difficult to find the source of, since his lines are almost purely functional, with the two exceptions of his touching farewell to his father, John of Gaunt, and his final speech upon hearing that Richard has been murdered. Other than those two passages, there is nothing else that is emotion-based or that explains his narratives and desires. He's one of those characters where as an actor you can't help but notice how very little Shakespeare has given you to work with. Bolingbroke seems almost underwritten – but in a curiously good way.
With each of Shakespeare's plays, the same cast and the same director could sit down again mere months after they've done a production and come up with a totally different production: the readiness is all. I'm sure that for each role I would want to give a very different performance now. But however I did them, I would still want to focus on those moments when the characters become something they weren't before. I would want to try to hold on to who they were, with all the weight of their histories, and yet follow them in the successive moments of becoming who they are, as they are faced with those big questions. They are questions we all face in our own lives: questions about beliefs, and trust, and power, and how to do the best we can with whatever unexpected circumstances life throws at us.
© Rory Kinnear. Extracted from 'Shakespeare and Me', edited by Susannah Carson (One World, £20)
Register for free to continue reading
Registration is a free and easy way to support our truly independent journalism
By registering, you will also enjoy limited access to Premium articles, exclusive newsletters, commenting, and virtual events with our leading journalists
Already have an account? sign in
Join our new commenting forum
Join thought-provoking conversations, follow other Independent readers and see their replies