Rupert Friend: 'There is no other way of acting than to become the person'
Several films and a high-profile romance shot Rupert Friend into the spotlight. These days, back on the London stage, he prefers a quieter life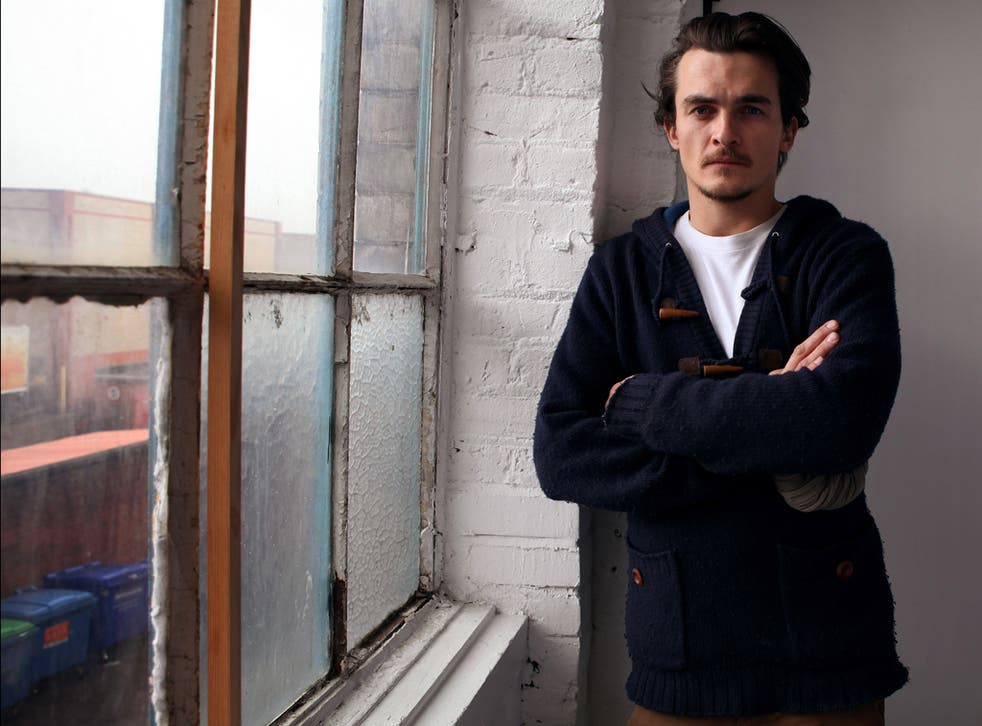 Rupert Friend asks to meet me at a farm café in Dalston, east London, near to where he lives. There are chickens on the roof laying eggs, which are used in the sandwiches. We sit in a greenhouse, surrounded by wild flowers, while it pours with torrential rain. There are thunder claps and lightning strikes. "It's so peaceful," says Friend, 30, wearing a Beanie hat. "I grew up in the Oxfordshire countryside so this café is as close as it gets."
Friend, who, much to his annoyance, was best known as Keira Knightley's boyfriend for five years, until they split up in 2010, is starring in the London revival of Dennis Potter's controversial play Brimstone and Treacle, at the Arcola Theatre. The foreboding weather is a fitting backdrop to our discussion of his latest dark character, Martin Taylor, who wheedles his way into the suburban household of Mr and Mrs Bates. They are caring for their severely disabled daughter, who in one scene, he shockingly rapes. "The description that Potter gives is somebody who is or imagines himself to be a demon," says Friend – who seems far more of a nature boy than the Devil in real life.
This is the actor's first stage outing since his well-received West End debut at the Garrick Theatre in 2010, playing a closeted film star in Douglas Carter Beane's comedy The Little Dog Laughed.
Despite a string of films in which he has starred with Johnny Depp (The Libertine, 2004) Michelle Pfeiffer (Chéri, 2009), Emily Blunt (The Young Victoria, 2009), Friend craves quiet, nature and DIY. He is particularly excited about building his own house in east London at the moment. "I started out training with the builder as a labourer two years ago and now I'm doing it all myself," he says. "It's like glorified DIY – I'm renovating it all myself."
He feels at home rehearsing the Potter play in the tiny Arcola Theatre. The dilapidated warehouse with peeling walls and open pipe work is, he says, "completely my taste".
"It's not like you are going to be in a plush seat with an ice cream", he adds.
As often as he can, he goes to the Highlands to stay with a friend who "built his house". "At Christmas his tin roof flew off so I went up there to help him put it back on in a blizzard," says Friend. "I've never thought it was a good idea to act back-to-back. If you are going to have any chance of replicating life, you need to live it. I also never forgot something Johnny Depp said to me, which Marlon Brando said to him, 'You only have so many faces in your pocket.' I really admire artists who take the time to recharge their batteries and not continually call on it. I think you can spot tired and jaded artists quite quickly."
Brimstone and Treacle was written for television and banned by the BBC in 1976 for its provocative content, before Potter adapted it for the stage. Friend had to come up with an extreme past for his life story, which he wrote in the first person and read to the rest of cast, as suggested by director Amelia Sears. "It entails physical and sexual abuse, neglect and a certain amount of religious indoctrination." He is also a con man so Friend has been watching films about con men – Six Degrees of Separation, The Talented Mr Ripley and House of Games. "Is it method acting? It's about imagining you are somebody else," says Friend. "That is as far as I can get in terms of a mission statement."
Performing the play in an intimate theatre space such as the Arcola, which is the size of a front room, "is about implicating and involving the audience in a horrific set of circumstances", says the actor.
"The other actress who isn't in the rape scene walked out today. She didn't want to be there." Although this doesn't bode well for audience members, he says that the play is as relevant today as it ever was. "My character also encourages the dad to admit to his incredible racism, bigotry, Right-wing leanings and pushes him into a place where hatred is celebrated."
Friend, a relative new comer to the theatre, has done far more films. He was plucked from London's Webber Douglas Academy of Dramatic Arts in 2004, to make his big-screen debut in a supporting role as Depp's lover in The Libertine. "I'd never seen a film camera before. So it was a huge learning curve in front of one of the greatest screen actors ever. I had the greatest teacher ever – even if he didn't know that."
He met Knightley on the set of Pride and Prejudice a year later when he was playing Mr Wickham and was suddenly thrust into the paparazzi spotlight as the pair started dating. He still insists on skipping over any questions about Knightley; the two made a pact never to mention each other in interviews even when they were together.
He went on to play Lieutenant Kurt Kotler in the 2008 film The Boy in the Striped Pyjamas and Prince Albert in the 2009 film The Young Victoria with Emily Blunt. Later in the same year he played Pfeiffer's lover in Stephen Frears' film, Chéri.
"I only met her the day before we started filming. Again, it was equally daunting because the next day we were pretty much naked and in bed together. I mean Cat Woman for God's sake! She can still do that thing with her tongue by the way." Since then he has The Kid and Lullaby for Pi – as well as 5 Days of War last year.
Recently Friend actually lived on a film set in an apartment in Berlin while making the upcoming feature Meet Me in Montenegro due to a tight budget. "I'm playing the comedy role of the best mate of a guy who goes on a crazy adventure to Montenegro. It's like a less funny version of Rhys Ifans in Notting Hill, and not Welsh," says Friend. "The entire crew was six, less than this play. They couldn't afford a set nor somewhere for me to live. I'd come out of the shower in my towel, and there would be the cameraman in my kitchen, making coffee. Then we would put me back into bed, turn the camera on and start."
In another upcoming film, Renee, Friend plays a recovering alcoholic and drug addict, David McKenna, who takes in a self-harmer and addict (Kat Dennings) to get her clean.
"The real McKenna produced the film so I had access all areas to the guy I'm playing. I lived in his pocket and then turned him into an English version. From his true story a real-life charity was formed called To Write Love on Her Arms, which has a big following of depressed American teenagers," says Friend.
In order to research the role Friend got himself locked up in solitary confinement in a prison in Florida and attended NA and AA recovery meetings all over London. "I went to recovery meeting rooms in venues like church halls – I found the honesty very inspiring," he says. "I phoned people in recovery who I knew before deciding to do this. I said, 'Look, do you think this is an abuse of trust?' And they said, 'To be honest with you, most addicts would be grateful if you were able to represent a meeting honestly because every time they do it in films it's crap.' I said, 'Yes, but I don't want to say I have a drug problem when I don't.' They said, 'Well don't speak. You don't ever have to say anything. You don't even have to say your name.' So I went in character and didn't speak. My first impressions were that one guy was going to knife me but he came up to me and hugged me."
Lunch break is over and Friend gets up to return to rehearsals at the Arcola. "There is no other way of doing it than to become the person," he says. "I don't know how else you would do it."
'Brimstone and Treacle', Arcola Theatre, London E8 (arcolatheatre.com) 2 May to 2 June
Register for free to continue reading
Registration is a free and easy way to support our truly independent journalism
By registering, you will also enjoy limited access to Premium articles, exclusive newsletters, commenting, and virtual events with our leading journalists
Already have an account? sign in
Register for free to continue reading
Registration is a free and easy way to support our truly independent journalism
By registering, you will also enjoy limited access to Premium articles, exclusive newsletters, commenting, and virtual events with our leading journalists
Already have an account? sign in
Join our new commenting forum
Join thought-provoking conversations, follow other Independent readers and see their replies