Interview
'I had shame that stayed with me and damaged me': Russell Tovey on sex, death and Derek Jarman
As he stars in a live version of Derek Jarman's 'Blue', about the artist losing his sight as he died of Aids, the actor talks to Adam White about the traumas of Section 28, playing 'gay' and the show that 'broke' him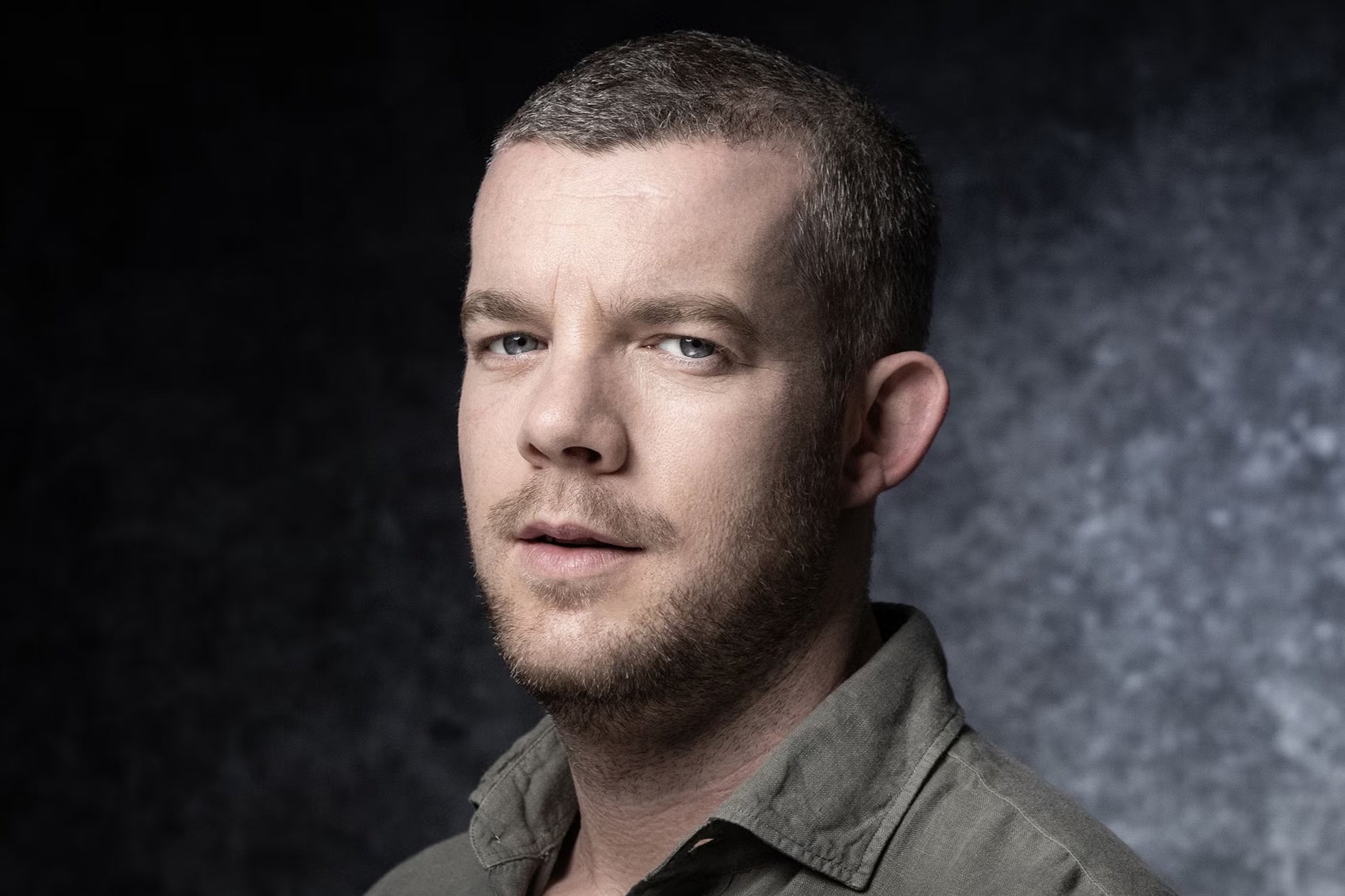 Russell Tovey, actor, podcaster, self-described "art nerd" and owner of the most charming ears in showbusiness, is not showing me around his home. Instead, over Zoom, the Being Human, Him & Her and The History Boys star freezes and jitters as I try to make out the painting behind him. Tovey lives in an enviably spacious Shoreditch loft decked out in art and sculptures. I'm not saying I'd love to break into it, but I'm also not not saying that. There are blue nudes. Blocks of colour. Abstract scribbles. Artists upon artists crawling over exposed brick like expensive ivy. But Tovey is also getting a new kitchen fitted, and his wifi keeps cutting out.
"I'm having a bit of a drama," he tells me, his Essex accent thick and riotous. "I might have to jump up in a sec because there's been a gas leak." He pads from room to room for a better signal, our conversation stilted, the drive-by art a soupy blur. "Mate, should we do a phone call?" Dammit.
To only hear the 41-year-old's disembodied voice feels appropriate, though, given what we're here to talk about. He is performing in Blue Now, a series of immersive live performances celebrating the final project by Derek Jarman, the pioneering artist and filmmaker who died of an Aids-related illness at the age of 52 in 1994. Jarman's Blue was made in the last months of his life as he slowly lost his sight. In it, he recites tales of life, love and impending death, alongside an unchanging screen of all-encompassing colour, which seems to swallow the viewer whole as you sit with it for 74 minutes. Alongside poet and performer Travis Alabanza, writer Jay Bernard and poet Joelle Taylor, Tovey will recite Jarman's words from somewhere in the blue.
Tovey discovered Jarman at the age of seven or eight, having watched his music video for "It's a Sin" by The Pet Shop Boys. "It was haunting, thrilling, exhilarating and troubling," Tovey remembers. As he hit his teens, he immersed himself in the Jarman oeuvre – the transgressive desires of his 1991 film Edward II, the sun-baked eroticism of 1976's Sebastiane. His writing was pastoral and charged, his music videos (for acts including The Smiths, Marc Almond and Suede) hyper-stylised and energetic. Tovey has one of his landscape paintings hanging in his home, drawn in thick pastels in 1991 as the artist was beginning to lose his sight. Along with Keith Haring, Jarman made Tovey fall in love with art. "If you want to know about the state of the world, talk to artists," he explains. "Art has allowed me to understand the world and myself more than anything else."
For much of Jarman's early life, his sexuality was intertwined with pain. Caught experimenting with a fellow pupil at boarding school, he was beaten and punished, his queerness placed in a chokehold. He'd refer to being "numbed until 22" and feeling like "the only queer in the world". It's one of the few parts of Jarman's life that doesn't resonate with Tovey.
"I was always very much like, 'I'm gay'," he says. "I knew from an early age. I told my friends. I came out to my family when I was 18." But, earlier than that, he did experience echoes of Jarman's fears. Tovey describes himself as "a kid of Section 28" – the Thatcher-era law prohibiting "promotion of homosexuality" in schools or by British authorities. "I remember being a kid of about four or five and having these feelings and assuming that they were wrong, so I kept it quiet. I had shame that stayed with me and damaged me. That is down to government rhetoric. That is down to a gutter press systematically uneducating their readership and keeping them uneducated because it serves them better."
A few years ago, Tovey remarked that he doesn't "like the idea of dying" – which no one would particularly take issue with. But Blue also recontextualises death as a kind of delirious transition. Tragic, yes, but also something vaguely extraordinary, an act of inevitability that connects you with absolutely everything. Has becoming immersed in Blue Now changed Tovey's relationship to the end?
"Not really," he laughs. "As a gay person, you're so closely linked to death. When I came out, the first thing people thought was, 'You've gotta protect yourself'. 'You could get HIV'. And this wasn't that long ago. Watching them adverts with the tombstone and John Hurt's voiceover – 'Don't die of ignorance'... It was f***ing terrifying. I've been thinking about dying in a really painful way from the age of f***ing 12. If you're a queer person of a certain generation, you think about death daily. Every time you go to bed with someone, there's the potential that they could be the person that makes you sick. That's what was in my mind."
Tovey talks often of generational trauma, and growing up at a time when being a young gay man meant death and panic as opposed to PrEP and pride and accessible entertainment that normalises it all. "Look at Heartstopper or Glee," he says. "If we had them shows when I was growing up, I would have felt a bit better about myself. I'm so proud of the way the world is now. For young kids to be able to say, 'Cool, I'll watch Glee tonight and then go to a gay bar' – that is an incredible gift that's been handed down. But we must pay respect and remember where that gift came from."
There was a point in time in which an archetypal Russell Tovey character would mean handsome Jack-the-lads, or cocky heterosexuals on the right side of loutish. Audiences got used to him lazing about in bed with the missus in Him & Her, or as the laddy, rugby-playing Rudge in The History Boys. But then, faster you could say "twink death", Tovey bulked up, began to seek greater complexity in his work, and started playing gay. He cameoed in the historical weepie Pride, then starred as a closeted footballer in The Pass, first at the Royal Court Theatre in 2014 and then in a film adaptation two years later. Those coincided with his role in the wonderfully melancholy HBO drama Looking. Last year, he starred in a season of the long-running anthology series American Horror Story as a cop hunting a serial killer of gay men in Eighties New York.
"I've always been really careful about the gay roles I've played," he says. "It feels important to make sure that if I'm playing gay, that it's doing something. That it's moving the dial forwards." Looking, he says, was his "proper coming out". He starred alongside a post-Glee Jonathan Groff and a pre-White Lotus Murray Bartlett in the series, which chronicled the lives of five gay men in San Francisco. He remains heartbroken that it only lasted two seasons – between 2014 and 2015, followed by a wrap-up movie – the show never able to shake off its early reputation.
"The critical narrative at the beginning was that nothing much happened in it," he recalls. "That it was too boring. But it was just real life!" He remembers filming scenes for the show's second season outside a San Francisco coffee shop, and being approached by gay men. "They'd say, 'You're in Looking!... but I've not watched it, I've heard it's boring'." Tovey lets out an exasperated roar. "They hadn't even seen it! And it's about you, in your city, filming outside your coffee shop, and you're not even intrigued to watch it? It really, really frustrated me. It broke me, honestly. If that show came out now, it'd have a completely different response."
While Tovey pines for a revival, Looking did reshape where he wanted his career to go. More art. More anger. More pride. He is working on a documentary about the poet and contemporary artist David Robilliard, who died of an Aids-related illness in 1988. A new book based on his Talk Art podcast is released this month, featuring interviews with the likes of Tracey Emin, Wolfgang Tillmans and Grayson Perry. A few days before we speak, Tovey visited the Ark Burlington Danes primary school in west London to raise awareness of food poverty among school-age children. Since 2019, he's worked with Magic Breakfast, a charity delivering free breakfasts to more than 200,000 schoolchildren around the country.
"I had a really great state school education in Essex," he remembers. "They had a great drama department and a lot of food – I had too much food as a kid! There was an abundance. But now, between Covid and the cost-of-living crisis, more than four million children have food anxiety, where they worry about when they're going to get fed next. What the f*** is going on? Kids should not be thinking about where their next meal is gonna come from. They should be thinking about their mates. About what they're learning. About who they're going to grow up to be."
He says he thinks often of a quote from Derek Jarman's 1991 book Modern Nature, an intoxicating burrow into flora, fauna, sex and death written on the Dungeness coast. "If you wait long enough, the world moves in circles," Tovey recites, letting the sentence hang in the air for a second. "And here we are: the rhetoric going back, the rights being stripped away, the social contracts being dismantled. So what I'm gonna do is make sure that I f***ing say who I am, and say what is going on."
'Blue Now' is at Theatre Royal Brighton on 7 May as part of Brighton Festival, followed by Turner Contemporary, Margate (13 May), HOME Manchester (21 May) and Tate Modern (27 May). Commissioned by WeTransfer, the live performances are joined by a digital version available on WePresent.
Join our commenting forum
Join thought-provoking conversations, follow other Independent readers and see their replies