Emilia Bassano: First published female poet and Shakespeare's muse is the subject of a new play at the Globe
Emilia Bassano might well have been Shakespeare's muse – the Dark Lady of the Sonnets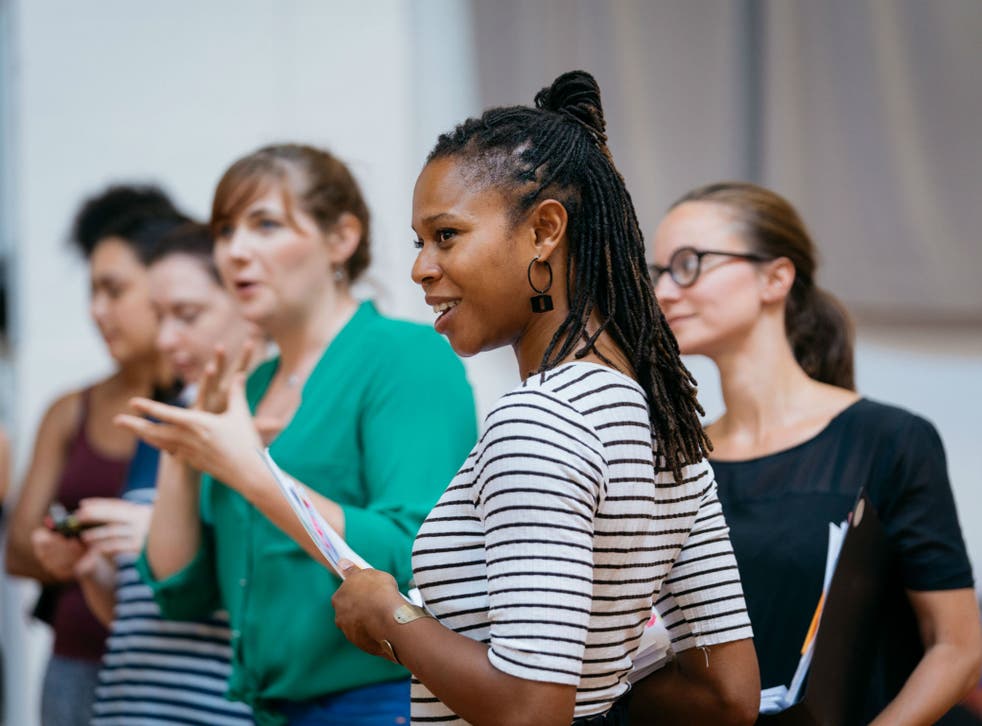 The name Emilia crops up often in Shakespeare's plays. She's there in Othello most prominently, but also The Two Noble Kinsmen, The Winter's Tale and The Comedy of Errors. This recurrence has helped support the theory that the early modern poet Emilia Bassano, later Lanier, might well have been Shakespeare's muse – the Dark Lady of the Sonnets.
Bassano is a fascinating figure. Born in 1569, she was the daughter of a royal musician and had a relationship with Queen Elizabeth I's cousin Henry Carey. She was also a poet, who published a collection of poetry called Salve Deus Rex Judaeorum (Hail, God, King of the Jews) in 1611 at a time when it was extremely unusual for a woman to do so.
Forgotten for centuries, she has become a source for scholarship in recent years. Her life is now the subject of a new play by Morgan Lloyd Malcolm, part of Michelle Terry's inaugural season as artistic director at Shakespeare's Globe.
Terry was so fascinated by Bassano and the place she occupies in Shakespeare, that she shaped her first season around her. Othello (starring Andre Holland and Mark Rylance), The Two Noble Kinsmen, and The Winter's Tale are all being performed.
Lloyd Malcolm, whose past plays include Belongings, shortlisted for The Charles Wintour Most Promising Playwright Award, and The Wasp, a twisty two-hander about bullying, didn't know much about Bassano when she first discussed the project with Terry. "I was aware she was this shadowy figure who was potentially someone Shakespeare knew and possibly loved, but she's more than that. She wrote poems. She published her own poems, which was a rarity, and she was clearly a feminist given what she had written."
That Bassano was an artist, a creative force in her own right, as well as just a potential muse to a man, is central to Lloyd Malcolm's approach. "We know about Bassano because of her poems. I really believe that she recognised that in order to be remembered she would need to be published."
There's no picture of Bassano we can look at. A Nicholas Hilliard miniature of a woman with dark hair is often used to illustrate discussions around her, but it's not definite that she's the woman pictured, and may well be another high-status woman of the period.
Bassano survives in her own writing. A version of her also exists in diary entries kept by the astrologer Dr Simon Forman. She consulted him a number of times in 1597 and his recollections of her formed the basis of historian Alfred Leslie Rowse's theory that she might well be the Dark Lady). Feminist scholars, including American academic Barbara Lewalski, feel that Rowse's Dark Lady theory deflect attention from her significance as a poet. They attach her in the public imagination to a man: to his art, his verse.
Forman's diary is a valuable source, says Lloyd Malcolm, because without it, "we wouldn't know much about her". But it's impossible to look past the way he wrote about her. He called her a whore and a harlot. Pointing out that he was attracted to her and was rebuffed, Lloyd Malcolm adds that: "I'm not inclined to believe him; he was clearly bitter." It is from Forman that Rowse "drew his conclusions that Bassano was a social climber".
In writing her play, Lloyd Malcolm wanted to look beyond this to draw her own conclusions. "It was a case of reading between the lines and looking at what she was dealing with as a woman at that time."
She describes the play as an experiment. She and director Nicole Charles wanted to "challenge the way history plays are usually told". Usually there is a central protagonist but, she says "we wanted to muck around with that and create something that wasn't just a vehicle for one actor". The play follows Emilia throughout her life, with three actors of different ages playing her: Leah Harvey, Vinette Robinson and Clare Perkins.
Lloyd Malcolm chose this approach to illustrate the way people change as they age. "We aren't the same person as we go through our life," she says. "As a nearly-40 year old, I'm very different to my teenage self but I still look back on her fondly and still listen to her sometimes. I wish I could go back in time and tell her some things." On stage the different Emilias watch each other.
The idea of woman-as-muse is also key to the story Lloyd Malcolm is telling. The role of the muse can often serve to disempower those on to whom it's bestowed, to deny the subject a voice. Emilia's role as a possible muse is built into the structure of the play. "At the opening of the play Emilia summons her muses. It empowers this supposed muse of Shakespeare to reclaim that stage." She describes it as a "reclamation of voice" and of this particular stage that bears Shakespeare's name.
The Globe stage can't help but lend the play a particular energy. When we speak, the company have just rehearsed in the space for the first time. "The audience is such a big part of that space and you can't ignore that. Direct address is important, acknowledging the environment, the open roof."
Lloyd Malcolm and Charles have tried to challenge themselves throughout the creative process to avoid using traditional modes of storytelling. "We're women telling a woman's story and we're constantly trying to check and shed our learned behaviours and ask how we want to tell this story."
"It's as if Emilia is talking to us", they say of the decisions that get made and the solutions that get found. In the play, Lloyd Morgan's Emilia talks of "muscle memory," of a woman's connection with the women who have come before. "It's something we know innately but have come to ignore – we're told it's not valid."
As female creatives, says Lloyd Malcolm, they've had to "unlearn a lot of methods". Over the course of her career, Lloyd Malcolm's had to do a lot of listening. "Older male playwrights who've told me how I should write – you take it as scripture but it blocks your need to think and write in the way you instinctively know is right. If you've constantly been told that your words aren't valid, you have to unlearn that." The creating of this play has felt, she says, like a process of unlearning.
The question of whose stories get told, on which stages and by which artists, is a very current one. It ripples through a lot of recent work, including Ella Hickson's play The Writer, staged at the Almeida Theatre earlier this year and Hannah Gadsby's potent, emotional stand-up show Nanette, currently on Netflix.
It's still comparatively rare for a female playwright to be given a main stage at a major venue and given the support to make work of scale and ambition. "I've heard so often from male artistic directors that my work is a risk," says Lloyd Malcolm. "I was feeling disheartened and blocked and all this self-confidence stuff." Then she met with Terry who asked her if she was up for writing a play about Emilia in under a year. "She said: 'you're not a risk, you know what you're doing and we'll give you what you need for this – let's do it.'"
This level of support was something Lloyd Malcolm had not seen before. "It was the most amazing feeling. So much of the creative process is instilling confidence in someone; it's what a lot of my male peers have been getting."
"If you just crack that door open a bit wider," she says, "there are so many people out there with amazing stories and methods of storytelling – let them in."
Emilia is at Shakespeare's Globe from 10 August – 1 September 2018
Join our new commenting forum
Join thought-provoking conversations, follow other Independent readers and see their replies