Stars of Caryl Churchill's new play Escaped Alone who are sworn to secrecy hint at what it might entail
It's the theatrical event of the winter: a new full-length play from Caryl Churchill. Holly Williams grills its leading ladies for more information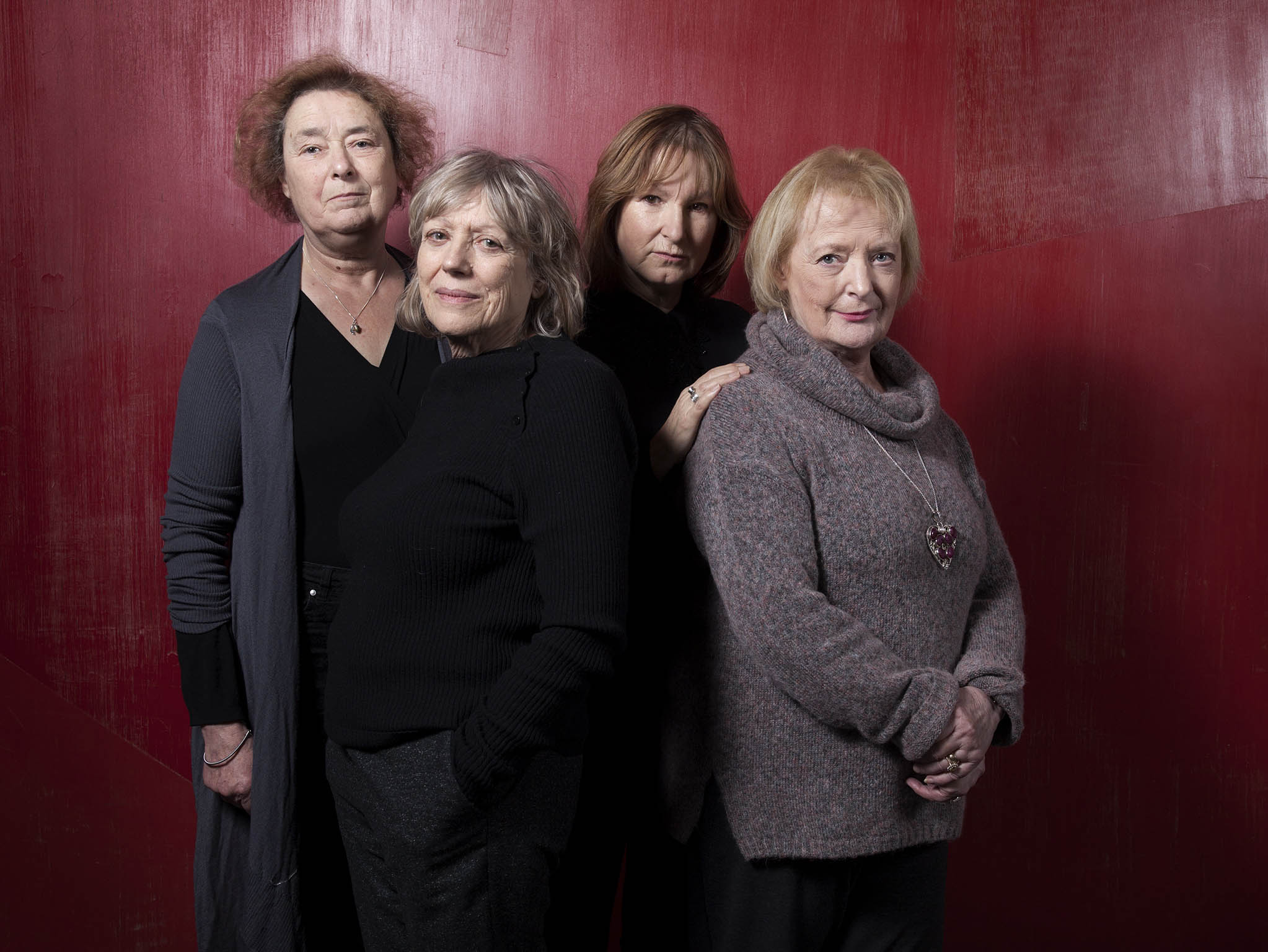 A new Caryl Churchill play is always big news – and this winter, we've been treated to two. Following her short but scalpel-sharp play Here We Go at the National Theatre, we have Escaped Alone at the Royal Court. Not much is known about it, except that it centres on four women drinking tea in a garden and discussing "catastrophes". And that those four women are played by four brilliant British actresses, doyennes of the stage and screen, whose combined acting experience stretches to more than 170 years.
I meet Linda Bassett, Deborah Findlay, Kika Markham, and June Watson to discuss the play in a break from rehearsals. Except, well, they don't have much to say about it – not because it isn't going to be interesting, but because they're "sworn to secrecy".
"We're going to be very enigmatic," says Findlay, who starred in the original production of Churchill's seminal 1982 play Top Girls, and has regularly appeared on the small-screen in dramas such as Cranford and State of Play.
Churchill's work has previously featured epic, fantastical dystopias – consider The Skriker, which in 1994 tilted at climate catastrophe through angered world-spirits, or Far Away, which took an absurdist approach to geopolitical war and natural disaster. So, can they tell me any more about the type of catastrophe we're dealing with here?
"Not really – only that they're familiar, I suppose," says Bassett – another Churchill regular, having appeared in the premieres of Fen (1983), Serious Money (1987), Far Away (2000) and Love and Information (2012); on screen, she's probably best known for her Bafta-nominated role in East is East.
There's certainly no shortage of horror in the world in 2016 … will Escaped Alone speak to contemporary concerns? This time, there's a chorus of agreement. "It's frighteningly more relevant, every day," says Findlay. Churchill has a reputation for writing prophetic plays, and it seems likely she's done it again: Escaped Alone was written a year ago.
Actors you think have won Oscars but haven't
Show all 14
There's a domestic element to the disasters of the play too, however, I'm told. "Some are personal things that they are escaped alone from," says Bassett. "They're all survivors."
"'Escaped alone' is a quote from Job, which is also used in Moby-Dick: 'I only am escaped alone to tell thee'," points out Findlay. "It's got overtones of that."
A tale of four survivors, sharing stories … it seems appropriate, here, to point out the obvious: this is a play for older actresses; the quartet are in their sixties and seventies. Churchill herself is 77. One might assume "life experience" is the key. And yet prior to our meeting I'm told by the press office that "the age of the characters is not the focus of the script, so the age of the actual actresses shouldn't be a point of discussion."
Yet Vicky Featherstone, the Royal Court's artistic director, herself framed Escaped Alone in precisely these terms when she launched the season, saying "there is something very interesting in the fact that Caryl has written a play for four women within her age range". I put this to the cast: is it interesting – or irrelevant?
"Well, I'm not sure that [Featherstone's statement] is true …" says Findlay cautiously. Watson reports that Churchill recently said she "could have written the play for four women much younger than us". The playwright is present in rehearsals, a quiet, kind, and witty presence apparently, in contrast to the image of her as a recluse, thanks to never giving interviews.
Still, the play's already been lauded for giving plum parts to a marginalised demographic in British theatre – and society. It's an issue the Royal Court isn't shying away from; the show preceding them in the main space, Linda, was all about the invisibility of older women.
"Well it's lovely to have parts, yes – parts that are wonderful, for women!" agrees Markham. She'll be familiar to TV audiences from Mr Selfridge; she also published an acclaimed memoir about her late actor husband, Corin Redgrave, in 2014.
"But I suppose the best thing for it to be would be for it just to be ordinary," suggests Findlay, "so you don't notice." I also mention Featherstone's other recent – controversial and contested – remarks about audiences not being "very good yet at watching a female narrative" (she was, in fact, repeating comments Nicholas Hytner once made to her).
Bassett broadly agrees: "It's true with Shakespeare. What they call 'the problem plays' … it just means they've got female leads! And people find it a problem. It's ridiculous. And Romeo and Juliet – no one quite gets that Juliet is the driving force, it's about her development."
Watson is more phlegmatic. "To be honest, I've had some great female parts," she says (recent examples might include stage roles in Mrs Lowry and Son, The Cripple of Inishmaan, and Good People).
"Of course – but if you're in a company and there's three women and 30 men … you do notice that the culture becomes a male culture, and you don't have enough to do," interrupts Bassett, to plenty of nods.
Still, such things are changing, they acknowledge – from all-female or gender-blind Shakespeare to Star Wars' excellent, non-sexualised female lead. "I got used to identifying with male heroes as a child, because most of the books or whatever were about boys and men; how great that today girls can have heroes that are female," says Bassett.
Back to Churchill. Her work is famous for its restless inventions with form – but, naturally, they won't tell me much about it in this case … there's a chorus of laughing apologies when I ask, although they do reveal it works on two time scales: their characters' conversations, somehow, take place simultaneously over several afternoons and just one afternoon, with what they discuss signalling that time has passed .... Enigmatic, indeed.
Her writing is often demanding of actors. How do they approach it? "You've got to get the words absolutely right, otherwise it doesn't work," begins Watson; Findlay interjects that the punctuation is just as important. Watson agrees, adding rather archly: "We could say that there aren't many full stops in the play. It's funny and it's sad and it's … tuneful. There you go, there's a hint!"
"You have to try not to be afraid," says Markham of performing Churchill's work. "A lot of it is about listening, actually – listening to other people's rhythms."
In this, one suspects the foursome will excel – they listen thoughtfully to each other, considerate in disagreement, but more often warm in overlapping agreement. While having their photograph taken, they spontaneously burst into a round of "Leaning on a Lamppost" (a tuneful clue?).
How do they think audiences are going to respond, then? Here We Go certainly divided critics with its unflinching, some said exasperatingly repetitious, look at old age.
"[Escaped Alone] is a very extraordinary piece, and I don't think we quite know what the effect is going to be on an audience – so it's very exciting, and quite frightening!" says Findlay.
"Caryl's got a mighty brain and a big heart," says Bassett definitively. "Sometimes people come to Caryl's plays with their heads, they try to follow it and get all worried, and actually it goes straight in there …" she adds, violently miming stabbing herself in the gut. "She reaches parts other playwrights don't."
'Escaped Alone' is at the Royal Court until 12 Mar (royalcourttheatre.com)
Join our commenting forum
Join thought-provoking conversations, follow other Independent readers and see their replies