The Almeida theatre has teamed up with Arsenal for Boy - a play about the plight of a white working-class teenager
Rupert Goold, the Almeida's artistic director, tells Holly Williams that it will bring theatre to a whole new audience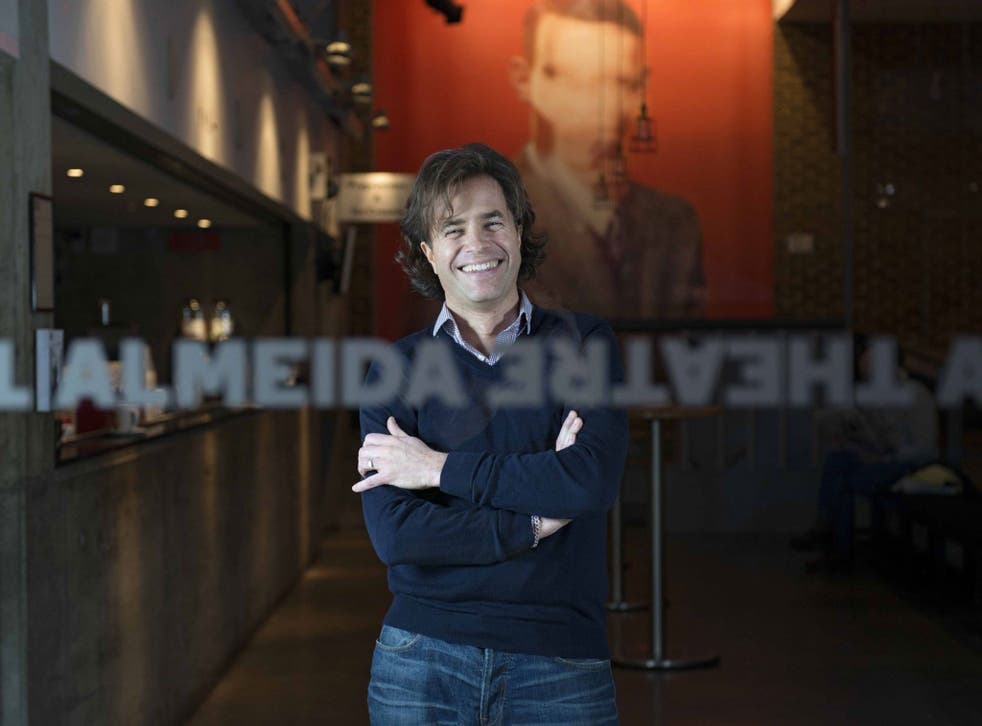 Has the great "post-austerity play" been staged yet? Artistic director Rupert Goold doesn't think so – but the next show at the Almeida theatre aims to plug that gap. Leo Butler's Boy follows a white working-class teenager over one day as he drifts around London, with no money, no qualifications, no friends and no prospects. Liam, the boy, is slipping through the cracks faster than p**s down a drain.
"There is a real issue, particularly in London, with young people coming out into society with fewer job opportunities," Goold tells me over the phone from New York (where his production of American Psycho is soon to open). "What really spoke to me about the play is that [the Almeida] is in one of the most socially and economically divided boroughs in the county, Islington; we were very keen to explore that."
Culture news in pictures

Show all 33
The play will introduce their privileged audiences to the world of those considerably less fortunate – but Goold is hoping the traffic goes both ways. As well as featuring a large community chorus, Boy will be accompanied by a new outreach offering for disadvantaged young people. The Almeida has partnered with Arsenal in the Community; 40 young people will work with playwrights including Charlotte Josephine who wrote Bitch Boxer, and Stephen Camden aka performance poet Polarbear, writing short plays that respond to Boy and draw on their own experiences. These will be staged by professional actors and directors at the Almeida during Boy's run.
"Arsenal, as a football club, are also looking at what it means to be young, male and disenfranchised on some level – they have their own extensive programme around some of the estates that are also our local estates," says Goold. "We thought, wouldn't it be great to run a programme using that network, with people who don't really have any contact with theatre, or possibly the arts in general." Being in Islington, there is a risk their young people's programmes are attended by the kids of well-heeled, already culturally engaged locals; partnering with a football club gives the theatre access to a genuinely different cohort.
The younger members of the cast of 26 are also influencing the actual text in rehearsals. "I was writing some slang that probably was closer to 1998 than 2016…" acknowledges Leo Butler with a laugh. "It's great having such a big cast, and so diverse, and so many of them kids… I'm getting a really good education in contemporary slang!"
The character of Liam perfectly captures the rhythms of yoof speak too, what Goold calls the "incredibly vivid inarticulacy of contemporary urban language". Lines like "Oh, what really then isit?" or "So like then skills then, you think?" might appear virtually meaning-free, yet gradually a painful portrait of a lost young man emerges.
But Liam is also surrounded by a cacophony of other voices, of the Londoners he passes at bus stops, on trains, in estates. Many of these snatches of quotidian dialogue, from a drunk hen party to boasting hipsters to irate benefits claimants, are provided by Butler as an appendix to the script – an optional source of extra material.
"Liam is isolated and wandering round the city, but the people he encounters are as important as he is. There are characters from all walks of life, but they're all under economic pressure of some kind," elaborates Butler. "Creating an appendix meant I could throw in as much as I wanted. But we're finding we're using less as we go on – you only want things that seem to mirror Liam's journey."
What spurred Butler to write a play focusing on a white working-class teenager? "I've seen the character around – these teenagers who've left school and have nothing to do. There are lots of stories about young people overcoming the odds to do something amazing – the old X Factor or Billy Elliot story. But I was interested in a character that doesn't have that talent, [where] living a life with nothing to do and nothing to look forward to is just the norm."
Boy is quietly heart-breaking, but there's always the risk that showing boredom onstage might just be, well, boring. But this production also promises to be an audio-visual sensory assault. "Sacha Wares, the director, had come across an early draft of Leo's play and had this very ambitious visual idea for it," says Goold. While he doesn't want to give away too much away, he describes it as a "collage" of speech, movement and sound design.
"The show is not a linear series of scenes with people talking to each other; it's more an environmental soundscape with movement. Boy looks at how someone could drift through a city very fluidly and yet be totally socially static – so the staging is a metaphor for that." Think more physical theatre than Royal Court-style new writing, he concludes: "A dreamy, dance version of Ken Loach."
'Boy' is at the Almeida theatre from 5 April to 28 May (almeida.co.uk)
Register for free to continue reading
Registration is a free and easy way to support our truly independent journalism
By registering, you will also enjoy limited access to Premium articles, exclusive newsletters, commenting, and virtual events with our leading journalists
Already have an account? sign in
Register for free to continue reading
Registration is a free and easy way to support our truly independent journalism
By registering, you will also enjoy limited access to Premium articles, exclusive newsletters, commenting, and virtual events with our leading journalists
Already have an account? sign in
Join our new commenting forum
Join thought-provoking conversations, follow other Independent readers and see their replies